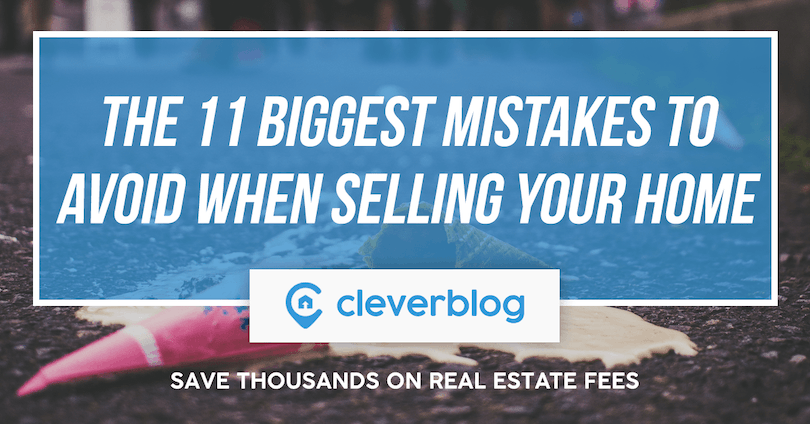 There are many mistakes to avoid when selling a home.
If you want to find the best buyer for your property, get the best price possible, and remain sane throughout the entire ordeal, you will need the perfect game plan. That's where we come in.
The 11 Biggest Mistakes to Avoid When Selling Your Home
Here are our top suggestions on things to steer clear of for a stress-free sale:
Selling on Your Own
Selling your home on your own can be difficult unless you already have a background in real estate. Without knowledge of the local market and years of experience, it's likely that you will be in over your head in no time.
There can be so many twists and turns throughout the property transfer process. Because of this, having a professional Realtor by your side to guide you through the tricky bits is one of the best investments you can make.
Choosing the Wrong Real Estate Agent
Once you decide to work with a Realtor, the next step is ensuring that you pick the right one for your needs.
It's important to partner with someone whose personality matches yours and can answer all of your questions. This is especially important since selling your home is likely one of the biggest, if not the biggest, financial transaction you will ever make in your lifetime.
Not Understanding the Market
It's important to know what to expect when selling your home.
While you can mitigate a lot of uncertainty by hiring the right Realtor, it's still important to have a general idea of the real estate market in your area. Knowing things like how long houses remain on the market and their average sales price is essential for a successful sale.
Not Fully Committing to Selling
Sometimes potential sellers are just not fully committed to the idea of selling their home. When this happens, they list their property just to "get a feel" of what the market is currently like.
This is one of the biggest mistakes to avoid when selling your home!
It is a mistake for two reasons:
1. In some markets, real estate sells so quickly that listing your home "just to see" could start a chain of events you are not ready for, forcing you to quickly accelerate your timeline.
2. The second is that if you list your home out of curiosity, it's unlikely you will commit to the steps needed for a successful sale and see mediocre results – which could put you off selling your home entirely.
Not Investing in Advertising
We live in a digital age. Nowadays, you can't just put a "for sale" sign in your front yard and expect the offers to come rolling in. To successfully sell your home, you must invest in digital advertising.
This means ensuring you have well-lit and high-resolution photos of your home available for viewing on multiple online outlets, like Multiple Listing Services and social media.
Rushing It
One of the biggest mistakes to avoid when selling your home is simply not having enough patience. This doesn't mean that you need to be content with waiting around for months without any offers on your home. Only that you should understand the process that it takes to sell a home and follow the steps outlined by your Realtor.
Not Reading the Fine Print
After you prepare, market, and show your home, receiving what seems like the perfect offer can be exciting. It is important to remember to read the fine print of any contract before you sign it, especially the one that will sell your home.
Overpricing Your Home
It's important to work with your Realtor to determine your home's fair market value. A home's fair market value is what an unpressured buyer is likely to pay for it under normal circumstances.
You can discover your home's fair market value by taking your home's assessed value (used for tax purposes) and building on it by considering the property's location and amenities.
If you try to sell your home for well over this value, it's likely you won't get any offers.
Spending Too Much on Renovations
Completing major renovations right before you try to sell your home can sometimes be a bad idea. This is because decorating tastes can wildly differ. Your dream kitchen can easily turn into someone else's nightmare. A second reason is that if you sink $15,000 into crafting a brand new kitchen, sadly, the renovation might not increase the value of your home by the same amount.
It's important to talk with professionals before deciding to make any major changes to your home before selling, as they will be able to assess your potential return on investment.
Not Patching Things Up
There are small changes that you SHOULD make to your home before selling. Things like adding a fresh coat of neutral paint to rooms that receive major traffic or fixing the squeaky gate. Even something like power washing the driveway is a great way to spruce up a property before trying to sell it.
One of the biggest mistakes to avoid when selling your home is assuming that it is at its best "as is."
Forgetting to Depersonalize
Potential homebuyers do not want to see your wedding photos. They also don't need to know that you have two cats, even if they are completely adorable. An important mistake to avoid when selling your home is reminding other people that you actually live there.
During showings of your home, you want guests to be able to picture themselves living in the house and making memories there. It is nearly impossible for them to do this when you leave your personal effects littered throughout the home.
If you're looking for a local, full-service agent that will provide you with the quality of service you deserve without the full-service price, Clever can help. Our full-service brand name agents will list your home for a flat fee of $3,000 or 1.5% for more expensive homes. Call us today at 1-833-2-CLEVER or fill out our online form to get started.
Related Articles