Getting ready to sell a house | Marketing your home | Closing on your home sale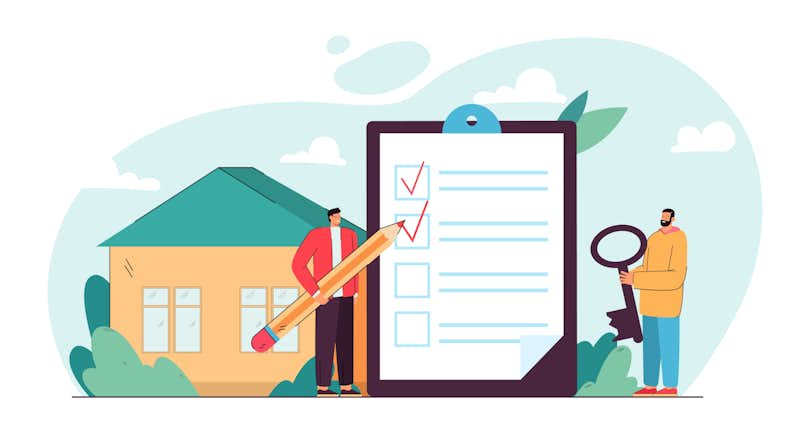 Selling a home is a massive undertaking with lots of steps and moving parts.
To help you stay organized, we've put together a home seller checklist. Our guide will help get you from finding an agent all the way to closing.
>MORE: How Do I Sell My House? Everything You Need to Know
🙌 Better agents, lower rates, zero hassle
Find your agent through Clever, get 100% full service for just 1.5%. Free with no obligation
Getting ready to sell a house
Find a good listing agent
Unless you're selling your home yourself, your home selling journey will begin with finding a listing agent. A listing agent is a licensed real estate professional who represents you in your home sale. Your agent will help you set the right price, market your home, and navigate negotiations and contracts.
We recommend finding an agent through a free matching service, like Clever Real Estate. Clever matches you with top local agents from well-known brokerages like Berkshire Hathaway and Keller Williams.
Clever also pre-negotiates a 1.5% listing fee, potentially saving you thousands on commissions. On average, sellers who list with Clever save $9,600 on closing costs.
» MORE: Clever Real Estate can help you save up to 50% on commission (learn how)
Add a real estate lawyer to your team
Some states legally require sellers to hire a real estate lawyer. But even if it's not required, you might want to add one to your team. A real estate lawyer can help you navigate the legal side of house selling, like contracts.
You'll definitely need a realtor if you're dealing with foreclosure, divorce, boundary disputes, or title liens. A real estate lawyer typically costs $150–$350 per hour — around $800–$5,000 for the entire home sale.
Get a pre-listing appraisal
Your buyer will probably order an appraisal during the buying process, especially if they're financing with a mortgage. But you should consider getting an appraisal before even listing. Why?
A pre-listing appraisal can help you set a good listing price. An accurate listing price makes it less likely that the buyer will lower their offer after their own appraisal. If their appraisal comes back lower than the selling price, then you can get into long renegotiations and potentially miss out on money.
Budget for closing costs
Home sellers pay 6–9% of the home sale in closing costs (even less with a low-commission agent). You might be able to negotiate some of these costs with the buyer, especially if there's fierce competition over your home, but you'll have to pay most of them.
| Type of Closing Cost | Amount |
| --- | --- |
| Title search | $300 (national average) |
| Conveyance fee | 0.05–2.2% of sale price |
| Recording fees | $118 (national average) |
| Courier fee | $50–75 |
| Prorated property taxes | Varies by area |
| HOA fees | $200–300 |
Minor repairs
Most buyers don't want to buy homes that need lots of work. Before listing your home, fix any small, necessary issues. Here are some things you might want to do before listing your home:
Fix any broken internal systems like the HVAC or plumbing.
Paint any bright walls a neutral color.
Replace broken blinds and shutters.
Tightening door knobs and hardware.
Deep cleaning the carpets.
>MORE: 18 Easy Ways to Get Your House Ready to Sell
🏡 Which home improvements have the highest resale value? Installing wooden floors, replacing both your garage and front doors, re-siding your house, and finishing minor kitchen and bathroom renovations have high resale value. Choose home improvement projects carefully. Not all of them will have a good return on investment.
Stage the interior
Staging is the delicate art of rearranging and redecorating your home to bring out its most impressive features. On average, professionally staged homes sell for 17% more than non-staged ones. And 95% of staged homes sold within 11 days.
If you're working with an agent, you already have an expert to help make your space come to life. Many agents know which staging techniques work best for your area. They might even use software for virtual staging, too.
>MORE: Steps to Sell Your House: Everything You Need to Know
Marketing your home
List your home for sale
It's important to get your home's listing price just right. Price it too high, and you'll turn off too many buyers. Price it too low, and you might end up leaving money on the table.
This is where having a good real estate agent is crucial. Your agent will do a comparative market analysis (CMA) to figure out a good competitive price. A CMA involves finding homes like yours that have recently sold in your area. An agent with a deep, local knowledge of your market will be able to get you an accurate CMA.
Prepare your home for showings (and keep it clean!)
Once you list your home, your agent will start scheduling showings and walkthroughs for potential buyers.
Some buyers will schedule walkthroughs a few days in advance. And others might show up and still expect to see your home at its best. That means you'll have to keep your home exceptionally clean, even when you're not expecting anyone.
It can be exhausting and might feel as if you're always preparing for a guest that never comes, but it can pay off. Here's a list of some daily tasks you should do to keep your house showing ready:
Take out the trash.
Clean the bathrooms and the kitchen.
Sweep the floors.
Vacuum the carpet and rugs.
Clean up any litter boxes and pick up any dog poop.
Put away any clutter or personal items.
Put away any valuables in a safe place.
Make the beds.
💻 Consider adding a virtual 3-D tour. Your agent may offer a 360-degree tour of your home, as an add-on to their marketing package. These tours typically cost around $200. And they can be well worth the money, because they differentiate your listing from similar homes.
Closing on your home sale
Look into buyer contingencies
A buyer contingency is a clause in your contract that lets buyers walk away from a deal if conditions aren't met. For example, a mortgage contingency lets a buyer back out of a purchase agreement if the lender doesn't approve their mortgage application.
You don't technically have to agree to buyer contingencies. Many sellers do as an act of good faith. But if you're in a competitive market and trying to close quickly, it might be in your best interest to leave contingencies out. Talk it over with your agent before agreeing to anything.
Get ready for the final walkthrough
The buyer will usually walk through the home one last time before they sign the final contract. During this final walk-through, buyers will make sure you completed any pre-negotiated repairs. They'll also check that you left furniture and appliances that you agreed to leave behind.
Request a final reading of your utility meters
Utility companies can hold a lien on your home for unpaid bills. So, you'll need to show a buyer and their attorney that you've paid off your utilities, closed all accounts, and taken your name off services. You can bring a final statement from your utility companies to verify this.
Take the buyer to closing
Closing day takes only a few hours, but you'll need to bring some essential paperwork to the table.
A valid form of ID (like a driver's license)
The purchase agreement
The deed to your home
The final utility bill
The utility bill will prove that you've paid the utilities and closed your account.
>MORE: 12 Key Documents Required to Sell a Property
FAQ
What should I to do my house before selling?
Before you sell your house, work on essential repairs that will probably come up during a home inspection, like the HVAC. You should also clean and stage your home to make a good impression on buyers. Professionally staged homes typically sell for more than unstaged ones. Prepare for your sale with this home seller checklist.
What should I remove from my home when selling?
When you're selling a home, it's a good idea to remove any visible personal items, like family photos, laundry, toiletries, and clutter. This allows potential buyers to better envision themselves living in your space.