Buying a home can be stressful — particularly for first-time buyers who don't have connections or a lot of cash for a down payment. While mellohome streamlines those processes for customers, it's essential to know how it works and it's pros and cons. Read on to learn more.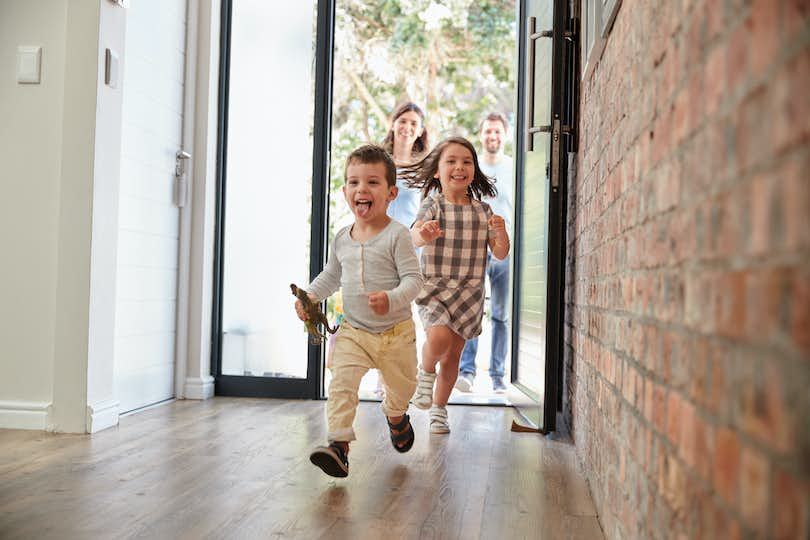 In the age of one-click buying, the home purchasing process can feel slow — particularly when it comes to financing and closing. There are months of credit checks and interviews with lending companies to pre-qualify for a mortgage, and by the time you get around to making an offer on a home, it's easy to feel more stressed than excited — especially if you are first-time buyer.
Mellohome streamlines the home buying process by providing a one-stop shop to pre-qualify for a loan online with their parent company loanDepot and to be connected with one of their partner real estate agents working in your area.
However, the convenience of mellohome comes at a cost. Buyers may have fewer options to choose from when looking for an agent to represent them. This could mean matching with an agent with a full-work load, one who lacks experience, or who doesn't meet your unique needs.
If you want more control in your process — or you'd like some no-obligation advice — you can get matched with local agents to find the right fit for you.
> Start interview top agents near you.
For now, we're helping you weigh the pros and cons of working with mellohome by taking a look at how it works and what its customers think.
What is mellohome?
Using proprietary technology and partnerships, mellohome connects pre-approved buyers and homeowners with local real estate agents and home improvement professionals. In short, mellohome's objective is to be a fast one-stop shop for prospective homeowners to purchase, finance, and connect with home improvement services.
As an affiliated loanDepot brokerage, prospective buyers can pre-qualify for a mortgage via mello, the company's lending platform. Once qualified, a buyer will be connected to one of loanDepot's partner realtors. Agents join the network for free, but they agree to pay mellohome a percentage of their commission in exchange for the referral.
The company helps homeowners qualify for home improvement loans and refers local contractors to complete the work.
Finding a Buyer's Agent With mellohome
Connecting with a buyer's agent via mellohome is fairly simple and automatic process. You start by applying for a pre-qualified mortgage with loanDepot online or by phone. Within minutes, a representative connects you with a licensed loan officer, who will go over the specifics of your needs regarding a home purchase. If you fulfill their minimum criteria, you may be pre-qualified for a loan.
At this point, the loan officer will ask if you have an agent. If you have gone the route of qualifying first and shopping second, they'll pass your information back to mellohome. From there, mellohome reaches out to partner real estate agents in your area. The first licensed realtor to respond receives your information and will contact you.
Throughout the process, you will be connected to your loan officer, real estate agent, and a mellohome concierge to answer your questions.
Connect with a top-rated local agent!
Find the home of your dreams with a local expert!
Does mellohome charge a fee?
Buyers who use mellohome to connect with a buyer's agent pay nothing upfront for the service. Instead, by submitting your information on the mellohome website, you agree to let them take your information and share it with one of their partner real estate professionals in your area.
In exchange for connecting the buyer and agent, mellohome charges realtors a referral fee (more on that in a moment).
Mellohome Reviews
As a relatively new company that launched in 2018, mellohome has a limited number of reviews available online — and of those, even fewer are from impartial third-party sites. The available reviews reported:
First-time buyers who are unable to make a large down payment on a house — and without perfect credit — can still prequalify for a loan and quickly.
You can also find a local real estate agent quickly. This is especially helpful if you're moving to a new city where you don't have many connections.
While promising to streamline the buying process under one brand, customers will end up working with representatives from various companies as mellohome is not a brokerage firm itself.
There were concerns raised that while there is no upfront fee to customers for matching with a local partner real estate agent, the referral fees could be passed on in the future as fine print in closing agreements.
What are the benefits of mellohome?
For buyers looking to make fewer phone calls or inquiries throughout the process of buying and paying for their home, mellohome provides a solution. Rather than having to contact multiple companies for each step of the process, you can apply for a loan through mello and have mellohome connect you to a local agent who will walk you through the process of finding a home and closing on it.
By connecting with an agent through mellohome, you can also be certain they'll understand the terms of your loan and buying power. That should clear up any confusion that could come up when it comes time to make an offer and close on your dream home.
What are the drawbacks of mellohome?
Future homeowners looking to have more control over their buying process may find some drawbacks from working with mellohome.
Their referral system is built to match customers with the fastest responding agent. While some of the agents in the network have years of experience and expertise, you may also find yourself working with someone less experienced — or even an agent with an oversized workload who might not have time to give you the personal attention you need simply because they were the first to respond to mellohome's call for agents.
Top Alternatives to mellohome
When it comes to finding the home of your dreams, it pays to have a trusted, local real estate agent in your corner. An ideal agent will have a communication style that suits yours, understand your priorities, and be available when you need them.
Clever Real Estate partners with top agents across the country and connects them with homebuyers. But you don't have to work with the first agent who contacts you; with Clever you can receive free consultations from as many agents as it takes to find the best fit.
In addition to helping you navigate the sometimes tricky ins and outs of buying a home, Clever Partner Agents] offer on-demand showings — sometimes in less than an hour — so you don't miss out on landing your dream home. They work for top-rated real estate brands, such as Century 21 and Keller Williams.
> Start interviewing agents today!
Top FAQs for People Considering mellohome
Do you need a buyer's agent?
Unless you're a seasoned real estate veteran, having the support of a buyer's agent is a necessity when buying a home. As an expert in your local market, a realtor will help you find what you are looking for in a home — including location, size, and style — in your price range. Licensed realtors also have access to more information about homes in your area and can schedule viewings for you when the time comes to look.
Most importantly, they'll be your representative when it comes time to buy. They'll handle negotiations with the sellers, make sure you get the best bang for your buck, and oversee the paperwork that comes with buying a home.
Really, there's no reason to buy a home without a buyer's agent. It doesn't cost you anything (sellers pay the buyer's agent's commission), and you have someone in your court for the buying process.
What is a buyer's agent commission?
A buyer's agent commission is the payment a realtor receives in exchange for helping you find and buy your home. Paid by the selling homeowner, the commission typically amounts to 2.5% to 3% of a home's final sales price. This is in addition to the 2.5% to 3% commission paid to the listing agent for a total of 5% to 6% in commission fees paid upon closing.
That means, if you purchase a home for $200,000, your buyer's agent will earn about $5,000 to $6,000. In a traditional home sale, agents are only paid after a sale is complete.
What is mellohome's referral fee?
Though customers do not directly pay a fee for working with mellohome, the company charges its partner real estate agents a referral fee in exchange for connecting you with them.
While mellohome's exact referral rate may vary based on the agent's agreement with the company, most referral fees are based on a percentage of the agent's commission. Typically, the buying agent will pay between 25% to 35% of their commission as payment for the referral.
What is loanDepot?
loanDepot refers to itself as the second largest non-bank consumer lender and the fifth largest retail mortgage retailer in the United States. Using their software, they match prospective borrowers with the best loan option for their circumstances. loanDepot provides personal loans, specializing particularly in home mortgage refinancing, purchasing loans, and home equity.
Working with a non-bank lender, like loanDepot, offers some advantages for first-time home buyers. While banks typically require 20% down payment on a mortgage loan and better-than-average credit scores, non-bank lenders require as little as 3-3.5% down and buyers with average credit. You may also find more flexibility if you're self-employed or are looking for a faster approval process.