Real estate start-up BlueMatch promises home sellers more support than the standard flat-fee Multiple Listing Service broker. We break down how it works, weigh the pros and cons, and answer your FAQs on this company's services.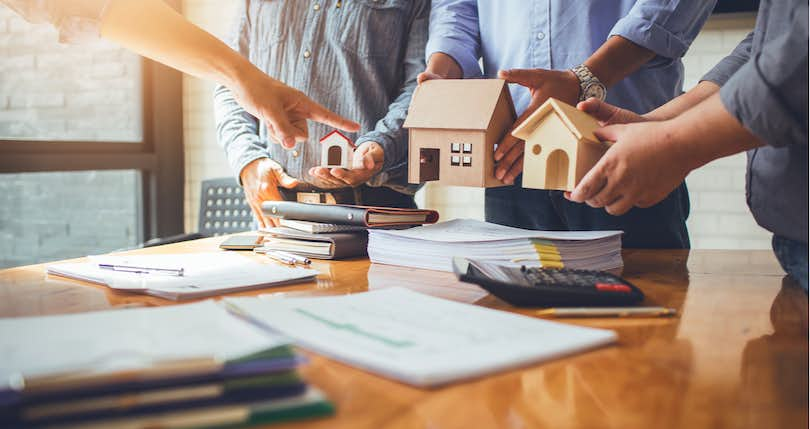 With more prospective buyers heading online to find their new home, the number of virtual services available in the real estate industry continues to grow. Denver-based BlueMatch pledges to use its software to help homeowners sell their homes with the help of technology and without paying commission fees.
While offering up more services than its competitors, BlueMatch is limited in how many markets it now serves. And while offering multiple plans and a la carte services, the platform does not provide all of the support sellers may need when putting a house on the market.
As homeowners look for more ways to maximize profits when they sell, it is important to find the best deal without cutting corners. Sellers looking for a balance between profit and support can find it by connecting with Clever's network of partner agents and weighing all their options.
To help you find out what approach is best for you, here are the answers to your questions about BlueMatch and how its services work.
JUMP TO SECTION
What is BlueMatch?
BlueMatch is a virtual real estate company that allows individuals to buy and sell with online support. The Denver-based startup uses a combination of software, data, and logistics to help homeowners list, market, and sell their homes without paying for a full-service realtor.
Unlike most flat-fee Multiple Listing Service brokers, BlueMatch provides assistance in marketing your home, managing listings, and negotiating a final deal.
How does BlueMatch work?
To create your listing with BlueMatch, enter your address in the pop-up prompt located on the website's home page.
Create an account by providing your email address or connecting your Facebook or Google account.
After verifying your email, you will gain access to the BlueMatch Listing Dashboard. From the dashboard, select the plan that works best for you, enter your home's information for the MLS listing, load and manage photos, access BlueMatch's proprietary pricing analysis, sign contracts, and finish your profile.
BlueMatch's commission-free service includes an MLS listing with up to 35 photos. In addition, you will receive disclosure documents, electronic contract and document management, contract review by a licensed agent along with guidance through closing. This service helps you coordinate showings with prospective buyers.
In addition, you can upgrade to a dedicated agent service. It includes professional photography, a "for sale sign" and lockbox, strategy meetings, in-depth pricing comps, and a licensed negotiation specialist. The dedicated agent will take you through the process and negotiate on your behalf.
Once your home is posted to MLS, you can coordinate showings with prospective buyers through ShowingTime. ShowingTime automates showing scheduling and management for MLS and real estate offices across the United States and Canada. As the seller, you are in control of when buyers can tour your home, and it is all coordinated through this software.
Does BlueMatch charge a fee?
BlueMatch charges a fixed flat fee of $895 due at closing. This fee covers the transaction coordinator, audit, and compliance — as well as their platform costs. They do not require payment upfront, which means you are not out any money if your home does not sell.
Customers who opt to upgrade to the dedicated agent service will pay a flat-fee commission of $1,495 at closing, as opposed to the traditional 2.5-3% fee paid in commissions to listing realtors. The seller is still responsible for paying a commission to a buyer's agent as well as other costs during closing, which typically include title transfer.
BlueMatch provides other services, such as homeowner's insurance, mortgage lending, home refinancing, title services and more. These are available for an additional cost.
Sellers who are also in the market to buy are eligible for BlueMatch's rebate program. Sellers who buy a home using BlueMatch or an affiliated agent will receive a cash-back rebate after closing on their new home.
Where is BlueMatch available?
BlueMatch is currently available in select markets in Colorado, Florida, Georgia, Minnesota, Texas, and Washington. Homeowners who participate in the rebate program can buy their new home in any of BlueMatch's markets.
Pros and Cons of BlueMatch
Pros
BlueMatch provides a host of services that go beyond the norm of what you can expect from most flat-fee brokers. Even the lowest level of service includes support with listing and closing paperwork. As most homeowners do not sell frequently, these can be the most frustrating parts of selling a home without a listing agent. It pays to have the advice and support of experienced professionals during the most technical aspects of a sale.
Homeowners are also able to avoid paying the 2.5-3% commission fee due to listing agents upon the close of a sale. With a flat fee of $895 — plus $1,495 for the expanded package — a seller will spend less than the $5,000-$6,000 they can expect to pay on a home that sells for $200,000.
Cons
Homeowners interested in holding an Open House will have to do so on their own. While BlueMatch provides other areas of promotional support, their policy does not extend to hosting Open Houses.
BlueMatch is not widely available to sellers nationwide. As of 2019, it is limited to markets in six states.
Looking for a full-service, flat-fee agent available in your area?
Clever can help you connect with a partner agent and save on commissions!
BlueMatch Reviews
BlueMatch has a 4.5-out-of-5 star rating on Yelp as of August 30th, 2019. Since they're a relatively new company they have few reviews available, just 8 right now.
View BlueMatch's reviews on Yelp.
Alternatives to BlueMatch
Flat-Fee MLS Listing Services
Flat-fee Multiple Listing Services acts as a broker between homeowners selling their own homes and the listing service. An MLS is one of the best resources for sellers to reach serious prospective buyers in their markets. While some information is accessible to the public, some details are only available to licensed realtors.
In addition, only members of a local realtor association or the National Association of Realtors are allowed to list a home on an MLS. In most cases, flat-fee MLS providers are paid in advance for a set period of time.
Traditional Agents
Traditional agents provide a full list of services to maximize profits and help the home sell as quickly as possible.
An agent uses their expertise on local market trends to set an asking price aimed at maximizing profits for the seller. They set a price based on a number of factors including comparisons to other homes on the local market, the value of amenities, a home's location and more.
A full-service agent will also handle all of the details of marketing beyond an MLS. They will help you stage a home, take photographs and write a compelling listing description to make your home stand out to prospective buyers. Agents will provide a "for sale" sign, post advertisements and manage showings.
Your agent will also take the lead on negotiating offers and the details of closing on your house.
Full-Service, Low-Commission Agent
Some real estate agents or agencies offer services at a discounted rate. This is most common with new agents looking to build their portfolio and client list while gaining experience.
A note of caution: Do your research when working with a low-commission agent. Some also reduce their services. For example, the agent may take care of listing your home, but they will require you to provide photos and write your own listing description. That will leave more of the marketing up to you.
Some discount agents may not put in as much time and effort to properly price your home. This could lead to price drops, which will cause you to lose out on some of your profits.
If you are a homeowner looking to save on closing costs without losing out on the benefits of a full-service agent, it might be time to enlist the help of a professional.
Clever Partner Agents provide a full range of services — from setting an ideal asking price for your market to negotiating the final sale — but they will work for a 1.5% listing fee ($3,000 minimum). Contact Clever for a no-strings-attached consultation and to learn more about how you can sell your home for a great price without sacrificing personal service.
FAQs About BlueMatch
What is a fair Realtor commission?
Sellers can usually expect to pay 5-6% of the home's selling price in real estate commissions with half going to the listing agent and half to the buyer's agent. That means a homeowner who sells for $200,000 can will pay $12,000 in real estate commissions.
Realtors make their money based on commissions. That means they are not paid until a home sale is finalized.
Real estate commissions for both the listing and buying agents are typically paid by the seller in addition to other closing costs. This includes the cost to transfer the title, notarization and related fees.
You can ensure your home receives full service at a lower cost, without a loss in support, by popup-modal text="enlisting the help of a professional"] from Clever. Clever Partner Agents are top-rated real estate agents from major brands — like Century 21 or Keller Williams — who are experts at securing your home the best sale price possible in your local market. They'll manage the details from listing and marketing to negotiating and closing.
Partner Agents have agreed to work for 1.5% listing fee ($3,000 minimum). This means you receive the full benefits of service and more profit from your sale.
Is a real estate agent's commission negotiable?
You may be able to negotiate a real estate agent's commission. Before going into negotiations, it's a good idea to have a plan for your approach and to manage your expectations.
When interviewing prospective listing agents, you can ask if they would be willing to negotiate their commission. While some agents are required to charge a set percentage by their firm, others may be willing to come down. In exchange, you could offer to take on parts of the marketing — such as photography or writing a listing. You can also offer to help them build their business with referrals in exchange for a smaller commission.
If you are also buying a home in the local market, you can try to minimize your commission by working with the same agent to sell your old home and help you buy a new one. Check the fine print when making an agreement like this. You could find yourself in breach of contract if you end up going another route with your purchase.
You are less likely to be successful in negotiating the commission with a buyer's agent. While you can try, doing so will make it less likely for local agents to show your home to prospective buyers. Instead, most will direct their customers toward properties that offer them the standard 3% commission.
Why do realtors charge so much?
When it comes time to pay up to $6,000 in commission fees to a listing real estate agent on the sale of your $200,000 home, it's natural to feel some sticker shock.
But there's more to the commission paid out than meets the eye.
A full-service real estate agent provides much more than a listing on the MLS or real estate websites. They conduct extensive research to price your house to sell — and at the best profit for you. Through their knowledge of the local market, you can sell your house quickly without having to undergo price reductions and face the potential of paying double mortgages.
They will also use their expertise of the market to help you determine the best ways to play up your home's features to prospective buyers. From helping to stage the home to photographing it in a visually appealing way, a listing agent wears many hats in marketing a home.
In most cases, your agent will not receive the full amount paid. Some of the money goes towards licensing and continuing education. They must also pay for the MLS, realtor board dues, insurance, and their own marketing. Agents who work with an agency must also share some of their profits with the company. So the commission fee goes to a lot of places.
The same can be said on the other side of the deal with the commission fees paid to the buyer's agent. They will have the same overhead involved as they show prospective buyers potentially dozens of homes in their market.
How do I save on real estate commission?
There are a few options available if you would like to save on real estate commissions.
You can work with a flat-fee MLS service and handle the rest of the sale yourself. You can also try to negotiate commission rates with a traditional agent.
In both of these instances, you can expect to take on more responsibility as the seller. You will need to manage everything from market research to settling all of the paperwork needed for a home sale.
Do sellers pay closing costs?
Unless otherwise arranged, sellers are expected to pay closing costs. These fees are typically 5-6% of the home's final sale value and they are split between the listing agent and buyer's agent. That means if you sell a home for $200,000, you can expect to pay $10,000 and $12,000 in closing costs.
Even in cases where a homeowner does not use an agent to sell, they will be expected to pay a 2.5-3% fee to the buyer's agent, which would amount to $5,000-$6,000.