Real estate investing can turn you some pretty handsome profits. But you have to know where to invest and when. Otherwise, you could be saying goodbye to your hard-earned money. Check out the best real estate investment markets in Georgia here.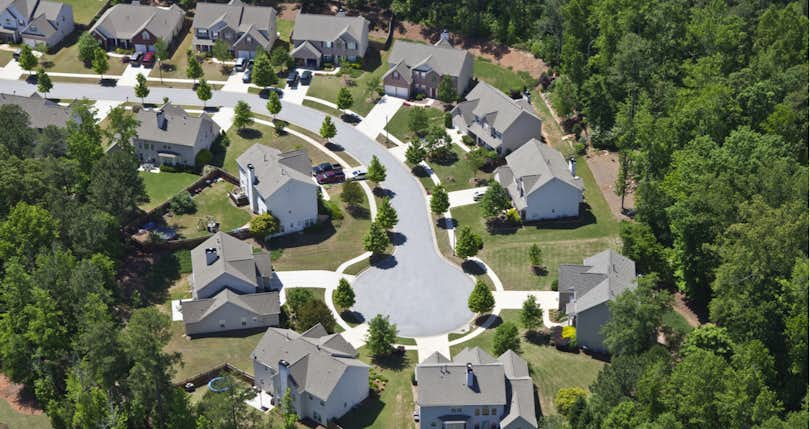 If you want to make some serious cash, real estate investing is where it's at. However, you have to be prudent about where you decide to invest.
Pick the right location and you'll get a hefty ROI. Pick the wrong one and you'll be flushing your money down the toilet.
Atlanta, Georgia has enjoyed a spot among the top 20 best real estate investment markets in the nation for many years. Let's take a closer look at what the capital of the peach state has to offer investors.
Atlanta, Georgia
Hands down the best real estate investment market in the state is in Atlanta. More than 5.5 million people already call Atlanta home and the US Census Bureau predicts this to grow to 7.3 million by 2020. This growth rate is over 100% above the national average. This growth is creating a high demand for rental properties.
Why are so many people moving to Georgia? The economy is booming! Jobs are growing at a higher rate than the national average. The low cost of doing business has prompted many big companies like UPS, Coca Cola, and Delta Airlines to station their headquarters there.
Plus, there is plenty to see and do in Atlanta, attracting visitors and residents from all over the country.
Of course, Atlanta is a large city (134,000 square miles) and not every property is a prime piece of real estate. Let's look at the five best neighborhoods.
The West End
As a city in the Old South, Atlanta is full of picturesque, historic neighborhoods. But none can beat out the West End. Plus, it's peacefulness and tranquility make it ideal for families with kids and those not wanting to live in the loud hubbub of a city.
The median purchase price is $153,000 and the median rent is $752 per month. This makes the area not only desirable for its charm but also it's affordable prices.
For investors, it's easier to get in because of the lower price points. Plus, you won't have to worry about finding renters. It's popularity and affordable prices mean that units fill up fast.
---
Looking to invest in real estate? You need a realtor who specializes in investment properties.
The first step in your real estate investing journey is to find a top local realtor with experience helping real estate investors find great deals. The right agent can help you find the best property for your goals and budget — and craft a winning offer so you can stop looking at houses on Zillow and start building wealth.
If you need help finding a realtor who specializes in investment properties, Clever Real Estate can match you with an experienced local agent so you can find the right property and get a great deal. You can also earn cash back when you close on your purchase!
Requesting agent matches is free, and there's no obligation. Just fill out the form below to get agent recommendations sent straight to your inbox!
💰 Buy an investment property, earn cash back!
Buy your investment property with a top local realtor from a trusted brand like Keller Williams or RE/MAX. Get cash back on eligible purchases.
Enter your zip code to get personalized agent matches sent straight to your inbox. Compare your options until you find the perfect fit, or walk away with no obligation
Midtown
Midtown is the second-largest business district in the city. Thus you might not immediately think of the area as a great residential real estate investment opportunity. However, the vibrant atmosphere of the area draws all sorts of people to live there.
Rental prices here are almost double at a median of $1,380 per month. But, of course, the homes are more expensive too with a median price of $350,000.
However, there is a low vacancy rate due to more people looking for housing than there are available units.
Castleberry Hill
Another historic section of Atlanta, Castleberry Hill is a hot spot for real estate investors. Median home prices sit at $263,000 and the median rent is $1,270.
There are tons of historic sights and landmarks in this area as well as original and distinct architecture. What's more, new construction homes are built to stay in keeping with the old style. With plenty of art galleries and artesian shops, the area is loaded with charm.
But what's the real gold for investors? The neighborhood is situated less than a mile from the Atlanta University Consortium and less than five miles from Georgia State University. This means a steady flow of students seeking quality housing.
Old Fourth Ward
If you're looking to invest on the higher end of the spectrum Old Fourth Ward is a good choice to get your feet wet. Median home purchase prices are $399,000 and the median rent is $1,328 a month.
In the 19th Century, this area was the most prestigious area of Atlanta. The area fell into a major slump through the 1960s but is gaining ground again. Commercial property is still relatively inexpensive, prompting many startups and other small businesses to populate the area.
This is an area that is seeing the potential for some explosive growth in the next few years. Now is a good time to get in on it.
Clayton
Would you like to see substantial returns on your investment? Silly question, of course, you do! Then Clayton is where you want to be in Atlanta, or the entire US for that matter.
Check out the median home price in Clayton, $135,000. Okay, relatively inexpensive, that's good. Now, look at the median rent price, $1,039.
Plus, people keep flocking to Clayton, so get in while the getting's good.
Expert Advice on The Best Real Estate Investment Markets in Georgia
There is no better time to seek expert real estate advice than when you are searching for investment properties. An experienced, local agent will know the hotspots and be watching the trends for all the real estate investment markets in Georgia.
Want some extra cash in your pocket? With the Clever Cash Back program, you may be eligible for cash back after purchasing a home with a Clever Partner Agent.
Ready to get started? Find out how it works today!
👋 Find your perfect agent now!
Finding a great local realtor is the first step in making your home buying dreams a reality. Our free service matches you with top agents from trusted brands like Keller Williams and RE/MAX.
Enter your zip code to request hand-picked agent matches in minutes. Compare your options until you find the perfect fit, or walk away with no obligation. Try Clever's free service today!
Related Articles
You May Also Like