Getting a loan to purchase your dream home can seem like an intimidating process. A few key pieces of advice will not only make getting approved for a mortgage smoother but can save you money throughout the home buying process and long after.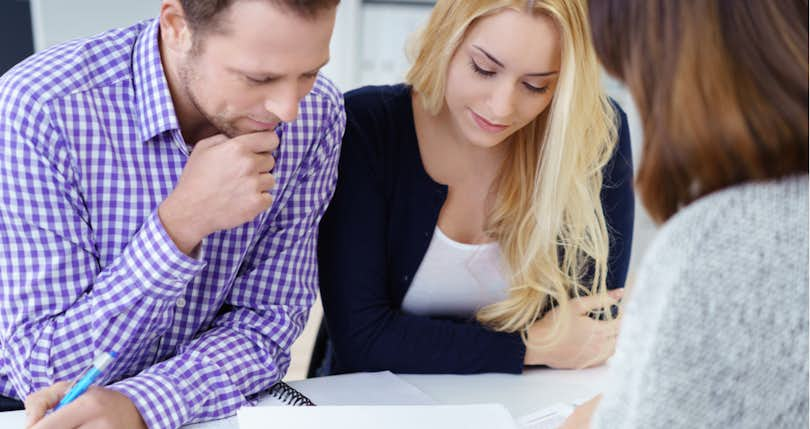 When purchasing a home there are many things to consider, but the biggest is how much home you can afford. In fact, over the past five years, homes prices have increased about 30% across the country. Median prices are now above $260,000 nationwide and are expected to continue creeping up.
With prices on the rise, it is no surprise that the majority of purchases are financed. According to the National Association of Realtors data over 80% of home buyers have a mortgage or financing of some sort.
Getting a mortgage may seem intimidating, but it is a relatively straight forward process if you are prepared for it. If you are working with the right real estate agent, and follow the tips below, you will not only be prepared to put in a strong offer on your dream home but will save money and headaches throughout the entire home buying process.
1. Shop Around for the Best Interest Rate
You'll often be advised to work with the bank or perhaps credit union that you already have a relationship with. While this may result in the best mortgage, it is not always the case. By now shopping around for the best interest rate is a pretty common practice and it makes lenders compete for your business.
Many people are also hesitant to shop around too much because they are worried about too many inquiries into their credit history. This can have a detrimental effect on your credit score, but most credit bureaus treat rate shopping within a certain period of time as one credit inquiry.
By rate shopping, you will also be able to evaluate lenders for other factors too. If your credit is good most of the rates may end up being pretty close. However, through shopping around you may find that some offer better service or other benefits by doing business with them.
2. Get Your Interest Rate Locked in as Long as Possible
Interest rates are constantly fluctuating day to day and the rate you get quoted at one day could be different the next even though none of your financial information has changed. Day to day changes are likely not huge but remember over a 30-year time frame a few basis points can result in a difference of tens of thousands of dollars.
Be sure the rate you are quoted during your application is what you will end up paying by locking in your interest rate. This guarantees you the rate for a period of 30, 60, or 90 days and sometimes more. This is usually secured for a fee and often even allows for a one time float down.
While the average closing period is around 30-45 days, it's always possible your closing could take longer. Locking in your rate will save you money when it turns out those disclosures weren't complete or title issues come up. The extra cost now will definitely save you money in the long run if that rate creeps up during a difficult close.
3. An Adjustable Rate Mortgage (ARM) Has Many (Many) Risks
A typical adjustable rate mortgage, or ARM, is known as a 5/1 ARM that locks in a rate for five years and then adjusts up 2% in year five and sees two additional 1% increases in years seven and eight. You will typically benefit by receiving a rate that is one half to up to one percentage point lower, but over time it becomes two to three percentage points higher than a fixed rate mortgage.
There are times when an ARM can make sense, but there is still a lot of risk involved. Often first-time home buyers who expect to move on to their second home within five years are advised to take out an ARM. This makes sense as they should be ready to sell before that rate ever increases.
However, the best-laid plans often go awry. Suppose the economy slows down or you lose your job. Now all of a sudden you not only still have to make those mortgage payments, but they will be increasing.
Even if everything goes as planned you may still want to hold on to your first home. Perhaps it will make a great investment property and provide additional income. If that is the case you will have increasing payments, but the rent you receive will still be subject to what the market bears.
4. Make Sure Your Monthly Payment Fits Your Budget
This may seem like a no brainer, but all too often home buyers are advised to make use of the full amount they have been approved for. While this may not necessarily be bad advice, it is easy to forget during the home buying process.
Financial experts recommend that your housing costs shouldn't exceed 30-40% of your monthly budget, which means keeping it all under one paycheck. You never know what additional costs will come up either. Home repairs or any number of other unexpected issues could arise.
Stick to your budget when shopping around for your home and getting a mortgage. Your real estate agent can help you determine what homes are within your budget, or recommend a financial advisor or lender who can help you best understand how a mortgage will impact you.
5. Pay Ahead If You Can
If you took the time to fix your credit rating, created a budget, and shopped around for the best interest rate you should have a mortgage payment that is more than manageable. If that is the case make an extra payment when you can. Over the course of a 30-year mortgage an extra payment a year can make a big difference.
If you make one extra payment a year you will have paid off your mortgage almost three years in advance. If you make two extra payments that is almost six years you'll be ahead. Furthermore, because of compounding, your savings will be exponentially more than just the sum of those payments. You'll be saving money every little bit you are ahead.
Following this advice will take you a long way during the home buying process. Having your finances squared away, and getting pre-approved for a mortgage will show sellers that you are serious and that you can close a transaction.
Get great advice during the home buying process.
A Clever Partner Agent will guide you while you find a home.
Advice to Avoid
1. The Lowest Rate Is Always the Right Choice
Don't automatically take the lowest interest rate. Shop around for the best rate, carefully consider whether or not you want an ARM or fixed rate, and evaluate lenders for their customer service.
2. Take All the Money They'll Give You
Don't assume you have to max out your loan. So evaluate your finances carefully and make sure you are comfortable with your payments.
3. You Don't Need to Read the Fine Print
Don't forget to review your loan terms or you'll fail to protect yourself. Lock in your rate, read the fine print, and make sure you understand all the terms of your financing.
If you're ready to start the home buying process connect with a Clever Partner Agent today. Clever partners with agents from the leading brands and brokerages (Keller Williams, Coldwell Banker, etc.) across the country who are experts in their local markets. They are prepared to not only help you find your dream home but save you money through the entire process.
You May Also Like