If you're thinking of moving to Texas, now is the time. The state is booming and so is its real estate sector. It's a great opportunity for buyers. Here are some of the best neighborhoods in Waco, Texas.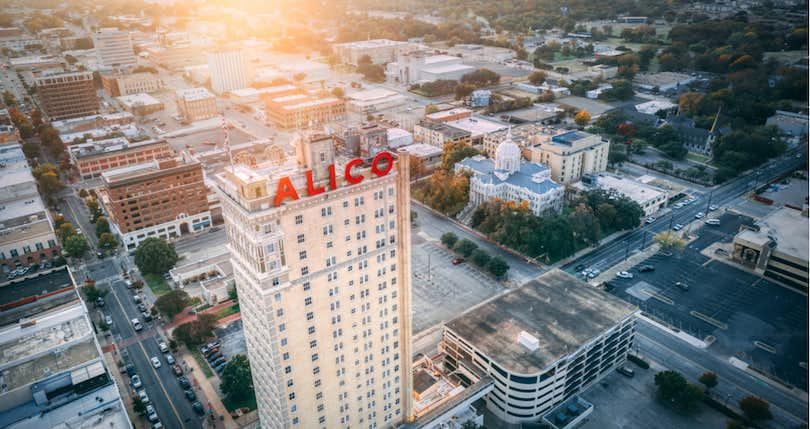 Texas had one of its strongest economic years in 2018 and it doesn't seem to be slowing down this year. The state continues to draw major corporate offices and plants, and its energy sector is booming as oil prices climb.
The thriving economy is attracting workers to the state in droves; Texas is expected to add 1.4 million new jobs over the next five years.
The impact is already being felt in towns and cities across the region, especially in the real estate sector. The new jobs are bringing new residents searching for homes to buy. One of the communities that's benefiting most is Waco.
According to Zillow data, Waco saw a whopping 10.7% increase in its median home values between 2017 and 2018. The growth is phenomenal and is expected to be better than the national average this year. But homes in the city are still extremely affordable; the median home value is just $122,400.
If you're thinking of buying a home in Texas, you should seriously consider Waco. It has all of the amenities of a big city without the overwhelming urban rush. Here's more on some of the best neighborhoods in Waco, Texas.
» FIND: Top Real Estate Agents in Waco
Moving to Waco, Texas for a new job?
Clever Partner Agents can find you a house in a great neighborhood.
Austin Avenue
Austin Avenue is one of Waco's most architecturally diverse and historically rich neighborhoods. It's a moderate-income area that's home to local politicians, Baylor University faculty members, and even prominent regional artists. About a quarter of residents in the area work in manufacturing or labor occupations.
This residential neighborhood is ideal for raising a family. It has many running, walking, and cycling trails. It also has a thriving business and commercial area with restaurants, cafes, and shops.
Austin Avenue has some of the city's oldest homes. Most have been refurbished and are typically well-maintained. More than two dozen homes have also been selected as being "architecturally significant" by the Texas Historic Commission.
In addition to some of the grand and historic homes in the neighborhood, there are also many condo units and studio apartments dotted throughout the area.
The median home price in the neighborhood is $151,311, making it more expensive than almost half the other neighborhoods in Waco.
Brook Oaks
Brook Oak is heavily populated by young families and its median home value is significantly lower at $92,000. The relatively low home values present an excellent opportunity for investors with the average rent bringing in more than $977 per month.
The mixture of residents is evenly split between renters and property owners. The neighborhood is primarily made up of apartments and condominiums, along with single-family homes. Many of the homes were built between the 1940s and 1960s. But there are also some historic homes and good opportunities for people wanting to flip properties.
This is an ethnically diverse neighborhood with a new and growing Pakistani community joining other, more established immigrants communities in the city.
Brookview Neighborhood
This is a family-oriented community where neighbors gather for days and evenings out at S.J. Guthrie Park. It's just one of the local spots where you'll find basketball courts, baseball fields, and open fields for soccer and football.
Price ranges in the neighborhood are wide-ranging, but it's not uncommon to find an older two bedroom house for less than $90,000. The neighborhood is an excellent opportunity for investors since monthly rents can fetch more than $1,000.
This is a well-established community with homeowners comprising about 55% of all residents and the average age of residents being 51.
---
Looking to buy your dream home? Finding the right realtor makes all the difference!
The first step in your home buying journey is to find a top local realtor who's an expert negotiator and has proven experience in your area. The right agent can help you find the best house for your budget and priorities — and craft a winning offer so you don't miss out on your dream home.
The easiest way to find a great local realtor is to use a free service like Clever Real Estate. Clever matches home buyers like you with top agents in your area so you can compare your options and choose a realtor who's the right fit for you.
You can interview multiple agents until you find the perfect fit, or walk away at any time - Clever's service is 100% free with no obligation. Fill out the form below to instantly request hand-picked agent matches now!
💰 Buy with a top agent, earn cash back!
Buy your dream home with a top local realtor from a trusted brand like Keller Williams or RE/MAX. Keep more money in your pocket by earning cash back on eligible purchases.
Enter your zip code to request hand-picked agent matches in minutes. Compare your options until you find the perfect fit, or walk away with no obligation. Try Clever's free service today!
Downtown
Waco's downtown is not that big, especially when you compare it to other Texas cities like Houston and Dallas. Despite its size, the downtown area of the city is probably its most vibrant part of town.
Waco's downtown was built around the Waco Suspension Bridge, a crossing of the Brazo River. This is also the spot where Dr. Pepper was invented and is now the site of a museum dedicated to the history of the soft drink.
The area is a good mix of residential and commercial buildings and is filled with restaurants, live music spots, and shops creating a good urban environment that has a more relaxed pace.
West Waco
This is primarily a residential neighborhood with three- and four-bedroom homes. It is relatively affordable, though homes in West Waco tend to be significantly more expensive than in other parts of the city.
There are homes that are listed for more than $400,000. But it's not uncommon to find listings for three-bedroom houses priced below $200,000. The neighborhood is known for its good public schools, well-manicured lawns, and low crime rate.
Castle Heights
This is one of Waco's most affluent and best-kept neighborhoods. Castle Heights started off as little more than a few houses surrounding a grassy hill in the 1920s. But even back then, it was a prime spot for the city's streetcar line.
Waco has now grown much bigger and so has the Castle Heights community. It has a strong identity almost independent of Waco itself. Residents fought annexation back in the 20th century and that helped forge close community ties that remain to this day.
If you're an architecture or history buff, this is the neighborhood for you. It was an example of the City Beautiful Movement, an urban philosophy that tried to link social issues to architectural design in the last century. This too has helped Castle Heights create its current civic pride.
The neighborhood is an eclectic style of homes. They include Colonial Revival, Tudor Revival, and Minimal Traditional homes. You'll find many homes built during the construction boom after World War II. Castle Heights is also Waco's first historic district in the National Register of Historic Places.
Work with a Professional Realtor
The real estate market in Waco is a great opportunity for investors and buyers looking for a new home. The market is steady and home prices are still affordable for the new workers entering the state every day. If you're a home buyer, the best way to take advantage of Waco's red hot real estate market is to use a local real estate agent. They know all of the local communities inside and out.
Clever can connect you with a professional real estate agent near you. They offer invaluable guidance and support. Clever Partner Agents have complete access to MLS listings so that connect thousands of buyers with sellers daily.
Clever partners with top real estate agents from major companies like Keller Williams, Century 21, and RE/MAX. They are all full-service and they can help you find additional cost-saving opportunities.
Related links