Moving to a new place is a big step. Before you buy a home, you should research the area and talk to a local expert to get a good feel for the neighborhood. Savannah, Georgia is a lovely city by the sea that has something for everyone. Check out the five best neighborhoods in Savannah, GA here.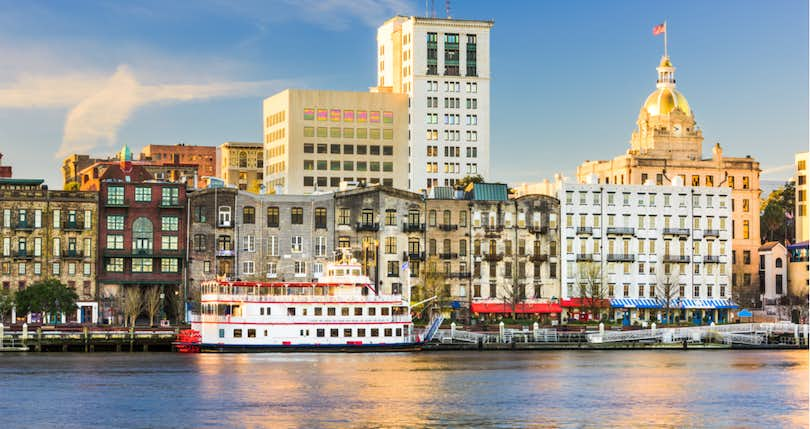 Where can you find a mix of small town charm, big city amenities, historic landmarks, and seaside living?
Look no further than the lovely city of Savannah, Georgia. The gorgeous city offers plenty of things to do, yet is still quaint enough that simply strolling along the streets and taking in the sights is a pleasant way to spend an afternoon.
The median home price in Savannah is rather affordable at $135,300. However, most of the nicer parts of town are a bit more expensive.
Thinking of moving to Savannah, Georgia?
Find the best neighborhood with a Clever Partner Agent.
The city is small but bustling and there are plenty of opportunities for work. Interestingly, Savannah is not made up of primarily white collar or blue collar workers, but rather a strong mix of both. The city also has a high population of single parents, as well as a disproportionately high rate of children living in poverty.
Despite this, the city boasts a bustling economy and offers fun nightlife hotspots and plenty of family friendly sights to see. The thousands of college students that flood the city each year help to keep up the energy of the city and fuel the local economy.
Let's take a look at the five best neighborhoods that Savannah has to offer. You never know, your next home could be patiently waiting for you amid Savannah's charming streets.
Historic District (Downtown)
Do you love to while away an afternoon strolling through museums and gazing upon relics of the past? Savannah's historic district, which is also its downtown, is the perfect place to do it.
This is the USA's largest national historic landmark district and there is plenty to see and do. Take a stroll through the nation's oldest public art museum or check out the railroad museum.
This area of town is definitely the ritzy part with a median home value of $610,259.
Starland District
If you're interested in a neighborhood in Savannah where you can get a good bite to eat, look no further than the Starland District. A tantalizing array of delicious restaurants are packed within one square mile. Go for a stroll in this walkable section of town and you'll find everything from bakeries and cafes to mouth-watering Middle Eastern food.
This area of town was traditionally residential and is full of spectacular Victorian architecture. Thus, many of the restaurants and businesses are actually converted houses, giving each one its own unique vibe. The median home price is more affordable $203,671.
Skidaway Island
Are you looking for a quiet haven where you can enjoy the great outdoors but still be close to all the big city amenities? Look no further than Skidaway Island.
The neighborhood boasts two deep water marinas and over 30 miles of trails where you can walk or jog, bike, or ride around in a golf cart. On days that you want to work out indoors, you can check out the Oakridge Fitness Center, one of the "Healthiest Clubs in America" according to Prevo Health Solutions.
The median home price here is $487,615.
---
Looking to buy your dream home? Finding the right realtor makes all the difference!
The first step in your home buying journey is to find a top local realtor who's an expert negotiator and has proven experience in your area. The right agent can help you find the best house for your budget and priorities — and craft a winning offer so you don't miss out on your dream home.
The easiest way to find a great local realtor is to use a free service like Clever Real Estate. Clever matches home buyers like you with top agents in your area so you can compare your options and choose a realtor who's the right fit for you.
You can interview multiple agents until you find the perfect fit, or walk away at any time - Clever's service is 100% free with no obligation. Fill out the form below to instantly request hand-picked agent matches now!
💰 Buy with a top agent, earn cash back!
Buy your dream home with a top local realtor from a trusted brand like Keller Williams or RE/MAX. Keep more money in your pocket by earning cash back on eligible purchases.
Enter your zip code to request hand-picked agent matches in minutes. Compare your options until you find the perfect fit, or walk away with no obligation. Try Clever's free service today!
Isle of Hope
Looking to retire in Savannah? The Isle of Hope neighborhood is an excellent place to do it. Its low crime rate and tranquility are very desirable for retirees looking for a peaceful spot that's not way out in the country. It also has a great school system, making it a fantastic choice for families looking for a bit of peace and quiet.
The riverfront aspect adds to the laid back feel and the area is very walkable though you have to drive a few miles to get to the nearest major store. The median home price is also a bit on the higher end as compared to the rest of Savannah at $418,989.
Ardsley Park/Chatham Crescent
Looking for a peaceful, family-friendly neighborhood where your kids can ride their bikes to school? The tranquil Ardsley Park/ Chatham Crescent area is perfect. The atmosphere is relaxed and you'll find families turning out for community baseball games on the weekends.
It is located close to downtown so there are plenty of opportunities for work. As one of the oldest areas of Savannah, the area also boasts the historic charm of downtown without being quite as expensive. The median home price here is $427,489.
Finding Your Perfect Home
As always, the best way to get a feel for a neighborhood is to go spend some time strolling around and getting to know the area. Plus, the best way to learn about what can't be seen on the surface is to talk to a local expert.
When you're looking to purchase a home, an expert real estate agent is an obvious choice. They can offer insider information on what it's like to live in the area, what you can expect to pay in taxes, and so on.
The best part of all this is that when you find your agent through Clever you become eligible for a $1,000 home buyer's rebate on homes that sell for more than $150,000. You can put that towards your down payment, closing costs, or whatever you like related to the sale.
To learn more about this amazing opportunity, feel free to contact us today!
Related Articles