Newark is a city with a lot of character, a vibrant culture, and quite a reputation. If you're looking to move to the Brick City. know which are the hottest, up-and-coming neighborhoods and where you should avoid, with this guide to the five best neighborhoods in Newark.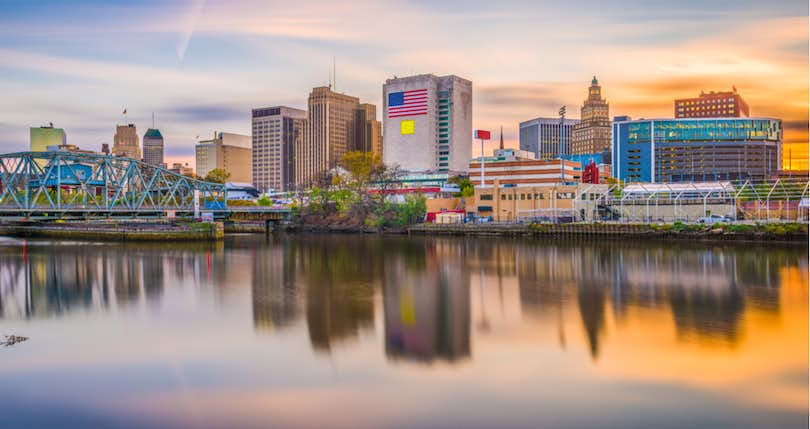 If you're looking to buy a home in Newark, New Jersey, you'll join a tight-knit community that knows who they are and takes a lot of pride in their city. The city is home to the Jersey Devils and Newark Bears, boasts some of the best diners in the state, and yes, plenty of culture.
You'll be able to head to the New Jersey Performing Arts Center to see comedians, performers, and the New Jersey Symphony Orchestra, or check out the Newark Museum planetarium, the Jazz in the Garden Series during the summer, and the spring Cherry Blossom Festival.
Newark is in a prime location right by the coast and simply a train ride away from New York City, making the city an attractive option for young adults and singles to find a home. Indeed, the median age in Newark is 34, five years younger than the New Jersey median age of 39.5.
Moving to Newark?
Work with a Clever Partner Agent to find the best neighborhood for you.
Younger residents are also settling in Newark for its more affordable housing and cost of living over New York. You'll find the median price of homes listed in Newark is $249,900 and the median home value is $256,800, up 15.5% from last year.
Home values are also predicted to rise 5.4% in the coming year, though interestingly, most Newark residents opt to rent over buying homes with 78.3% deciding to rent. The median rental rate in Newark is $1,500, approximately half the expense of the median rent in New York.
The city of Newark is full of character and unfortunately some of that character includes higher rates of crime compared to the rest of the state. And while every city certainly has their good and bad sides, you'll want to avoid moving to certain areas of Newark.
So to help you find the best and safest place to find a home, here are five of the best neighborhoods to live in Newark in 2019.
1. Ironbound District
The Ironbound neighborhood has seen tremendous growth recently becoming one of the hottest areas in Newark. A four-square-mile radius, this neighborhood's vibrant community is predominantly Spanish and Portuguese providing a dynamic culture and excellent cuisine.
The Ironbound District has over 200 restaurants within its boundaries where you'll be able to try authentic Portuguese, Spanish, and Brazilian dishes. The area also has dozens of bars, art galleries, and countless local shops lining the streets.
Split into two smaller neighborhoods, North Ironbound and South Ironbound, the area has seen a huge upswing in home values.
In North Ironbound, the current median sale price of homes is $260,000, up $75,000 while in South Ironbound, the current median sale price of homes is $278,500, up $61,500.
The Ironbound District is also considered one of the safest areas to live in Newark with plenty of amenities including close access to Riverbank Park which is currently under expansion and renovation that will eventually connect the Ironbound District with Downtown Newark.
2. Forest Hill
You can escape from the chaos of the city within the suburban haven of the Forest Hill neighborhood. Located in the North Ward, Forest Hill sits alongside Branch Brook Park, the largest public park in Newark sprawling 360-acres.
You'll be able to walk trails and enjoy beautiful, historic bridges and water features. Additionally, Forest Hill is home to the massive and amazing gothic-style Cathedral Basilica Of The Sacred Heart which has even had a visit from Pope John II.
While you'll find plenty of restaurants, coffee shops, grocery stores, entertainment, parks, and public transit with the Light Rail taking you to Downtown Newark in just minutes, one of the most striking features in Forest Hill is the homes.
The historic neighborhood features beautiful mansions built in the pre-World War II era from 1800 to 1925. You'll encounter architecture ranging from Georgian and Tudor to Neo-Classical and Beaux-Arts.
The median price of homes in Forest Hill is $210,724, however, you may find you can snag one of these historic homes for a steal at around $300,000.
3. Downtown Newark
Downtown Newark is the hub of the city being Newark's business, culture, and entertainment center. The downtown area is extremely walkable, so much so that you could easily forego a car.
Indeed, most of the neighborhood is within walking distance to Newark Penn Station that connects Newark to New York City. Additionally, you'll also have easy access to the Newark Light Rail to take you from one side of the city to the other.
With the downtown neighborhood, you can enjoy the Newark Museum, concerts at the Prudential Center, New Jersey Performing Arts Center, and the eight-acre Military Park which hosts free programming, is home to a carousel and outdoor burger bar during the summer.
The intersection of Broad and Market Streets is the center of business and retail while on Halsey Street you'll find numerous hot, up-and-coming restaurants.
Best of all, Downtown Newark is extremely affordable with a median home price of $129,883 which is 59% lower than the rest of Newark. For renters, rent is 27% lower than Newark at only $889.
---
Looking to buy your dream home? Finding the right realtor makes all the difference!
The first step in your home buying journey is to find a top local realtor who's an expert negotiator and has proven experience in your area. The right agent can help you find the best house for your budget and priorities — and craft a winning offer so you don't miss out on your dream home.
The easiest way to find a great local realtor is to use a free service like Clever Real Estate. Clever matches home buyers like you with top agents in your area so you can compare your options and choose a realtor who's the right fit for you.
You can interview multiple agents until you find the perfect fit, or walk away at any time - Clever's service is 100% free with no obligation. Fill out the form below to instantly request hand-picked agent matches now!
💰 Buy with a top agent, earn cash back!
Buy your dream home with a top local realtor from a trusted brand like Keller Williams or RE/MAX. Keep more money in your pocket by earning cash back on eligible purchases.
Enter your zip code to request hand-picked agent matches in minutes. Compare your options until you find the perfect fit, or walk away with no obligation. Try Clever's free service today!
4. Upper Roseville
Upper Roseville is located in the Roseville community, and similar to the Ironbound District, the Roseville neighborhood is divided into Upper Roseville and Lower Roseville. Crime statistics show Upper Roseville is the safer section however crime in the area overall is down 8%.
Upper Roseville is right by the Newark Light Rail making your commute easy to Downtown Newark and around the rest of the city. Additionally, the neighborhood borders the 360-acre Branch Brook Park providing plenty of recreation opportunities.
One of the best features of the neighborhood is Upper Roseville's affordable housing. The median home price is $214,031, 32% less than the rest of Newark. And rent is also on the low end with a median rent price of $956, which is 21% lower than throughout the city.
Truly, Upper Roseville is becoming one of the fastest growing communities as home values continue to rise with the median sale price of homes up $70,000 in the last few years.
5. University Heights
The University Heights neighborhood is properly named as it has four academic institutions in the area — Rutgers University, New Jersey Institute of Technology, New Jersey Medical School, and Essex County College.
With around 32,000 students seeking degrees, the demographics in the area certainly skew younger with a median age of 30 years. However, the neighborhood isn't just for students. University Heights is undergoing a transformation drawing in more young professionals.
Considered one of the hottest up-and-coming neighborhoods for young adults, you'll find the heart of the neighborhood is Springfield Avenue which is currently being revamped with the Springfield Avenue Marketplace that includes a 125,000-square-foot retail space.
More and more retail, entertainment, and apartment complexes and condos are popping up in the area making it an attractive option for younger adults.
The median price of homes in University Heights is $146,370 while the median price of rent is $910.
Finding Your Perfect Home
Especially with Newark's sometimes less than great reputation, before you buy a home you'll want to partner with an experienced, local real estate agent who can help you navigate Newark's neighborhoods and find you the perfect home in a great area.
Clever can connect you to a local and top-rated Partner Agent in Newark who will guide and support you throughout the entire home buying process.
And by working with Clever you'll be eligible for a home buyer's rebate where you receive cash back that can be used toward closing costs or moving expenses. Get in touch with Clever to learn more.
Related links