If you're thinking about buying a property in West Palm Beach, we've looked at data and this list of five neighborhoods to help you start the search for your ideal home.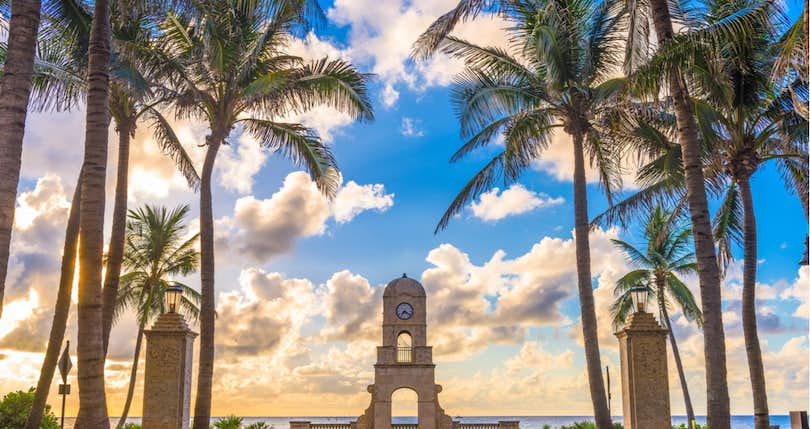 West Palm Beach is a city located on the south-east coast of Florida and is situated to the immediate left of Palm Beach. Only 68 miles north of Downtown Miami, West Palm Beach is a popular destination for home buyers, and according to Zillow, the median home value has increased by 5.4% over the past year alone (data from July 2019)
It's easy to see why West Palm Beach is frequented by tourists, with access to the beautiful Atlantic coast of Florida, many entertainment and cuisine options, plus an easy commute to downtown Miami, West Palm Beach offers a lot to visitors and home buyers alike.
Once you've picked a neighborhood to live in, get connected with a local realtor. They'll help you find your perfect home.
In the meantime, we have looked at the data and compiled a list of the five best neighborhoods to live in West Palm Beach, according to many different factors, including home value, amenities, and unique attributes.
Flamingo Park
Flamingo Park is a neighborhood in West Palm Beach that is famed for its tree-lined streets, various cultural amenities, and retail stores. It also boasts easy access to major highways and the Palm Beach International Airport, making it popular with young professionals and commuters.
Originally a pineapple plantation, Flamingo Park was built during the West Palm Beach real estate boom of the 1920s. If you like mission style architectural design, you're in luck — most of the homes in this area are this style, however, there are other design styles too, such as restored historic homes.
The median income in Flamingo Park is $46,279, and the median home value according to is $273,200, making it extremely affordable for families.
Grandview Heights
Grandview Heights is at the heart of West Palm Beach, and is one West Palm Beach's thirteen historical districts, having been built around 1910 to 1925. Popular with young professionals, Grandview Heights is a walkable neighborhood with a mix of mostly single-family homes and modern townhomes. It also boasts historical architecture such as churches and several bed and breakfasts.
At the west end of Grandview Heights is Howard Park, a 14-acre park that features a community center, a playground, and a dog park and sports facilities. It is the largest urban park in West Palm Beach and contains the historic Stub Canal Turning Basin.
Grandview Heights has a median household income of $58,416, and a median home value of $278,250, which is higher than the U.S. average.
Thinking of moving to West Palm Beach, FL?
A local Clever Partner Agent can find the right neighborhood for you.
CityPlace
Located in the heart of downtown West Palm Beach, is the bustling metropolitan neighborhood of CityPlace, a New Urbanism project that offers buyers modern apartments, studio lofts, and condo towers. Built around a European-style town center, CityPlace also boasts high-end retail stores and trendy farm-to-table eateries.
CityPlace has excellent walkability, and entertainment venues including the Harriet Himmel Gilman Theater, that is a restored 1920s church, plus the luxury Hilton Resort Hotel.
This bustling downtown neighborhood is especially popular with young professionals, and you can expect to pay around $255,000 for an apartment.
---
Looking to buy your dream home? Finding the right realtor makes all the difference!
The first step in your home buying journey is to find a top local realtor who's an expert negotiator and has proven experience in your area. The right agent can help you find the best house for your budget and priorities — and craft a winning offer so you don't miss out on your dream home.
The easiest way to find a great local realtor is to use a free service like Clever Real Estate. Clever matches home buyers like you with top agents in your area so you can compare your options and choose a realtor who's the right fit for you.
You can interview multiple agents until you find the perfect fit, or walk away at any time - Clever's service is 100% free with no obligation. Fill out the form below to instantly request hand-picked agent matches now!
💰 Buy with a top agent, earn cash back!
Buy your dream home with a top local realtor from a trusted brand like Keller Williams or RE/MAX. Keep more money in your pocket by earning cash back on eligible purchases.
Enter your zip code to request hand-picked agent matches in minutes. Compare your options until you find the perfect fit, or walk away with no obligation. Try Clever's free service today!
Historic Northwest
Located just north of downtown, Northwest is West Palm Beach's first historic district to be included on the National Register of Historic Places.
Famed for its late 19th and early 20th-century craftsman-style homes, Northwest also has mission and American Foursquare style properties too. There are several notable homes in the area, including the house philanthropist Alice Frederick Mickens onced lived in, which is now on the National Register of Historic Places.
If you're looking for affordable property in Historic Northwest, it is a good idea to contact a local real estate agent who knows the area. They can help you find the ideal property for you, while also ensuring that your real estate transaction goes as smoothly as possible.
Lake Worth Beach
Just south of West Palm Beach center is Lake Worth Beach, which is named after Lake Worth Lagoon, a body of water along its eastern border. The median household income in Lake Worth Beach is $35,428, which, although lower than the U.S. average, is in keeping with the average home price of $203,400.
The Lake Worth Beach market is neutral, which means it is an ideal time to get on the property ladder for both buyers and sellers. Some excellent news for the local market is that home values in Lake Worth Beach have risen by 8.8% over the past year alone, and they will rise 3.0% over the next year.
Lake Worth Beach boasts a library that the citizens of the city raised money for without Federal assistance. Started by a group of local women in 1912, Lake Worth Library was built with $66,000 in donations raised by The Lake Worth Library Association. The building was completed in 1941 and is still the home of the library today.
Also home to the county's only LGBT center, the annual Gay Pride Parade for Palm Beach County is held in Lake Worth Beach every year.
If you're considering a move to West Palm Beach but would like advice on the best neighborhood for you, chat to one of our Clever Partner Agents. Our local Clever Partner Agent's know the West Palm Beach market and can advise on the best area for you to find your new home.
Related Articles