Portland is a quintessential New England city full of diverse neighborhoods that represent classic architecture and the maritime history of the region. Buyers can find homes nestled in quiet tree-lined streets or in trendy up-and-coming neighborhoods. Portland has something for everyone.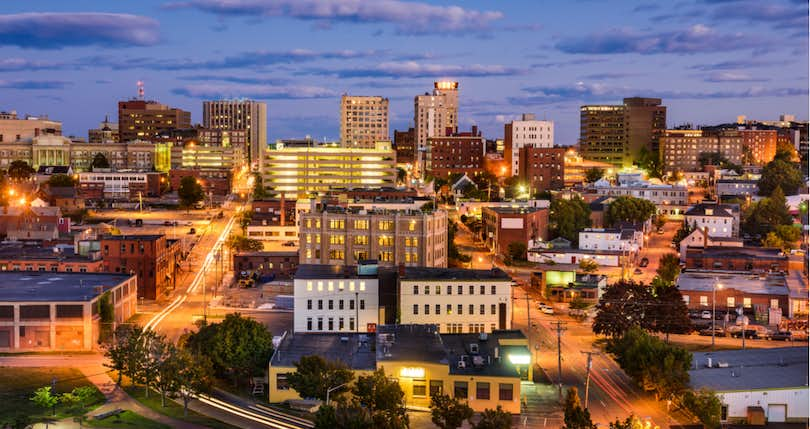 Home values in Maine have been rising steadily over the past few years and saw a 6.2% increase in 2018. Growth was even higher in Portland, Maine, which saw an increase of 8.1% over the past year.
Portland, known as a beautiful waterfront city, draws people from all over the region. While the peninsula is only three miles from end to end, it packs many diverse neighborhoods, an exciting nightlife, and plenty of culture within its boundaries.
Housing prices and availability also depend on the location within the city. Neighborhoods on the main peninsula are trendy and in-demand with rising prices. As you move further away, prices drop and neighborhoods become more suburban in nature.
Across the city, median values are $313,000 and rent is pushing $1,800 per month. However, in nearby places like Saco, prices can be as much as $50,000 less.
Overall, Portland has many options for buyers of all types. Families can find great neighborhoods with high-quality schools, outdoor lovers will find easy access to the Maine wilderness, and those looking for nightlife will find plenty in Portland.
To get started on your home search in any of these Portland neighborhoods, you should connect with a local, experienced real estate agent. They'll not only get you up-to-date market information but help you find the right neighborhood and save you money throughout the home buying process.
West End
West End is one of the most historic neighborhoods of Portland. The architecture here represents that old New England style of Gothic and Victorian homes. Homes are adorned with wrought iron gates, columns, and plenty of turrets for gazing out at the sea.
Homes in this neighborhood have climbed up to $350,000 but come with great public schools and some of the best parks in Portland. The Western Promenade has over 25 acres of trails and open space for those looking for exercise or a peaceful stroll.
Dining opportunities are abundant in the West End and those looking for a more active nightlife are only a few blocks away from Downtown and Old Port. This iconic neighborhood is a great place and should be on everyone's list when considering moving to Portland, Maine.
Deering Center
Deering Center is a small town that was annexed into Portland around the turn of the century. Because of this, Deering retains a unique small-town feel with its own culture and many small independently owned shops and restaurants.
Deering is known for having lots of open spaces and greenery creating a residential small-town feel. Baxter Woods and its 32 acres of densely shaded trails is a large reason for that. Buyers can find homes surrounded by natural greenery and with views of the nearby mountains and waterways.
Deering Center homes are valued at just over $325,000 and are expected to increase by 3.7% in 2019. Two public high schools are nearby, and local elementary and middle schools are rated among the best in Portland.
Oakdale
Home values in the Oakdale neighborhood are pushing $380,000, but are expected to only increase by about 1.8% over the coming year. This neighborhood is also home to many rental properties with only about 40% of residents owning their homes.
The University of Southern Maine's presence is a strong influence on the neighborhood and drives the local housing market. While this neighborhood may be a good investment for those looking to purchase rental properties, there are still plenty of tree-lined streets for young families and first-time homeowners.
---
Looking to buy your dream home? Finding the right realtor makes all the difference!
The first step in your home buying journey is to find a top local realtor who's an expert negotiator and has proven experience in your area. The right agent can help you find the best house for your budget and priorities — and craft a winning offer so you don't miss out on your dream home.
The easiest way to find a great local realtor is to use a free service like Clever Real Estate. Clever matches home buyers like you with top agents in your area so you can compare your options and choose a realtor who's the right fit for you.
You can interview multiple agents until you find the perfect fit, or walk away at any time - Clever's service is 100% free with no obligation. Fill out the form below to instantly request hand-picked agent matches now!
💰 Buy with a top agent, earn cash back!
Buy your dream home with a top local realtor from a trusted brand like Keller Williams or RE/MAX. Keep more money in your pocket by earning cash back on eligible purchases.
Enter your zip code to request hand-picked agent matches in minutes. Compare your options until you find the perfect fit, or walk away with no obligation. Try Clever's free service today!
Back Cove
Sometimes called Back Bay due to its location across the tidal basin from the Portland peninsula, Back Cove is one of the more affluent single-family neighborhoods in the city. Incomes in the neighborhood are among the highest in the city and the average age of residents is among the oldest.
Back Cove has plenty of outdoor spaces highlighted by the Back Cove walking trail, which circles around the entire bay. From the trail, you get views of the city skyline and easy access to other local parks and the East Promenade.
Home values here exceed $315,000 and grew over 10% in 2018. They are expected to rise another 6.6% in 2019. Schools in this neighborhood are also amongst the best in the city and several prominent private high schools are also nearby.
East End
Known for Munjoy Hill, the hill on which this neighborhood sits, East End is an up-and-coming neighborhood coming into its own the past several years. Many local and eclectic shops, stores, and restaurants attract visitors from across Portland.
East End also offers a spectacular view of Old Port and Downtown, as well as panoramic views of the bay and coastline. Eastern Promenade, a 68-acre park spanning the northern shore of the peninsula, offers the best vantage point.
Looking for culture? Railroad Museum, and many other historic landmarks and cultural institutions are in East End.
Not surprisingly, homes in this neighborhood have been appreciating rapidly and went up over 11% last year, and are expected to rise another 6% in 2019. The median home value is now around $410,000.
Peaks Island
This island may not be one of the most practical neighborhoods for everyone, but it is Portland's largest commuter island that remains inhabited year-round. Over 900 residents call this island home and take the daily 18-minute ferry ride into Portland.
Half of the island has uninterrupted views of the Atlantic, which attracts several hundred more residents during summer. There are public beaches, bike rentals, and you can even visit the Umbrella Cover Museum.
Homes here are quite expensive and the median price is just under $450,000. However, values are expected to level off this year after increasing by about 10% in 2018.
Finding the right home in any of these Portland neighborhoods is quite possible when working with an expert, local real estate agent. A Clever Partner agent can uncover deals for you throughout Portland that fit your preferences and needs.
Clever Partner Agents are from some of the top real estate franchises and are all full-service agents. Get matched with a Clever Partner Agent and we'll pay qualifying buyers cash back after closing.
Related Articles