Realtor.com has published its list of top housing markets for 2023, and it's wildly different from the 2022 list.
Many 2022 hotspots like Salt Lake City, Boise City, and Spokane have given way to mid-range cities like Hartford, El Paso, and Chattanooga. Affordability is driving the shifts, says Realtor.com Chief Economist Danielle Hale.
"The top markets expected to perform well next year offer a solid mix of local economic conditions, proximity to larger employment centers, and critically, more affordable housing," Hale writes. "Even in an environment where families are finding that their dollars no longer stretch as far as they did just a few months ago, cities like Hartford, El Paso, Louisville, or Chattanooga offer a larger share of affordable homes for a median income."

Source: Realtor.com
>>OUTSMART THE MARKET. Get Clever Real Estate's free weekly newsletter for homeowners, buyers and sellers
Affordability will drive 2023 home buying trends
U.S. Census data shows that the median household income in 2021 was $70,784. Yet, today's households need to earn approximately $107,000 to afford an average home, a 46% increase from 2021, according to Redfin.
There are several reasons for the affordability crisis. First, the U.S. has suffered from a chronically low supply of homes since the Great Recession of 2008, according to the Economic Policy Institute.
In addition, the supply of affordable, new construction homes below 1,400 square feet has been declining for decades. This makes it especially challenging for first-time homebuyers and lower-income buyers to purchase a home.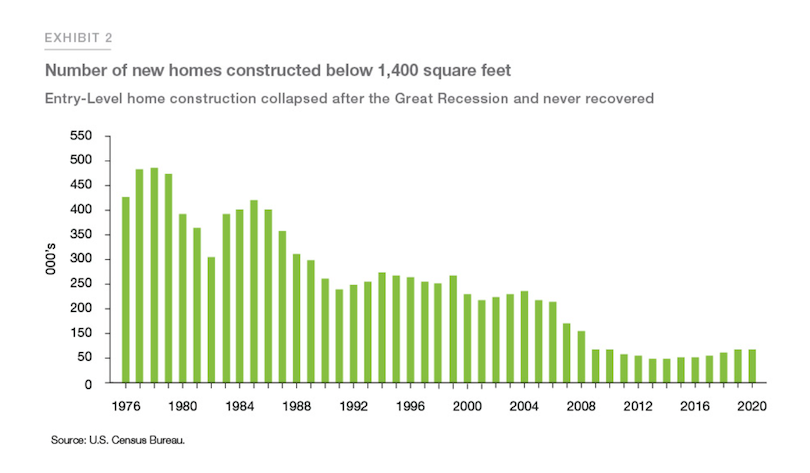 Source: Freddie Mac
Also, record-low mortgage rates and mass migration of newly remote workers led to exceptionally high buyer demand during the pandemic, pushing prices 45% higher than they were in December 2019.
As buyers competed heavily for homes, the median home price reached an all-time high in June 2022. Then the Fed began hiking interest rates in an attempt to curb inflation, bringing mortgage rates from a lower of 3.1% at the start of 2022 to 7%+ in early November.
The jump in borrowing costs meant buyers were suddenly paying 50% more per month to buy a median-priced home.
As affordability woes pushed would-be buyers to the sidelines, the market came to a halt. Year-over-year home sales are down more than 35% as of November. While the drop in buyer demand has brought more stability to home prices in recent months, homes remain unaffordable to huge swaths of buyers.
For those who remain in the game, affordability is key.
Among the top 10 housing markets positioned for growth in 2023, Realtor.com reports that "about 23% of housing inventory is affordable at the median income level." This compares to 17% of the affordable housing stock among the largest 100 U.S. metros.
In their quest for affordability, many home buyers have begun looking across city and state lines.
>>THINKING ABOUT BUYING? Check out today's best mortgages
More home buyers are considering a long-distance move
Realtor.com's top housing market for 2023 is Hartford, Connecticut, with a median home price of $372,000. More than 60% of views for home listings in the city come from outside the metro. In Columbia, S.C., which ranks 8th on Realtor.com's list, more than 75% of views come from outside the city.
As reported by Realtor.com, more than 60% of prospective home buyers are searching for homes outside of their current cities, compared to only 50% of home shoppers who searched outside their metros during the pandemic.
The concentration of buyers looking elsewhere is even higher in parts of the West and Northeast, where as many as 69% of home searchers are looking outside their current area.
Redfin data also shows "an unprecedented portion are relocating to new metros." In fact, reports Redfin, "nearly one-quarter (24.1%) of U.S. home buyers looked to move to a different metro area in the three months ending in October."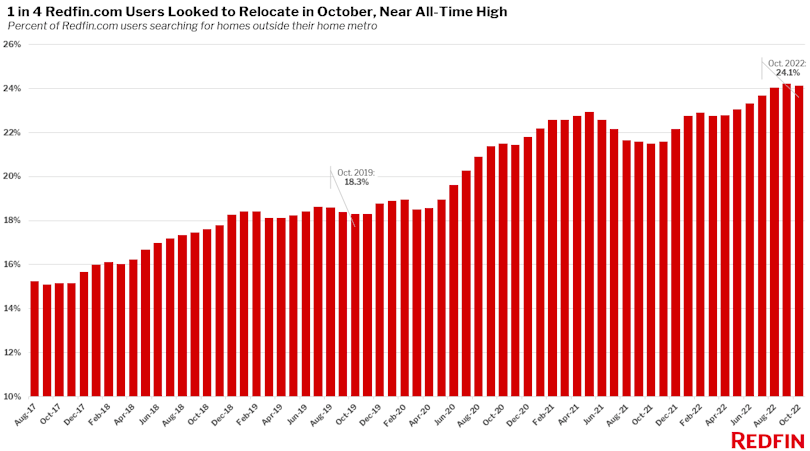 Source: Redfin
Like Realtor.com, Redfin sees users leaving more expensive metro areas like New York City and San Francisco in favor of more affordable places to live.
However, their data shows that Seattle, Phoenix, and several Florida cities remain top destinations as we head into 2023. By contrast, Realtor.com expects more affordable metros in the Northeast, South, and Midwest to take over as top home-buying destinations in the year ahead.
>>TIRED OF BAD MOVES? Check out the best moving companies in your area and get free quotes
"Solid job prospects without the big-city price tag"
In 2022, many people moved from large tech hubs like San Francisco and New York to smaller, less expensive cities — including Salt Lake City, Boise, and Spokane — seen as more budget-friendly to remote tech workers.
As reported last year by Realtor.com, "Shoppers looking for real estate in these areas are coming from tech centers where real estate is even more competitive, pricey, and sometimes feels out of reach."
The rise in work-from-home jobs meant that many tech workers didn't have to stay in expensive areas but could move and do their jobs in locations where their salaries went further. However, as more buyers moved in, these same markets became less affordable.
Salt Lake City, for example, saw home prices rise nearly 15% in 2022, compared to an average of 10.5% across Realtor.com's top 10 metros for 2023.
Many of the cities topping Realtor.com's 2023 top housing market list largely "flew under the radar" during the pandemic, notes Hale. However, they offer today's buyers solid job prospects, plus a larger share of the housing stock that remains affordable to the middle class.
Jobs in these metros offer less focus on tech and more on healthcare, government, and education. While not as friendly to remote workers, these sectors provide stability.
Final thoughts: Americans will continue to move where they can afford
According to a recent Harris Poll, "Six in 10 Americans report that their housing costs have soared since the pandemic started, regardless of their homeownership status." Additionally, when they polled Americans who had moved in the past 2.5 years, 64% said it was to find more affordable housing, and 63% said it was to be in an area with a lower cost of living.
Americans want to live and work in places that allow them to afford their lifestyles. Affordability remains a big challenge, so 2023 will likely drive more buyers to less expensive areas.
Related articles