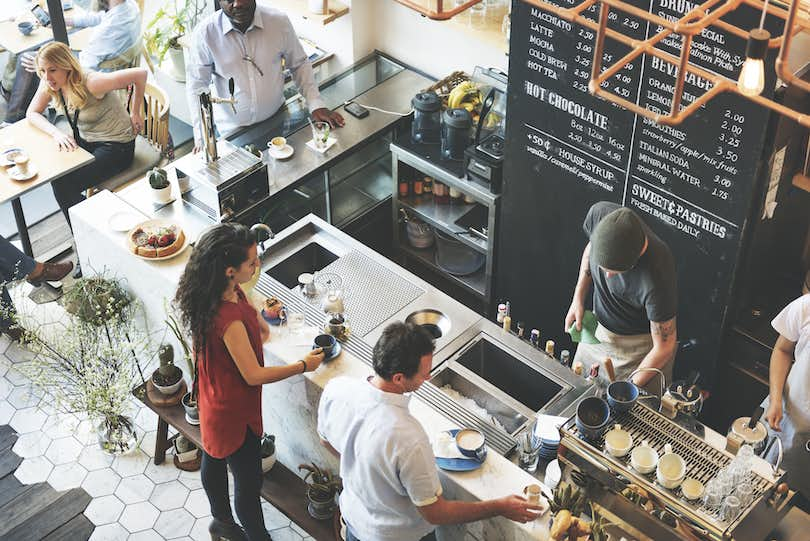 There's no denying that Americans love their coffee. Even with the country's current inflation crisis impacting the cost of living, coffee consumption hit a two-decade high in 2022, according to the National Coffee Association. With all that coffee being guzzled up, what are the best and worst cities to fill your cup?
A new study from Clever Real Estate on the Best Coffee Cities in America finds that Baltimore, Maryland is the top spot for coffee connoisseurs, while Louisville, Kentucky, is the worst. The U.S.'s top ten coffee cities not only have more affordable cups of joe on average but also tend to offer more options for java junkies. Cities rounding out the top spots include:
The Best
Baltimore, MD

Hartford, CT

Boston, MA

Providence, RI

Riverside, CA

Cincinnati, OH

Washington, DC

Philadelphia, PA

Pittsburg, PA

Oklahoma City, OK
Getting your daily caffeine fix could be challenging in some of the lowest-ranking cities. Not only will it cost you more for a cup, but there are also far fewer coffee shops per capita in these locations.
The Worst
Louisville, KY

Jacksonville, FL

Birmingham, AL

Memphis, TN

Virginia Beach, VA

Las Vegas, NV

San Antonio, TX

Richmond, VA

Phoenix, AZ

Charlotte, NC
Here's what makes the top 10 coffee cities stand out:
#1 Coffee City: Baltimore, MD
Good morning, Baltimore! Charm City's bean scene is amidst a full-fledged renaissance, with a wide array of independent coffee shops popping up post-pandemic. This is great news for coffee lovers looking for a new place to live. For those looking for a budget brew, Baltimore is one of the most affordable coffee cities on the list. A daily cup in Baltimore adds up to 1.4% of the average annual income there, which is 20% less than the national average (1.74%). With 26 coffee shops per 100,000 residents, Baltimoreans have a slew of cafes to choose from, creating a diverse coffee scene and America's best coffee city.
#2 Coffee City: Hartford, CT
Hartford's baseball team plays at Dunkin' Donuts Park, so it should be no surprise that people in this capital city love their coffee just as much as they love their donuts. The town has 17.7 donut shops per 100,000 residents — that's 3x as many donut shops as the average city! And with approximately 24 coffee shops per capita, Hartford holds its own amongst other larger coffee cities.
#3 Coffee City: Boston, MA
Bean Town serves as the perfect backdrop to many fantastic coffee options and is home to Ben Affleck's favorite coffee chain, Dunkin' Donuts. Boston has 3x the number of coffee shops per capita than any other city in the study, providing residents with everything from chic corner cafes to quick grab-and-go options. For New Englanders looking to get their daily java jolt, a daily cup in Boston adds up to just 1.34% of the average annual income, giving Boston residents a 23% advantage over the average city.
#4 Coffee City: Providence, RI
Providence may be located in the nation's smallest state, but Rhode Islanders have always had a big love for coffee! With "coffee milk" being the official state drink, it's no surprise the capital city takes the 4th spot on the list. Providence has nearly 2x the number of cafes than average, and locals will be happy to know that the average price for a cup of cappuccino is only $4.25, which is 11% less than other cities.
#5 Coffee City: Riverside, CA
On a strict budget but still, need your daily energy boost? Riverside is where it's at. The average cost for a cup of coffee in this southland city is only $3.88, making it the most affordable cup of java on the list. The area is home to the University of Riverside, making it the perfect spot for students and locals. And when the hunger sets in from all that studying, students will be glad to know that Riverside has 7.7 donut shops per capita, which is 40% higher than the national average.
#6 Coffee City: Cincinnati, OH
There's a good chance most people don't find Cincinnati synonymous with coffee. When Clever asked 1,000 people to list their top five coffee scenes around the country, The Queen City only made the list for 3% of respondents. Given that, it's surprising to learn that Cincy is home to 20% more coffee shops per capita than average and hosts the Midwest's premier annual coffee event. The Cincinnati Coffee Festival is a two-day extravaganza where thousands of attendees can sample artisanal roasts from around the country, including local favorites Deeper Roots Coffee and Seven Hills Coffee Roasters.
#7 Coffee City: Washington, DC
Washington, DC is well on its way to becoming the nation's capital of coffee, with more than two times as many coffee shops per capita than the average city in the study. With no shortage of monuments, museums, or mocha, Washington DC has been a city for coffee aficionados ever since John Adams denounced tea as "unpatriotic" way back in 1774. With such a vibrant coffee culture, it's no wonder 16.7% of Americans consider D.C. as one of the top five coffee scenes in the country.
#8 Coffee City: Philadelphia, PA
Over the last few years, the number of spots to enjoy a great cup of joe has exploded in Philadelphia. The City of Brotherly Love serves as headquarters to the national coffee chain La Colombe and features a thriving third-wave coffee culture, where artisanal and specialty brews reign supreme. Although Philly's average cappuccino price ($4.61) is closer to the national average ($4.76) than other cities on the list, Philadelphia still has locals spending only 1.6% of their annual income on their daily caffeine fix, giving Philadelphia an 8% advantage over other cities.
#9 Coffee City: Pittsburg, PA
Pittsburgh offers a variety of delicious coffee from all parts of the world, including traditional brews from Columbia and Italy, as well as more unexpected options from places like India, Vietnam, Cuba, and more. With all those options, it's no wonder Pittsburghers use Google to search coffee-related terms 22% more than the average American. With 39 coffee shops per 100,000 residents, Steel City is serving up some high-octane variety!
#10 Coffee City: Oklahoma City, OK
The folks in Oklahoma City know nothing goes better with a hot cup of joe than a box of perfectly glazed donuts. OKC has an impressive 59% more donut shops than the average city, making it ideal if you're craving a sugary treat with your morning cup. And if you've busted your budget on all those donuts, you'll be able to save some coin on your caffeine boost. OKC has an average price for a cup of cappuccino of $4.36, thirty cents lower than average.
This article was produced by Clever Real Estate and syndicated by Wealth of Geeks.