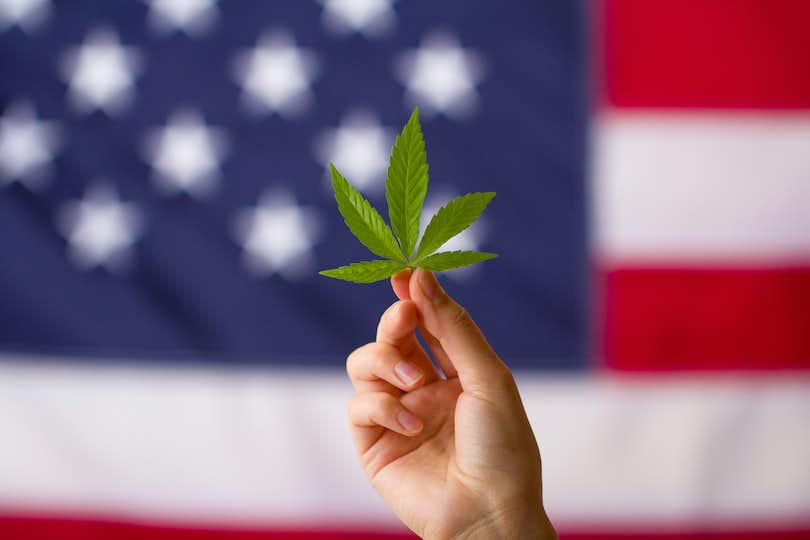 Legally consuming marijuana for recreational use was once a dream, but it's now a reality in 21 states. As more states embrace the economic and social benefits of cannabis, some cities have become destinations for new residents and tourists seeking the high life.
Here are the top 10 U.S. cities for stoners in 2023, according to a new collaborative study from Real Estate Witch and Leafly, the leading online cannabis discovery marketplace and resource for cannabis consumers.
1. Portland, Oregon
Even though Oregon wasn't the first state to legalize recreational marijuana, the state's outdoor culture and temperate climate make it an excellent home for fans of the leaf.
This West Coast weed haven tops the list with 13.5 dispensaries per 100,000 residents. That's more than any other city in the top 10. Portland also has the lowest average price for high-quality weed, which costs just $210 an ounce.
Portland is also the best city for food trucks, so stoners can enjoy lighting up and munching to their hearts' content.
2. Denver, Colorado
Colorado was one of the first states to legalize recreational marijuana in 2012, so it's no surprise that Mile High City is ranked in the top 10.
Denver has embraced recreational marijuana use, and it's become a destination for cannabis-curious tourists from around the country. Personal finance-minded travelers can rest easy. Denver has the second-lowest price, behind Portland, for high-quality cannabis at just $242 an ounce.
Although Denver isn't on the list of best taco cities, stoners with the munchies will find one of the highest per-capita densities of Taco Bell restaurants (11 per 100,000 residents) to satisfy their smoke-induced cravings.
3. Buffalo, New York
Buffalo is one of just two East Coast cities in the top 10, but this chilly upstate locale earned its spot after jumping 14 places from the 2022 study.
Buffalo had a thriving medical marijuana industry before the state legalized cannabis for recreational use in 2021. In 2023, the city has just 3 dispensaries per 100,000 residents, but it boasts 33% more head shops than the average city, showing the demand for weed is alive and well.
Buffalo is one of the most affordable places to buy a house, and it's also one of the most affordable places to purchase high-quality weed. Buyers can expect to pay $270 for a high-quality ounce, which is 10% below the national average price of $316.
4. Seattle, Washington
Washington was one of the first states to legalize recreational weed, along with Colorado.
The state's largest city, Seattle, is famous not only for its coffee, but also its cannabis.
Seattle has 56% more dispensaries than the average U.S. city. It also boasts access to affordable, medium-quality weed, which costs just $201 per ounce.
5. Baltimore, Maryland
The second East Coast city on this list, Baltimore is the most improved weed city from 2022. This historic town jumped from No. 20 in the 2022 edition to No. 5 in 2023.
The medical marijuana industry is strong in Baltimore, where there are 1.2 cannabis-prescribing physicians per 100,000 residents — the most of any city in the top 10.
Recreational marijuana sales can begin in July, and demand is already growing. Among all 50 cities studied, Baltimore ranked second in online search activity for weed-related keywords.
6. Las Vegas, Nevada
Las Vegas has long been a destination for gambling, partying, and partaking in adult recreation. Now, marijuana has become part of the Vegas experience.
There are a number of dedicated dispensaries, and the city ranks first for head shops, with 2.8 stores per 100,000 residents. Locals can also take advantage of low prices for high-quality weed, which costs just $279 per ounce.
This booming market could draw even more tourists to Las Vegas, making investing in rental properties an even more lucrative endeavor.
7. Sacramento, California
California dominates the rest of this list, with Sacramento reigning as the Golden State's best pot city. This state capital beat out other California metros because of the city's many high-quality dispensaries. There are 4.1 dispensaries per 100,000 residents, and the average dispensary rating is 4.6 out of 5 stars, according to Leafly.
Sacramento is one of the most affordable places to live in California, and it has inexpensive weed prices. A high-quality ounce of marijuana costs just $259.
There's also no shortage of cheap eats for when the munchies hit. Sacramento's concentration of Taco Bells (11.7 per 100,000 residents) is almost double the studied city average of 6.3 per 100,000 residents.
8. San Diego, California
Even though 44% of Americans think San Diego is a top five city for stoners, it comes in eighth on this list. San Diego is known for its high quality of life, where beaches and beautiful weather make it possible to enjoy the outdoors year-round in a smaller community than nearby Los Angeles.
Like Sacramento, San Diego dispensaries have an average of 4.6 stars out of 5 on Leafly. Where San Diego has Sacramento beat, though, is the bounty of taco restaurants. San Diego has 4.7 taco places per capita, perfect for weed enthusiasts looking for a bite to eat.
9. Los Angeles, California
Los Angeles has a high status in the minds of Americans. More than half (58%) think L.A. is one of the best cities for stoners in the U.S.
Even though California is notoriously expensive, the cost of medium-quality weed is slightly lower than the national average — just like the average California real estate commission.
Despite being home to numerous hiking trails, live music venues, and movie magic, L.A. has long been one of the worst cities for commuters in the U.S. Luckily, there are 3 dispensaries per 100,000 residents in Los Angeles, so cannabis connoisseurs won't have to travel far to find one they like.
10. San Francisco, California
San Francisco is home to a piece of marijuana history. Activists in the Bay Area opened the United States' first marijuana dispensary, the San Francisco Cannabis Buyers Club, in 1992.
Weed remains affordable in San Francisco, despite the sky-high cost of living. An ounce of high-quality weed costs $280, which is 12% lower than the national average.
Outdoor activities abound in the Bay Area, but introspective smokers can take advantage of one of the best cities for readers in the country.