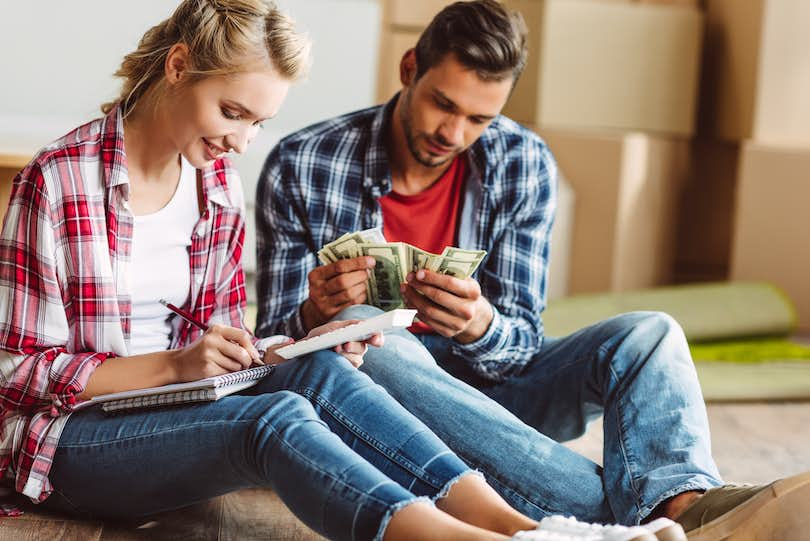 It pays to live in rural America. Across the country, small towns fighting brain drain and dwindling populations are paying workers thousands of dollars to bring their talents to the community.
With inflation near a 40-year high, incentives in the form of cash, housing reimbursement, student loan assistance, and other community perks are hard for many workers to refuse — especially when remote positions make it possible to work from anywhere.
Working Americans looking to trade bustling urban areas for a slower pace of life will find that many of these cities offer plenty of economic opportunities, cheaper real estate values, and an affordable cost of living.
If you're ready to sell your house and get paid to move, here are 20 cities and states to consider.
>> TIRED OF BAD MOVES? Check out the best moving companies in your area and get free quotes.
1. Topeka, KS
Kansas may not seem like the most exciting place to live, but local residents know there's no place like home. The state's capital, Topeka, is home to sports complexes, a flourishing arts district, and recreational activities along the city's riverfront.
If you choose this thriving city as your new home, you could receive up to $15,000 through the Choose Topeka program, which targets remote and on-site employees who rent or purchase a home in Shawnee County.
Remote workers are eligible for $5,000 total for renting and $10,000 for purchasing a home. On-site employees will receive $10,000 for renting and $15,000 for buying a home in their first year.
2. Tulsa, OK
Life for digital nomads in Tulsa is more than just OK. Remote workers who currently live outside the state will receive $10,000 to move to the community. The grant from Tulsa Remote is paid in a monthly stipend with the remainder coming at the end of the first year.
In addition to relocation expenses, the program provides recipients with a 36-month membership to a downtown coworking space and regular community-building events.
3. The Shoals, AL
Get $10,000 to bring your remote job to this picturesque community in northwest Alabama. Applicants to the Remote Shoals program will receive 25% of the fund upfront to help them relocate and get settled in their new community. Out-of-towners will be pleasantly surprised to find that real estate is much cheaper than nearby metros such as Nashville, which costs 52% more.
Another 25% of the fund will be distributed after the first six months, with the remaining 50% coming at the end of the first year. By then, program participants will have had plenty of time to explore The Shoals' many nature preserves and rich music history. The community is home to FAME Recording Studios, where Aretha Franklin, The Rolling Stones, and Bob Dylan cut hit records.
4. Tucson, AZ
Tucson has more than 350 days of sunshine each year, but that's just one of the many reasons remote workers are flocking to the Old Pueblo. Tucson is inviting national talent to call this quirky and affordable city home with $9,000 in benefits from the Remote Tucson initiative.
The benefits package includes $1,000 for relocation expenses, as well as $1,500 in hotel and Airbnb credits to use as you get on your feet. The program is open to renters and homeowners, with the latter receiving a complimentary home warranty and closing cost assistance.
>> TIRED OF COSTLY APPLIANCE REPAIRS? Check out these top home warranty companies today
Although Remote Tucson doesn't offer a large sum for relocation expenses, it does provide soft perks to introduce new residents to the community. Workers who participate in the program will receive a Tucson Attractions Passport, a trolley tour, tickets to the local planetarium, and a gift basket of local goods.
5. Bloomington, IN
Bloomington is so confident you'll love it there, the city isn't luring remote workers with cash. Instead, it's offering perks valued at more than $2,000 to help them get plugged in to the community.
Bloomington Remote provides employees who move from out of state a three-year membership to prime downtown coworking space, where it hosts monthly remote worker meetups and happy hours with community leaders.
Participants will also receive special credit card and loan deals, and they'll be paired with a Bloomington ambassador who can provide all-important recommendations on the best mechanics, hair stylists, and babysitters in town.
6. Newton, IA
Newton may not seem like it boasts an abundance of opportunities, but it's located in a land overflowing with milk (and a moderate amount of honey). Iowa is, after all, one of the top dairy-producing states, with a dairy farm located on the outskirts of this small farming community.
Those who want to live a quiet life off the land will find Newton an affordable place to raise their families. Housing in Newton costs approximately 75% of the U.S. average, meaning you'll get more house for your dollar.
Newton's moving initiative aims to develop a growing population by ensuring readily available housing, which is difficult to find amid the country's housing shortage. When you buy or build a new home in Newton, you'll receive up to $10,000, plus a welcome package with discounts at local shops and restaurants — valued at $2,500.
If you use a discount real estate agent, you'll have even more discretionary income to spend on family friendly activities, such as a visit to the dairy farm, the Iowa Speedway, or the Newton Arboretum and Botanical Garden.
>> GET A FULL-SERVICE AGENT AT A 1% COMMISSION. Get personalized agent matches today from Clever Real Estate with no obligation.
7. Baltimore, MD
Wake up every day singing "Good Morning Baltimore" from your new home. A few lucky home buyers may even win $5,000 in forgivable loans to help with the purchase.
The money comes from a local nonprofit that wants local residents and those moving from out of stay to buy into all that the city has to offer, including its famous Berger Cookies and championship-winning sports teams.
The Buying Into Baltimore program is open to applicants from any location, but it does require them to earn a homeownership counseling certificate and attend one of its trolley tour events. The tour allows participants to visit homes for sale, explore different neighborhoods, and connect with real estate professionals. After the tour, they can enter a lottery that will determine the winners.
8. Charleston, WV
The population of West Virginia is expected to decrease between 2022 and 2027, especially among young working adults. In the capital city, a relocation incentive program aims to reverse that trend.
Charleston Roots is open to anyone who lives at least 50 miles outside the city and is willing to relocate to the capital for a local or remote job. Those selected for the program will receive $5,000 in relocation credit and $500 for each additional person they refer.
Whether you settle downtown or in a historic neighborhood, Charleston offers plenty of outdoor attractions and big-city amenities, such as diverse dining and a thriving art scene, without the traffic and price tag of larger metros.
9. Stillwater, OK
Missing your college days? Work remotely in Stillwater, home to Oklahoma State University and one of America's best college towns. The city is pitching itself to digital nomads with a $5,000 incentive for first-time Stillwater home buyers and $300 toward closing costs.
In addition, recipients will receive free coffee for a year, a month of free martial arts classes, and free tickets to concerts and music festivals that highlight the city's heritage as the birthplace of Red Dirt country music.
Stillwater's music scene is surprisingly top-notch, launching bands such as the Red Dirt Rangers and The All-American Rejects. It's also the birthplace of A-list actor James Marsden and professional baseball player Matt Holliday.
10. Hamilton, OH
Although President Joe Biden's student loan forgiveness plan is on hold, the city of Hamilton is attracting recent college grads and young professionals with funds to pay down student loans.
Through the Talent Attraction Program, recipients who relocate to Hamilton will receive $300 every month until they've reached up to $10,000. To apply, applicants must live outside Hamilton and have graduated with their degree in the past seven years.
11. Natchez, MS
As part of its economic recovery from the pandemic, Natchez wants to welcome digital nomads with true Southern hospitality by providing relocation incentives through its Shift South program.
To qualify, applicants must purchase a home worth at least $150,000 within city limits and work remotely for an employer outside the region. Those selected to the program will receive about $6,000 in benefits — $2,500 upfront to help with relocation costs and then $300 for the next 12 months.
>> GET THE FACTS BEFORE YOU BUY. Download Clever Real Estate's free home-buying guide and get weekly tips.
Located along the western bank of the Mississippi River, this town of about 15,000 people is attractive not only for its low cost of living but also for its charming Southern architecture, old river taverns, downtown boutiques, and unspoiled recreational areas.
So far, 24 of the original 30 spots for the program have been filled, but the city is budgeting for more.
12. Owensboro, KY
Fall in love with bluegrass and bourbon in this northwestern Kentucky town along the Ohio River. The city's Grow the Boro initiative is designed to attract remote workers to the area by offsetting relocation expenses and helping newcomers connect with the local community.
Remote workers who are selected to the program will receive a $5,000 stipend to cover moving expenses and nearly a dozen other soft perks, such as a gym membership and free coffee for a year.
Country music lovers will particularly enjoy free tickets to the ROMP bluegrass festival, free tickets to the Bluegrass Music Hall of Fame, free dance lessons, and free banjo or fiddle lessons.
13. Morgantown, WV
Take those country roads to your new home in West Virginia. For outdoor enthusiasts, the state is the "almost heaven" John Denver sang about in his 1971 hit. Through the Ascend WV program, new residents will receive a year of free recreational activities, such as rock climbing and white water rafting, as well as free gear rental.
More importantly, program recipients who move to West Virginia will receive $12,000 to use however they see fit, whether that's buying a home in a mountain town or a new car for scenic drives around the state. The money will be paid in two payments — $10,000 the first year and an additional $2,000 the second year.
The program is open to remote workers who currently live outside of West Virginia and are willing to settle in one of three featured communities: Morgantown, home to the University of West Virginia; the Greenbrier Valley; or the Eastern Panhandle.
14. West Lafayette, IN
If you can work from anywhere, why not work at one of the most prestigious research institutes in the country? A new Purdue University program hopes to attract remote workers to West Lafayette with $4,000 in cash relocation stipends, a $1,000 dining credit, access to university libraries, free public transportation, and other housing and continuing education discounts.
Through the Work From Purdue initiative, out-of-state remote workers must relocate to the Discovery Park District and commit to living in West Lafayette for at least one year. The college town is buzzing with innovation, making it an ideal place to connect with the brightest minds in tech, art, and business from around the world.
15. Honolulu, HI
With beautiful beaches, lush landscapes, and stunning sunsets, do you really need another reason to move to Hawaii? If living and working in paradise is tempting but you aren't quite ready to move from the mainland, you can get a taste of island life through the Movers and Shakas program.
Applicants from the continental U.S. temporarily relocate for 30 days to the island, where they volunteer at local nonprofits and work to diversify and rebuild Hawaii's economy after the pandemic. In exchange, they receive free round-trip airfare, discounted hotel stays, co-working space, and other perks.
After two successful cohorts, Movers and Shakas is launching a second free program to help new residents and returning kama'āina transition to Hawaiian life.
16. Ketchikan, Alaska
If you can bear the cold, Alaska will pay you to live there through its Permanent Fund Dividend after one year of residency. The amount fluctuates each year, but in 2022, the dividend was $2,622 per person — the highest amount on record.
That may not be enough to inspire you to move to a state with sub-zero temperatures and near total darkness for months of the year. But if you dream of exploring the Last Frontier, Alaska offers rugged landscapes, including the highest peak in North America, as well as great views of the Northern Lights.
Although the fund is available for residents of any Alaskan city, the Choose Ketchikan program sweetens the pot with three months of free fiber optic internet. Applications are accepted on a rolling basis until 15 slots have been filled per year.
17. Chattanooga, TN
These days, geeks are cool, and they're helping build cities such as Seattle and San Jose into wealthy tech hubs. Few people outside the mountain town of Chattanooga would describe it as a savvy tech center, but this southeast Tennessee city has earned the nickname "Gig City" with the fastest broadband in the U.S.
To nurture and develop its tech scene, Chattanooga will pay computer developers $10,000 to purchase a home in a historic neighborhood through the city's GeekMove program — its real name. Although barriers to homeownership remain high, the money will go a lot farther in Chattanooga than it will in Seattle and other tech centers.
To be eligible for the program, "professional geeks" must currently live at least 50 miles outside Chattanooga and be willing to participate in programming events.
18. Lincoln, KS
The town that went viral in early 2022 for giving away a free historic home to anyone who was willing to move and renovate it is taking additional measures to attract talent to the community.
Remote workers who live outside Kansas are eligible for $5,000 in relocation assistance and will receive a free day trip with the Post Rock Mountain Biking Club, as well as a dozen farm-fresh eggs every month for a year.
Lincoln also offers new residents free land to build their dream home among the rolling hills of north central Kansas.
19. Vermont
Vermont has the fourth-largest labor shortage in the country, and the state government is paying workers to fill much-needed positions. The Worker Relocation Incentive Program helps subsidize relocation expenses, such as hiring a moving company or paying a down payment on a house, through a grant of up to $7,500.
The program targets employees who are hired to work a local job in Vermont or those who become permanent residents while working remotely for an out-of-state employer. In conjunction with the state, the Vermont Welcome Wagon aims to retain top talent by helping them connect to the local community.
20. Maine
Student debt in the U.S. totals nearly $1.8 trillion, with the average student owing $36,510. For many borrowers, it can take years to repay, but those who move to Maine may be able to pay it off faster through the Student Loan Repayment Tax Credit.
Any college degree holder who pays taxes in Maine and makes student loan payments is eligible for a deduction of up to $2,500 per year with a lifetime cap of $25,000.
Besides helping you get out of debt, there's plenty to love about Maine. Of course there's the vibrant fall foliage at Acadia National Park, but the state also has more than 3,500 miles of gorgeous coastline with amazing beaches and world-renowned seafood.