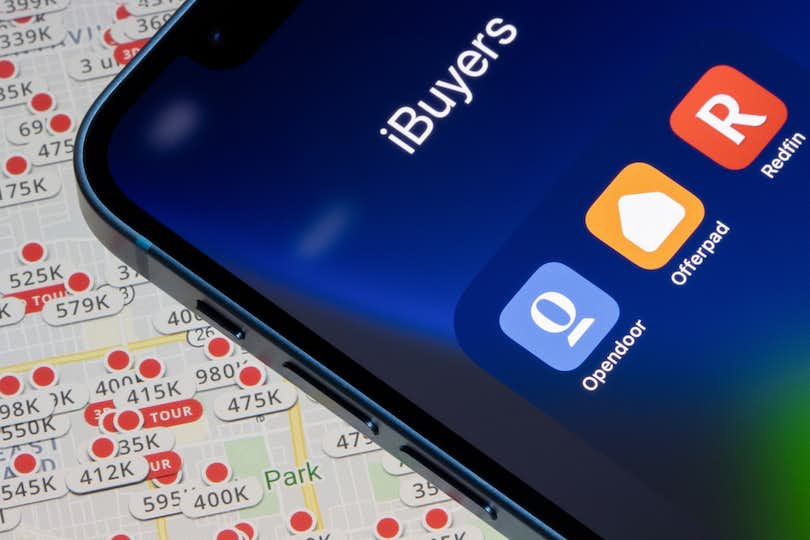 💰 Do homeowners think iBuyers provide more value than traditional home sales? 💰Nope! 66% of home buyers don't think iBuyers yield higher sale prices than traditional sales. Only 34% think iBuyers will yield more $$$.
Homeowners Are Open to iBuyers | Homeowners' Reservations About iBuying | iBuyer Prices Aren't the Main Draw | Acceptable Selling Prices | Homeowners Expect iBuying to Become More Popular | Real Estate Agents Are Here to Stay
iBuyers ("instant buyers") are real estate tech companies that make instant cash offers to sellers and feature flexible closing timelines. When using an iBuyer, sellers don't have to pay an agent, list their home, or prep it for show.
Most iBuyers are under a decade old, so not many Americans are familiar with them. Only 27% of homeowners could correctly define what an iBuyer is when asked.
iBuyers account for just 1.3% of all homes sold in the U.S. in 2021, despite how polarizing of a topic they are.[1] Although many real estate experts aren't fond of iBuyers, homeowners themselves are open to selling their homes with these new companies.
iBuyers are also often conflated with corporate house-flipping companies that also make cash offers but pay very little for homes, such as We Buy Ugly Houses — 36% of homeowners we surveyed erroneously identified We Buy Ugly Houses as an iBuyer.
The sentiment around iBuyers is complicated because the average American homeowner isn't completely against them but also doesn't know much about them. Overall, they're open to seeing what iBuyers have to offer, though.
To learn more about the U.S. iBuyer market, we asked 994 homeowners about their perceptions or misconceptions about iBuyers to better understand how their share of the real estate market may evolve.
Read on for more insight into what matters to homeowners looking to sell their home and their attitudes toward iBuyers in 2022.
iBuyer Attitudes Statistics 🏡
» MORE: 25 Things You Must Know About iBuyers

Two-Thirds of Homeowners Would Consider Selling Their Home to an iBuyer
A major goal of our study was to determine if the average homeowner is open to working with iBuyers. We found that 65% of homeowners would consider selling their home to an iBuyer, which is good news for the iBuying market.
Despite a majority of homeowners being open to iBuyers, some are more likely to be on board than others.
Black homeowners are less likely to work with an iBuyer than white homeowners: 46% of Black homeowners would not consider an iBuyer compared to just 1 in 3 white homeowners (33%). America's history of redlining in real estate and discoveries of racially biased AI algorithms may be reasons for the lack of trust.[2]
We also found that boomer respondents are 72% more likely to say "no" to iBuyers than millennial respondents. Millennials across the board are very comfortable using new technology, so it's not surprising that millennials would be more willing to sell their home to a tech company.[3]
About 52% of homeowners overall would consider recommending iBuyers to friends and family. Only 1 in 4 homeowners (23%), however, would recommend them without any hesitation, which suggests iBuyers have some work to do in convincing homeowners they're a worthwhile route.
iBuyers are also most popular in western states, where 74% of respondents in the region say they would consider selling to an iBuyer. iBuyers aren't available in every state, so it makes sense that they'll be more popular in certain regions over others. For example, iBuyers are least popular in the Midwest (61%), a region not yet well-serviced by a majority of iBuyers.
Only 28% of Respondents Actually Knew What iBuyers Were Before Our Survey
It may be surprising that 72% of homeowners surveyed did not know what an iBuyer is. However, the iBuyer market makes up less than 2% of the real estate market, a huge contributor to its lack of notoriety among everyday people.
We also observed that a significant portion of homeowners (19%) thought they knew what iBuyers were but were actually mistaken. This indicates that there is a prime opportunity for iBuyer companies to better educate homeowners about what they offer.
Once homeowners knew what iBuyers were, though, they were open to working with them. Generally, homeowners don't have a negative view toward iBuyers in contrast to many expert opinions.[4]
92% of Homeowners Have Reservations Toward iBuyers
When it comes to buying a house from an iBuyer, the majority of homeowners (92%) have reservations.
The top concerns home buyers have about iBuyers include:
Being taken advantage of (42%)
Poor quality repairs (33%)
Inability to negotiate (32%)
Leaving the home vacant for too long (28%)
Lack of personal experience (26%)
iBuyers have a reputation among homeowners for lacking a personal touch. Many also believe iBuyers keep home renovations to a minimum, causing them to spend additional money on repairs after their purchase. Both are potential downsides to iBuyers' relatively quick turnarounds on buying and selling homes.
1 in 5 Homeowners Would Never Voluntarily Sell Their Home for Less Than Standard Market Rate
With housing prices still steadily rising, many homeowners are very concerned about selling prices when it comes to making a competitive offer on a future home.[5] In fact, 18% say they would never choose to sell their home for less than market rate.
The majority of homeowners, however, are open to accepting a lower selling price with some other perks involved. Many of these perks are tied to saving money in other areas:
Selling their home with no contingencies (38%)
Avoiding repairs and renovations (36%)
Selling their home instantly (36%)
Timing their sale with the purchase of a new home (31%)
Avoiding a realtor or paying commission (31%)
For those who wouldn't sell for less, 20% of homeowners say they still trust real estate agents more than iBuyers.
2 in 3 Homeowners Correctly Believe iBuyers Don't Offer More Money Than a Traditional Sale
When asked how they think iBuyers' offer prices compare to a traditional sale, only 17% of homeowners stated that iBuyers offer "much more" in terms of selling price. We've found that while iBuyers can offer more than a traditional sale, on average, they typically offer slightly less.
About 37% of homeowners think iBuyers offer less than offer prices in a traditional sale, and 29% say iBuyers offer about the same. Overall, 66% of homeowners correctly identified that iBuyers typically don't offer more than what you'd get through a traditional sale.
In addition to a slightly lower price than a traditional sale, iBuyers charge a 5% service fee on average (but can be as high as 13% in some cases) plus typical closing costs and deductions for repairs they identify.
When it comes to what actual iBuyer fees are, nearly half of respondents (49%) correctly identified typical iBuyer service fees at 6% to 15% of the selling price.
On Average, Homeowners Would Accept $45,000 Less for Their Home to Sell Instantly and to Choose Their Closing Date
Homeowners don't think selling their home is a walk in the park, so many are willing to accept five-figure deductions in their selling price for convenience's sake.
Real estate agencies wanting to stay competitive against iBuyers should keep in mind that for many buyers, there truly is a price they're willing to pay for more convenience.
Fifty-four percent of homeowners said they'd accept a less-than-standard-market-rate offer on their home to choose their closing date and sell instantly, with homeowners willing to accept an average of $45,400 less. This shows that homeowners are well aware of the costs and hassles associated with selling their homes, such as commission, closing costs, repairs, and staging.
Using an iBuyer also helps homeowners avoid some of the biggest home-selling stressors. Homeowners say the biggest hassles when selling a home are:
Moving (44%)
Repairs (41%)
Negotiating with buyers (40%)
Paperwork (40%)
Finding a good real estate agent (38%)
A majority of homeowners have a favorable opinion of iBuyers based on the value proposition they provide: fast and easy. Many homeowners' highest priorities when selling their homes also align with the convenience iBuyers provide.
Homeowners' biggest priorities when selling their home are:
Earning the most money from their sale (94%)
Being able to close on time (92%)
Timing their home sale with their next home purchase (92%)
Avoiding high realtor commission rates (91%)
Zillow Offers Is Considered the Most Legitimate iBuyer Among Homeowners — Despite Being Defunct
Due to Zillow's overall popularity as a real estate company, 35% of homeowners rank it as the most legitimate iBuyer despite its iBuyer program shutting down in 2021.
[6]
Respondents see Opendoor, the largest iBuyer at 51% of total market share, as the next most legitimate, with 11% of respondents choosing it.[7] However, an even higher percentage (19%) of homeowners weren't familiar with any iBuyer companies mentioned in the survey.
When it comes to how many homes are actually sold to iBuyers each year, homeowners were less in the know: 87% of respondents overestimated the share of homes sold to iBuyers in 2021.
Just 1.3% of homes were sold to iBuyers last year, with that percentage dipping at the start of 2022 due to Zillow's exit. Before Zillow Offers' sinking ship and the COVID-19 pandemic, the market share was doubling year over year.
Homeowners also aren't sure which big-name real estate companies are actually iBuyers. Fewer than 1% could correctly separate iBuyers from other non-iBuyer real estate companies such as Clever, Knock, and even Realtor.com.
85% of Homeowners Believe iBuyers Are Here to Stay in 2022
Despite their relatively small share of the real estate market, iBuyers are expanding their territories to even more locations and are positioning themselves to be a viable option for an increasing number of home sellers and buyers.
More than half of respondents (58%) think iBuyers will increase in popularity in the next year, while just 15% believe iBuyer popularity will decrease. Twenty-seven percent believe iBuyer popularity will remain about the same in the next year.
Overall, 85% of homeowners believe iBuyers won't decrease in popularity any time soon. When asked about the next five years, 68% of homeowners think iBuyers will become more popular than now, and 24% believe iBuyers will actually overtake traditional real estate agents.
Homeowners still feel most confident selling their home using a real estate agent (91%) rather than going it alone with an iBuyer (76%), though.
More than half of homeowners (53%) are most concerned about expensive commission rates when working with a real estate agent. Discount real estate agents who accept a lower fixed rate or percentage-based commission are one alternative to iBuyers, which don't normally charge commission but charge other fees.
Other common concerns homeowners have about realtors include:
Drawn-out timelines (39%)
Pushy personalities (38%)
Pricing their home correctly (38%)
Receiving bad advice (36%)
72% of Homeowners Still Want Professional Advice From a Real Estate Agent Even if Working With an iBuyer
Real estate agents are still considered the most popular selling option for homeowners.
Homeowners looking to sell their homes think agents provide that personal, expert advice they won't necessarily get from an iBuyer, which is why 72% of homeowners would still work with an agent even if they also work with an iBuyer.
Homeowners, however, still have realtor-related fears, which make iBuyers attractive for some, despite their lack of familiarity with iBuyers. Homeowners know that it's not always a walk in the park finding a real estate agent they like working with, and they want to avoid the longer timelines associated with traditional sales.
More Millennials Than Boomers Would Prefer Selling to an Individual Than an iBuyer
More millennials (84%) than boomers (70%) would rather sell to an individual than an iBuyer.
Despite preferring individual buyers, millennials are twice as likely as baby boomers to believe AI can outdo a real estate agent (52% vs. 26%). Some iBuyer companies use AI algorithms to determine the selling price of homes they want to buy.
This may indicate that millennials may prioritize a personalized experience a traditional sale can provide, whereas a big turnoff for boomers toward iBuyers is that it involves technology they may not be comfortable with. In turn, iBuyers can appeal to millennials more by better personalizing their services.
Real estate agents can market to individual sellers and compare prices to iBuyers'. Homeowners just need to keep in mind that they might still have to pay realtor fees, which the iBuyer companies don't always cover.
As the iBuyer market share grows, low-commission real estate agents can provide sellers with the best of both worlds and maximize clients' earning potential.
Methodology
A survey of 994 U.S. homeowners on their knowledge of and preference regarding iBuyers and other real estate options was commissioned by Clever Real Estate and conducted on April 20-21, 2022.
About Clever
Since 2017, Clever Real Estate has been on a mission to make selling or buying a home easier and more affordable for everyone. 12 million annual readers rely on Clever's library of educational content and data-driven research to make smarter real estate decisions—and to date, Clever has helped consumers save more than $82 million on realtor fees. Clever's research has been featured in The New York Times, Business Insider, Inman, Housing Wire, and many more.
Related Articles & Research
FAQ
What is an iBuyer?

iBuyers ("instant buyers") are technology companies that buy houses directly from the owners. With iBuyers, sellers don't have to work with a real estate agent, prep their home for sale, or list their home on the market at all.

Is selling to an iBuyer worth it?

It definitely can be worth selling to an iBuyer, depending on where you live. Not all iBuyers operate in every state. Make sure to read reviews on iBuyer companies available before you make a decision.
Keep in mind you can get offers from multiple iBuyers and compare them. From there, seek advice from a real estate agent. A qualified, experienced agent can advise you on whether the offer price is reasonable and how much more (or less) you could earn with a traditional sale.

Which iBuyer is the best?

The best iBuyer company depends on your needs and location. iBuyers are good options for homeowners who need to sell quickly, want the easiest sale possible, and are comfortable with doing everything online. iBuyers may not be a good fit if you want to maximize your earnings, have more time, or would like to negotiate a final sales price with potential buyers.