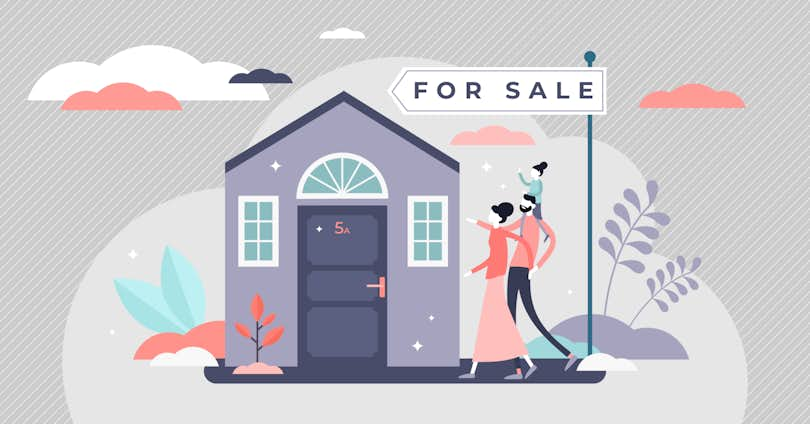 The majority of millennials not only want to own a home, but 84% of millennials in 2019 considered it a major part of the American Dream. However, millennials are struggling to reach that financial milestone.
According to the Urban Institute, nearly 10% fewer millennials own homes than their Gen X and baby boomer counterparts at the same age.
For the generation who stepped into adulthood in the wake of the Great Recession, many financial goals are delayed because they spent more on their education, took longer to establish careers and families, and trudged through stagnant wages.
Approximately 76% of millennial home buyers' parents owned a home when they were growing up, which could have a strong impact on their perception of homeownership as a rite of passage.
According to recent trends, more millennials are becoming homeowners, making up 45% of homebuyers in 2018.
Clearly millennials are eager to purchase homes, but what are the obstacles they're facing?
To learn more about the illusive millennial, we conducted our second annual Home Buyer Survey. We surveyed 1,000 Americans who planned to purchase a home in 2020. Respondents answered 21 questions about their finances, plans, and desires related to their future home.
Specific detail about the methodology and a link to the survey can be found in the methodology section at the end of this report.
Last year, our 2019 Millennial Home Buyer Report established that millennial homebuyers might not be who we think they are. This report will dive deeper into the psyche, struggles, and desires of the next generation of home buyers.
Here's what's in the report:
JUMP TO SECTION
Key Insights
The majority of millennial homebuyers consider homeownership to be part of the American Dream, but fewer millennials believe that in 2020 (70%) than they did in 2019 (84%)
Millennials are more likely to buy in cities outside of major metro areas, according to an analysis by SmartAsset, which tend to be cheaper than homes located closer to city centers
Millennials are eager to buy homes: they're willing to put up with higher interest rates, lease rent-to-own properties, buy near highways and waste facilities, and delay marriage and kids in order to afford homes
Over 25% of millennial homebuyers planning to buy this year have less than $1,000 in savings
Nearly one quarter of millennial homebuyers have more than $10,000 in debt but are still planning to spend over $200,000 on a new home
70% of millennials plan to put down less than the recommended 20%
Millennials are 3x more likely to get help from a family member for a down payment than older generations; and those who get help expect $10,000 from family
Saving for a down payment is the biggest barrier to buying a home for millennials for the second year in a row
Millennials need roughly 1,700 square feet in their new home
Millennials are 1.7x more likely to feel stressed or anxious about home ownership than boomers, suggesting they might have reservations about their financial readiness
Millennials are 30% more likely to take on an extra source of income for a down payment
Millennials are looking to the future: nearly 35% are motivated to buy because they want a family
The majority of millennials prioritize safe neighborhoods with good school districts instead of walkability to bars and shopping
The biggest deal-breakers for millennials are mold, pest / insect infestation, foundation issues, a leaky roof, and odd smells
Fast Facts
Millennials are 20% less likely to use a real estate agent and twice as likely to use social media to find homes than boomers
Nearly 25% of millennials said they hope to spend less than $100,000 on their home
Half of boomers said they wouldn't buy if interest rates rose to over 4% compared to only 30% of millennials
Nearly 20% of millennials take on an additional source of income to help pay for a down payment
Approximately 80% of the millennial homebuyers we surveyed are first-time buyers, compared to 60% of Gen-Xers and 33% of boomers. We saw a similar trend in 2019, but more boomers had owned before in 2020
Millennials don't understand savings or loans: they answered only ~46% of savings- and loan-related questions correctly on our financial literacy survey
Millennials Aren't Financially Prepared to Buy a House
Millennial homebuyers are eager to own a home, but many are not financially prepared to do so. We found that millennials make compromises that could lead to regrets in the future, don't have nearly enough in savings, and plan to put less than 20% down on their home.
Their general lack of preparedness likely plays a role in their feelings about purchasing a home. The majority of millennials want to own a home and consider it part of the American Dream, but the number who feel that way has dropped 14% since last year year.
The thought of owning a home is worrisome for nearly half of millennials, compared to only a quarter of baby boomers, who are more likely to feel "secure" or "comfortable" with buying a home.
Millennials Still Want Affordable Homes
Homes are expensive; the current median U.S. home price is about $310,000. But millennials can't afford that, so they're in search of cheaper homes priced around $210,000.
Millennials are planning to spend about 12% less than boomers, who plan to buy a home for about $240,000. Notably, their desire to spend less is reflected in where millennials are buying homes.
Millennials are more likely to buy in cities outside of major metro areas, according to an analysis by SmartAsset, which tend to be cheaper than homes located closer to city centers.
In the Dallas, Texas metro, for example, millennials are buying 20 miles away in Garland, where the typical home is listed around $224,250 — 41% cheaper than Dallas' current median listing price of $379,000.
Nearly 25% of millennials said they hope to spend less than $100,000 on their new home, compared to about 17% in 2019. Similarly, fewer are planning to spend between $100,000 and $400,000 than last year.
The shift toward cheaper homes jives with millennials' strong desire to own a home. Housing is much more expensive than it was for their parents and their income is lagging behind, so opting for cheaper housing is a good strategy for those looking to own sooner.
Millennials Want Smaller Homes
Millennials want homes that are about 1,700 square feet — about 300 square feet smaller than boomer home buyers. Interestingly, older generations are more likely to be purchasing a home because they want to downsize but they still want homes 13% larger than millennials.
According to the National Association of Realtors, nearly two-thirds of Americans are likely to compromise on desired characteristics when it comes to purchasing a home, like square-footage. Millennials in particular could be compromising size for savings in two ways: first, smaller houses are typically cheaper to buy, as square footage has a huge impact on the price of a home, and to maintain (e.g., cooling and heating costs).
As we'll discuss in more detail later, millennials are planning for their future families, so buying a small house is quite counterintuitive. Moreover, buying a home that's too small is a common regret for millennial homebuyers; so the tradeoff might not be worth it in the long run.
Millennials Struggle to Save for a Down Payment
Millennials have to navigate a lot of obstacles to be able to own a home. According to our 2020 survey, saving for a down payment is the biggest barrier for 50% of millennials.
In fact, only 14% of millennials plan to only use savings for their down payment compared to over a quarter of boomers. Millennials are instead looking to other sources for money, like their parents, which we'll discuss later.
Over 25% of millennials planning to purchase a home in 2020 have less than $1,000 in savings and nearly 60% have less than $10,000. Even with a slender savings account, those millennials are planning on purchasing a home that costs $210,000 on average.
A down payment of 20% for a home of that price would be about $42,000; only about 30% of the millennials in our survey have enough in savings to cover that, not to mention the additional closing costs.
Planning to purchase a home without much money in savings is a dubious idea for a number of reasons. Beyond the most obvious problem that millennials' lack of savings will hinder their ability to get a mortgage and put 20% down — which we'll discuss in the next section — little cash on hand also poses significant issues after the mortgage is signed.
Our True Cost of Homeownership study revealed that the typical U.S. home owner spends over $13,100 each year on costs associated with their home. Many of those costs are unexpected expenses like blown water heaters or leaky roofs.
Without savings, millennials are more likely to resort to financing maintenance costs with personal loans and credit cards, which tend to have high interest rates.
In many states, millennials can offset repair costs by purchasing their house with a real estate agent who offers home buyer rebates. Home buyer rebate programs allow you to earn back a refund — often a small percentage of the home's purchase price — in cash after closing.
The inability to save could be because they don't really understand savings. Millennials were able to correctly answer an uninspiring 46% of questions about savings in our financial literacy survey. For instance, nearly 60% of millennials couldn't correctly answer the question "what is interest?"
Their massive student loan debt, high cost of living, and inflated home prices thwart their capability to save, as well.
About 44% of the millennials in our study said they have outstanding debt (besides an existing mortgage), 23% of whom owe over $10,000. That debt will not only hurt their chances to qualify for a mortgage, but a high debt-to-income ratio can lead to higher interest rates if they do manage to qualify.
While all generations reported having debt, millennials are at a disadvantage because they're less likely to have equity in property, have very little in savings, and are spending a ton on rent. According to an analysis by Rent Cafe, a typical millennial will spend nearly $97,000 on rent before they hit 30. That's more than any other generation.
No savings, too much debt, and high costs of living compounded with unaffordable housing prices that have outpaced the growth of wages in many markets make it impossible to save for millennials.
Millennials Plan to Put Down Less than 20%
Seventy percent of the millennials we surveyed said they were planning to put down less than 20% on their new home and over 25% plan to put less than 10% down.
According to the Consumer Financial Protection Bureau, "to qualify for a Fannie Mae or Freddie Mac guarantee, a mortgage borrower must either make a down payment of at least 20 percent, or pay for mortgage insurance. That's because mortgages with down payments less than 20 percent are considered more risky for the lender."
Paying less than 20% upfront is dicey because homes don't always appreciate in value, so less equity in the home can prove problematic. If the housing market crashes again or we hit another recession that drastically impacts home values, people could be underwater on their homes if they've put too little down.
Lower down payments also leave homeowners spending more each month due to higher mortgages and private mortgage insurance (PMI) costs, which are typically an additional 0.5% to 1.5% of the mortgage.
Borrowers with little money to put down can also opt for an FHA loan, which allows for down payments as low as 3.5% and is more forgiving toward low credit scores.
The millennials in our study indicated they were willing to go the extra mile to be able to purchase a home in 2020, so these options that get them to ownership faster are appealing. According to recent analyses, 26% of millennial loan originations were FHA loans in November 2018.
FHA loans, though, pose even more risks than traditional loans with down payments less than 20%. Those FHA loans do allow for lower down payments, but are still coupled with a mortgage premium insurance (MPI) that can add 0.5% to 1.05% to monthly payments, akin to a PMI on traditional loans.
Similar to traditional mortgages, FHA loans result in higher monthly payments and, therefore, more interest paid over the life of the loan. Moreover, people who take FHA loans have to pay MPI for the entirety of the loan (unlike PMI, which expire after the loan balance reaches 80%).
Expect millennials to ask for a home buyer rebate or seller concessions to help front the bill.
Millennials are Asking for Help from Family
Nearly 27% of millennials are planning to get help from family to afford a down payment through loans, gifts, and inheritance / trust fund money. According to a homeownership report by Apartment List, millennials who get help from family expect to receive nearly $10,000 toward a down payment.
Younger generations are more likely to live with family longer into adulthood than previous generations, partly to help pay for a home. Approximately 15% of our millennial respondents said they were living with family to help offset the costs of living in order to save for a down payment.
Millennials aren't just getting help from family though; they're also likely to use first-time homebuyer assistance, have a side hustle, work bonuses or payouts, stock investments, and borrow from friends.
Compared to older generations who are more likely to have owned a home before (or own their current home), millennials are more motivated to do whatever it takes to own a home. We can see that reflected in their willingness to take on additional jobs or borrow from their family in order to reach their goal.
Millennials are Willing to do Almost Anything to Own a Home
Last year, a startling 68% of millennials said they'd be comfortable buying a fixer-upper that needed significant repairs. We were interested in what else they'd be willing to do to own a home, and we learned that millennials are really motivated to buy, even if it means delaying milestones or making risky purchases.
Millennials Will Happily Accept Higher Interest Rates
Millennials are almost 3x more likely to take on a higher interest rate than baby boomers if it meant they could own a home: nearly 20% of millennials were willing to accept higher interest rates compared to only 7% of boomers.
In fact, 40% said they'd consider interest rates over 5%. As a comparison, 93% of boomers wouldn't consider a higher interest rate to own a home and half of the older generations said "no way" to buying a home if interest rates crept above 4%.
Taking on loans with higher interest rates is obviously problematic as it means borrowers will pay more over the life of the loan. Refinancing to secure lower interest rates in the future is an option, but loan origination fees associated with this approach make it a costly investment.
Millennials are Willing to Delay Marriage and Children
Forty percent of millennials are willing to delay their wedding or having kids in order to save for a home even though 50% said these were fundamental parts of the American Dream.
Their willingness to delay financial milestones is consistent with national trends and might be a smart move. Waiting until they're established in a career and earn more money reduces the burden of owning a home or having kids.
Millennials Would Pay More for Unattractive Locations
About 23% of millennials would pay more for a home near a waste management facility or a highway, compared to less than 5% of boomers.
Buying homes in unattractive locations could prove problematic when it comes time to sell by negatively impacting property values; so paying more for those homes isn't a great long-term choice.
Millennials Consider Leasing Rent-to-Own Properties
Millennials are also willing to lease rent-to-own properties in order to own a home, and they're 1.5x more likely to take that risk than boomers.
Leasing a rent-to-own property seems like a great idea on the surface: Renters pay some amount above the regular rent price that accrues toward a down payment typically over the course of three or more years.
Being able to save toward a down payment systematically is smart. But there are serious potential risks to renting to own, like the possibility that the lessee needs to move or doesn't want the home after the agreed upon lease time. In that case, they'll forfeit all the money spent toward the down payment.
Millennials are Willing to Pay More for a Foreclosed Home
Previously foreclosed homes come with a slew of hidden costs, yet nearly one-third of millennials said they'd pay more for a foreclosed home.
This especially speaks to millennials' financial illiteracy. The appeal of buying a foreclosed home should be the low cost, but these millennials aren't just willing to buy a foreclosed home, they'd even pay more for it. Therefore, any potential savings are washed out.
Millennials Aren't Who We Think They Are
Millennials' desperation to own homes despite their lack of financial readiness might have to do with their desire to start a family. More specifically, we found that millennials are looking toward the future: they want homes they can grow into with their families and are interested in locations that will be good for children.
Millennials are also less picky when it comes to the characteristics they need in a home and have fewer deal breakers than older generations; again supporting the notion that they're willing to put up with more if it means they can buy a home.
Millennials are Motivated by Desire to Have a Family and Reach Financial Milestones
Millennials aren't necessarily looking for tiny homes in huge cities or van dwelling, but want more space to grow a family in the suburbs.
We asked homebuyers what motivates them to purchase a home. Millennials surprised us: over one third said they're planning to buy a home because they want a family and 24% want to hit important financial milestones.
Millennials Still Prioritize Safe Neighborhoods and Good Schools
Approximately 38% of millennial homebuyers in 2019 said they care most about safe neighborhoods and 35% prioritized good school districts.
While there was a shift in the distribution of importance of location factors from 2019, millennials still care about safety and good schools in 2020.
Millennials are 4.25x more likely to want to live near family and friends than they were last year. The desire to live near family could have something to do with millennials' financial instability and fear of a future recession. Living near family can provide a safety net in the case of a layoff or financial distress, especially if childcare is suddenly unaffordable.
In contrast, only 6% of millennials were interested in homes that were within walking distance of restaurants and bars, suggesting they're considering their long-term needs.
Millennials Want Large Kitchens, Laundry Rooms, and Space to Grow their Family
We asked which characteristics are "must haves". Millennials said they need a garage, a large kitchen, space to grow into with a family, a dedicated laundry room, and a walk-in master closet.
Millennials had fewer needs than boomers, though. The only characteristic they cared about more than boomers was space to grow, which makes sense considering the younger generation is more likely to be in the early stages of starting a family than boomers. Millennials' apathy about other characteristics does highlight their desire to own at any cost and boomers' ability to be pickier.
Millennials' Deal-Breakers are Reasonable
When asked which characteristics of a home were deal-breakers, millennials chose 12% fewer than boomers. For instance, 74% of boomers wouldn't buy a home with mold, compared to only 57% of millennials. This resonates with the fact that millennials really want to own homes.
When they did report deal breakers, though, millennials didn't care about superficial details; they reasonably didn't want to buy homes with mold, pest or insect infections, foundation issues, leaky roofs, or odd smells. These deal-breakers are smart reasons to walk away from a home as many can be costly to repair and could indicate bigger problems to come.
While millennials' deal breakers are smart, their lack of deal breakers in general might leave them with something they're not happy with in the long term.
In our True Cost of Home Ownership report, for instance, people who had buyers remorse mostly disliked the amount of maintenance their house requires and stated their home didn't have the features they wanted. So millennials who are purchasing homes for the sake of owning might regret their decision down the road.
Methodology
The data in this report were gathered through an online survey commissioned by Clever Real Estate. We surveyed 1,000 Americans who planned on purchasing a home within the next 12 months (i.e., in 2020) on the survey platform Pollfish.
For consistency, we used similar age groups to define generations as we did in our 2019 Millennial Home Buyer Report: millennials were considered to be between the ages of 19 and 35 for the purposes of this report.
We also used data from a Financial Literacy Survey conducted by Clever Real Estate in 2019. The survey was developed using Survey Monkey and respondents were recruited through Amazon's Mechanical Turk. One thousand Americans answered questions related to finances, including savings, investment, loans, credit, and credit cards, and questions related to home ownership.
More Research From Clever