Does bedroom criteria change from state to state? l Bedroom requirements l Square footage l Ceiling height l Emergency escapes l Cooling and heating l Does a bedroom need a closet? l How can you turn a room into a bedroom? l Extending a room l Adding a wall l Ways to market your non-bedroom space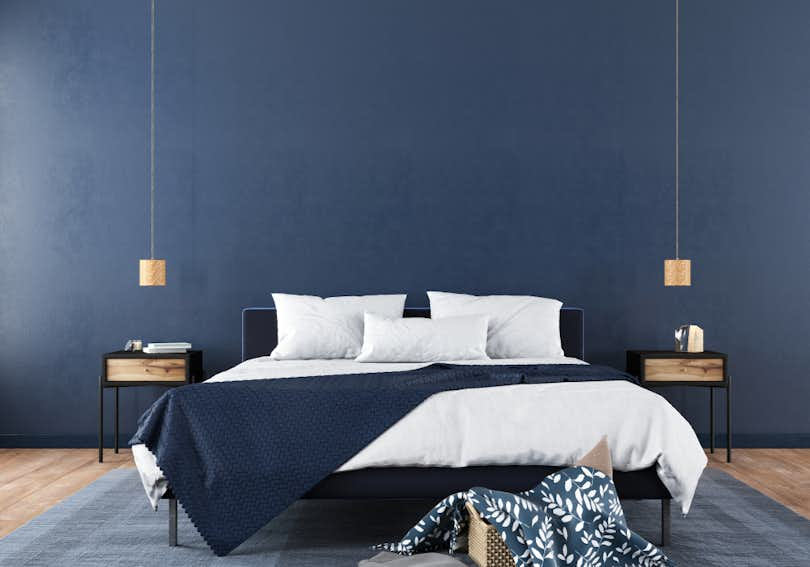 Bedrooms are defined as rooms intended primarily for sleeping. However, not all rooms can be bedrooms.
The minimum criteria for a bedroom includes:
Minimum square footage
Minimum ceiling height
Hallway access
Emergency escape and rescue openings
Heating and cooling units.
Does bedroom criteria change from state to state?
The criteria for a bedroom varies depending on where you live. Each state has its own set of codes and regulations to determine what a bedroom consists of. For some states, that means following the guidelines set by the International Residential Code (IRC).
Some states have specific square footage requirements. For example, in Wisconsin, a room must have 70 square feet of floor space to be considered a bedroom. Other states have regulations surrounding heating and cooling units. That's especially true in New England states, which require bedrooms to have a heat source.
However, it doesn't end with state building codes and regulations — individual towns and cities have the power to set their own zoning requirements as well.
For example, the city of San Bruno, CA, requires that a bedroom have a closet, alcove, indentation, or wing wall which creates an area greater than 12 inches in depth.
It's important for home buyers and home sellers alike to check with their city and state to understand the legal requirements for what defines a bedroom.
Bedroom requirements
Bedroom requirements according to the International Residential Code
Minimum square footage requirements
A bedroom must be no less than 70 square feet and have no less than 7 feet in any horizontal direction
Minimum ceiling height requirements
The minimum ceiling height for a bedroom is 7 feet
Emergency escapes
Bedrooms need two emergency escapes that comply with city and state codes
Cooling and heating requirements
Every bedroom must be equipped with a cooling and heating unit
While each state and city has its own requirements for what makes a room a bedroom, the International Code Council created in-depth criteria known as the International Residential Code (IRC). However, not all states follow the code to a tee and have different rules and regulations of their own.
For states that follow the IRC, there are specific requirements for what each bedroom must include.
Minimum square footage requirement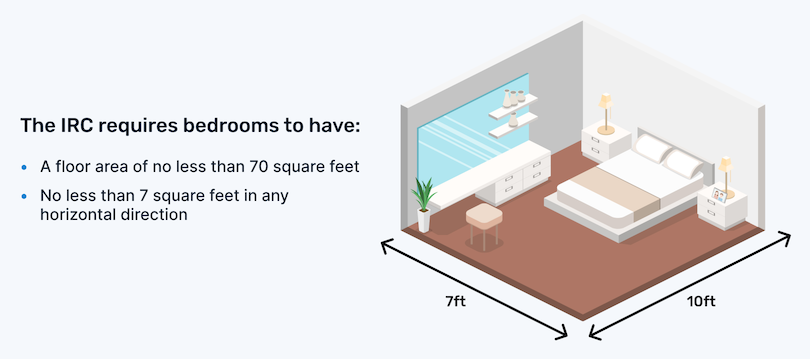 A room doesn't qualify as a bedroom unless it meets certain square footage requirements.
The IRC states habitable areas like bedrooms need a floor area of no less than 70 square feet and no less than 7 square feet in any horizontal direction.
If a room has less than 70 square feet, it doesn't meet the requirements under the IRC to count as a bedroom.
Minimum ceiling height requirement
The minimum ceiling height required is 7 feet.
For bedrooms with sloped ceilings, the required floor area of the room needs to have a ceiling height of no less than 5 ½ feet of the required floor area and 50% of the space must have a ceiling height of no less than seven feet.
The majority of homes across the United States adhere to the ceiling height requirement enacted by the IRC.
Emergency escapes and rescue openings
For safety reasons, it's important that a bedroom have a way out in case of an emergency. The IRC recommends that bedrooms have at least one egress, but due to fire codes and safety codes, it is highly recommended that there be two separate emergency escapes to get out of a bedroom.
Emergency escape and rescue openings must open directly onto a street or into a yard or court that leads out to a road.
Under the IRC, rescue openings must also be operational from the inside of the bedroom with the use of keys, tools, or other special knowledge.
Windows as an egress
Windows are generally one of the best emergency escape routes for a bedroom. They are easy to crawl through to get to safety in a backyard and beyond.
The IRC requires windows to have a clear opening area of 5.7 square feet, a minimum height of 24 inches, and a minimum opening width of 20 inches.
The window sill should also be no more than 44 inches from the floor, so children are not able to fall out of the window.
Using a door as an egress
Besides a window, the other most common type of egress is a door.
When a door is used as an emergency escape and rescue opening, it must be a side-hinged door or a slider.
Cooling and heating units
Each bedroom needs to be equipped with a heating and cooling system capable of maintaining a room temperature of not less than 68 degrees Fahrenheit or 20 degrees Celsius.
While the IRC does create recommendations, guidelines, and criteria for bedrooms, it's important to check with your local code enforcement about exact requirements for a bedroom.
Does a bedroom need a closet?
A bedroom does not need a closet to officially be considered a bedroom.
Closets have become a staple in newer homes. But when it comes to older homes, you may have to get creative or invest in a dresser to store your clothes.
How can you turn a room into a bedroom?
There are several ways to turn a room into a bedroom, including extending a room or dividing a larger room in two with a partition.
In order to make changes to your home, you will need to get a permit and permission from the city and zoning committees before starting construction to extend a room or add a partition to a larger room.
One important thing to consider is adding or extending a room may not affect your home value. If a seller has very few bedrooms in their home then it might be worthwhile to add or extend a bedroom. However, if you already have four or five bedrooms in your home, it's not necessary to build or add a new one in order to get a greater return if you're planning on selling your home.
Cost of extending a room
Potential costs of converting a bedroom to IRC requirements
Extending a room
$600-750 per square foot
Permit costs for room extension
$400-2,200
Window installations
$5,838
It's possible to extend a room and add a window in order to meet the minimum bedroom requirements by the IRC.
An extension to an existing room typically costs between $600 and $750 per square foot. Permits cost between $400 to $2,200 on average.
Installing a window costs over $5,800 on average, but typically ranges between $2,900 and $9,000 depending on the layout and work required. Labor costs range from $150 to $800 per window or about $40 per hour.
Adding a wall
Installing a new wall costs around $1,900 on average but typically ranges from $985 to $2,900. Some partitions can reach as high as $8,000 due to the complexities of the room.
Installing walls can be messy since they typically involve framing, electrical work, and drywall.
Ways to market your non-bedroom space
If you're tempted to list rooms that don't fit your state's criteria as bedrooms, don't do it! It's not only dishonest, but it can also land you in legal trouble.
Just because a room may not qualify as a bedroom doesn't make it any less important in a listing. Many buyers are actively looking for homes with "bonus rooms" or extra space they can turn into an office, craft room, or even storage.
Real estate agents are valuable resources in presenting your home's best attributes. They can help you decide what to label your extra space and help you provide listing information that's accurate and attractive to buyers.
Want to learn more? Clever can introduce you to top-rated real estate agents in your area who can help you sell your home quickly and for top dollar.
FAQ Drawers
Where can I find out state and local guidelines?
State guidelines can typically be found online; most adhere to IRC guidelines. When it comes to checking in with your city, it's important to contact them by their preferred method, usually by phone, to find out if your room meets the requirements for a bedroom.
Do bedrooms need only one emergency exit?
According to the IRC, yes. However, most fire codes require two means of egress. It's always best to err on the side of caution and have two means of escape, such as a door and a window.
How much does it cost to add a closet to a room?
The cost to build a closet to a room is between $750 to $1,000 for a reach-in and $2,000 to $2,500 for a walk-in. Prices depend on whether there is already framing for the addition.
Remember, rooms do not typically need closets to qualify as a bedroom.