Are you looking at Vermont for property investment opportunities? It's a popular state for investors, but finding out where to make the most of your investment requires some research. Here's our guide to five communities for investment in Vermont that you should seriously consider.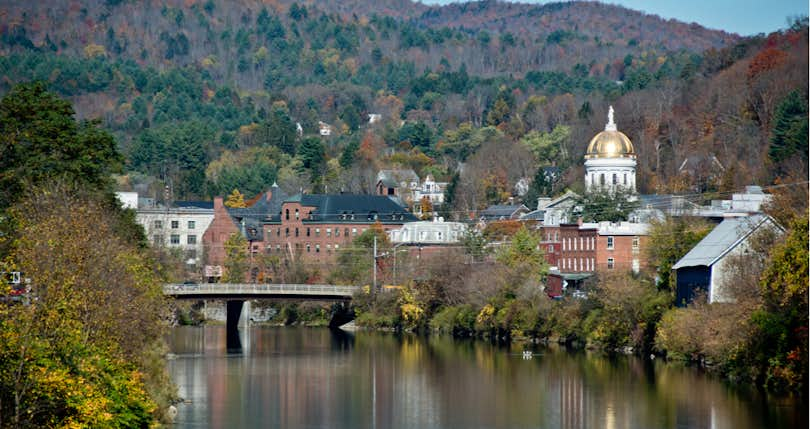 Vermont has become a hot destination for people relocating from all over the U.S. The Green Mountain State is known for its laid back lifestyle, historic towns, and breathtaking scenery.
There's no doubt Vermont is a great place to live. It's also a great place to invest in real estate. Not only have home values have been rising throughout the state, but the state draws nearly 13 million visitors a year. That means rentals are in demand all year long.
But the state's home values and appreciation rates can vary widely, and it's important to do your research when deciding where to invest in real estate. The best way to become informed is to speak to a professional real estate agent. They have access to up-to-the-minute housing data for each municipality, and they will be able to let you know about the local market and trends.
Here are the five best real estate investment markets in Vermont.
Stowe
Business Insider named this town one of the best places in the U.S. for investing in winter homes. The type of real estate available in this historic town is quite wide-ranging. There are single family homes, condos, commercial buildings and even farms.
This resort town is also a major ski destination and so can provide rental income throughout the winter. Thousands also visit the town in the summer and autumn for its rugged mountains and hiking trails. It is also a major draw for New Yorkers wanting to get away for the weekend.
Home values have also been on the rise in Stowe. The median home value is $429,000 with a 4% one year change. This year, real estate values are expected to be slightly more modest. But analysts predict that will continue to rise into the foreseeable future.
---
Looking to invest in real estate? You need a realtor who specializes in investment properties.
The first step in your real estate investing journey is to find a top local realtor with experience helping real estate investors find great deals. The right agent can help you find the best property for your goals and budget — and craft a winning offer so you can stop looking at houses on Zillow and start building wealth.
If you need help finding a realtor who specializes in investment properties, Clever Real Estate can match you with an experienced local agent so you can find the right property and get a great deal. You can also earn cash back when you close on your purchase!
Requesting agent matches is free, and there's no obligation. Just fill out the form below to get agent recommendations sent straight to your inbox!
💰 Buy an investment property, earn cash back!
Buy your investment property with a top local realtor from a trusted brand like Keller Williams or RE/MAX. Get cash back on eligible purchases.
Enter your zip code to get personalized agent matches sent straight to your inbox. Compare your options until you find the perfect fit, or walk away with no obligation
Burlington
This is Vermont's largest city and it is also the birthplace of Ben & Jerry's ice cream. If that's not enough to make you want to buy a home there, it is also one of the healthiest communities in the U.S. It has a good education system and its unemployment rate is well below the national average at 2.4%.
The population is just below 45,000 people. But for a relatively small city, there is an amazing amount of activity. It has lots of restaurants, shops, museums, theaters and breweries.
With a regular influx of new workers and students at the University of Vermont, Burlington is the perfect place to buy a property for renting. The city has some of the more expensive real estate in the state, but it also has a relatively high appreciation rate.
The median home value in the city is $320,000. It had a 4.6% year-over-year change and it is expected to grow by another 4% in the next year.
Jericho
This small town is consistently ranked as one of the best places to buy real estate in Vermont. It is a family friendly town with home values that have seen strong returns over the past few years.
In 2018, the median home value in Jericho was $343,800. That was a big jump from the year before. Home values appreciated by 6.9%. The forecast for the next year is also expected to be strong at 5% growth.
Colchester
In 2015, Time Magazine named Colchester as one of the 50 best places to live in the U.S. Tucked in the Northwestern part of the state, it is home to Saint Michael's College.
It is also well known to tourists who flock to the area for its rich hiking trails and the supernatural beauty of Lake Champlain and surrounding islands. It also attracts a lot of boaters.
Home in the area have seen increases of about 1.8% over the past five years and about 33.4% over the last decade. While the appreciation rates are somewhat modest, the rental returns are more promising. The median rent per month in Colchester is $1,950.
Charlotte
Charlotte is just a 25 minute car ride from Burlington making it an ideal location for commuters. This community is home to many artists due to the surrounding landscape and rural lifestyle. It also has some of the best schools in the state.
This is a good community for real estate investors who have watched home values rise over the past decade. The median home value in Charlotte is $539,800. It saw a 5.7% increase between 2017 and 2018. It's predicted to rise by another 3.5% this year.
The community is also a good place to invest for rental units. The median rent is $1,692 per month. The national average is $949 per month.
Talk To A Professional Realtor
It's always best to work with a professional real estate agent when looking at investment properties. A Clever Partner Agent can help you create a strategy to build your portfolio. They are also great sources to meet people and network.
They can also help you find out good contractors (and those to avoid), lawyers, accountants and other professionals that you will need as you go through the process of purchasing your property. Clever partners with top-real estate agents from major companies like Keller Williams, Century 21, and RE/MAX. Clever Partner Agents are all full-service.
However, they have agreed to work for a flat fee of 1.5%. That means more money in your pocket without compromising any of the knowledge and expertise that a realtor provides.
👋 Find your perfect agent now!
Finding a great local realtor is the first step in making your home buying dreams a reality. Our free service matches you with top agents from trusted brands like Keller Williams and RE/MAX.
Enter your zip code to request hand-picked agent matches in minutes. Compare your options until you find the perfect fit, or walk away with no obligation. Try Clever's free service today!
Related Articles
You May Also Like