Nevada is home to a booming real estate market. While most people only know Las Vegas, other cities like Paradise, Reno, Henderson, and Carson City provide fertile ground for investment opportunities.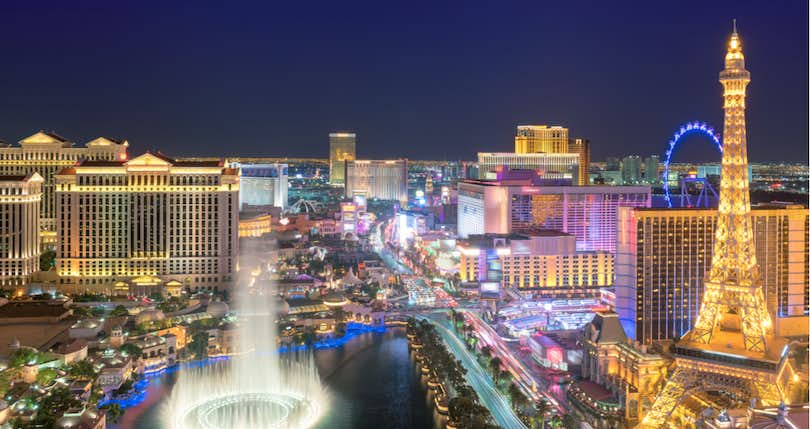 Las Vegas was ranked as the number one US housing market in 2018 according to Yahoo Finance, and if 2019 continues the trend, Las Vegas, and Nevada as a whole, will be poised to be a red-hot real estate market this year. This means lots of opportunities for new and experienced investors alike to jump on and turn a profit.
While Las Vegas, home to 75% of Nevada's population, is by far the biggest market in the state, there are a number of other cities to keep an eye on. These include Paradise, Reno, Henderson, and Carson City. In this article, we're going to give you a bird's-eye view of this exciting market and let you in on five of the best places to invest this year.
Las Vegas
By far the most famous and populous market in the Silver State, when it comes to investors, Las Vegas is not just the city of Sin, but the city of win. Vegas has seen a median home value increase of 10.9% over the past year, and it's predicted to grow another 6.9% over the next year. With numbers like these, investing in this high stakes city is hardly a gamble.
Las Vegas has seen fast and steady growth since 2012, despite the major hit the city took during the 2008 recession. The city has by all means rebounded and has been experiencing strong economic growth that shows no signs of stopping. The increase in construction and population has helped cement (no pun intended) Vegas as a city investors should definitely watch out for.
---
Looking to invest in real estate? You need a realtor who specializes in investment properties.
The first step in your real estate investing journey is to find a top local realtor with experience helping real estate investors find great deals. The right agent can help you find the best property for your goals and budget — and craft a winning offer so you can stop looking at houses on Zillow and start building wealth.
If you need help finding a realtor who specializes in investment properties, Clever Real Estate can match you with an experienced local agent so you can find the right property and get a great deal. You can also earn cash back when you close on your purchase!
Requesting agent matches is free, and there's no obligation. Just fill out the form below to get agent recommendations sent straight to your inbox!
💰 Buy an investment property, earn cash back!
Buy your investment property with a top local realtor from a trusted brand like Keller Williams or RE/MAX. Get cash back on eligible purchases.
Enter your zip code to get personalized agent matches sent straight to your inbox. Compare your options until you find the perfect fit, or walk away with no obligation
Paradise
The name of this lesser-known Nevadan city is hardly subtle, and neither is the growth it's experienced over the past year. With a 12.6% increase in median home value over the last year and a projected 7.9% increase this year, Paradise may turn out to be something of a paradise for investors.
While it's impossible to predict what the future will bring, Paradise is positioned to be a solid investment choice this year. It is closely linked with the Las Vegas market, as it's an unincorporated city directly adjacent to Sin City. The city is home to the University of Nevada, Las Vegas; McCarran International Airport; and the majority of the famed Las Vegas strip.
Reno
While this mountainside city's real estate market has been experiencing a bit of a slow down recently, the median home value has increased 8.5% over the past year and is predicted to increase another 6.2% this year. There is a ton of demand for properties in this city, which has led to a growing number of new construction permit applications - 38% more than the US average.
Despite the ongoing construction efforts, demand for housing in Reno is currently outpacing the available supply. There's quite simply much more demand for houses than actual houses up for sale. This is leading to a very competitive environment where homes don't stay on the market very long.
Henderson
Henderson is another city close to Las Vegas that's been heating up in recent years. It's the second-largest city in the state and is part of the Las Vegas metro area.
Henderson has a strong economy and offers lots of entertainment, art, and culture to its residents, making this a vibrant city to live in. Its close proximity to Vegas is also an attractive feature of the city.
Compared to Las Vegas, Henderson is far more suburban and family-friendly, providing residents with good schools and a low crime rate. It's a particularly appealing place to live for those who want to live near, but not directly in, a larger and more vibrant city.
In 2018, the median home value in Henderson increased 9.2%. That trend is expected to continue throughout 2019 with an additional growth of 6.3%.
Carson City
Carson City, the capital of Nevada, is a steaming hot market. In 2018, the city experienced a staggering 16.7% increase in median home value, with an additional predicted increase of 9.9% over the next year. Since 2000, the total appreciation in the city has been an impressive 109.91%.
Carson City is home to a diverse workforce of both blue collar and white collar workers. All in all, the population is upper middle class, but there are a number of incredibly wealthy and incredibly poor people living in the city as well. The stable economy and steady growth of this city makes this a great place to invest.
If you're hoping to become a real estate guru yourself one day, there's no more valuable experience you can have than working with and learning from an expert local real estate agent. Clever Partner Agents are qualified, top-rated agents from major brands like Keller Williams, Century 21, and RE/MAX that can offer you guidance on how to break into the market or expand your portfolio.
To learn more about how Clever can help you achieve your investing goals, just fill out our form and a Clever Partner Agent will get in touch with you shortly.
👋 Find your perfect agent now!
Finding a great local realtor is the first step in making your home buying dreams a reality. Our free service matches you with top agents from trusted brands like Keller Williams and RE/MAX.
Enter your zip code to request hand-picked agent matches in minutes. Compare your options until you find the perfect fit, or walk away with no obligation. Try Clever's free service today!
Related Articles
You May Also Like