Real estate in Arkansas has proven to be a profitable investment choice when you pick the right market. There are many desirable locations, so It's important to do research on each location and partner with a professional to help you make a successful investment.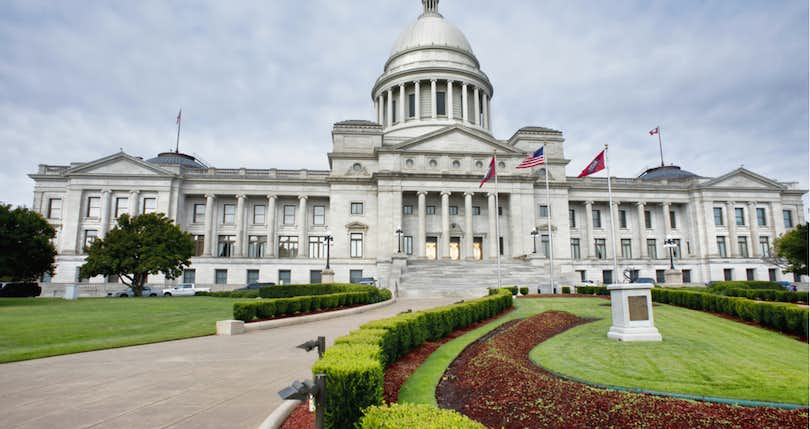 A successful real estate investment involves picking the right market. To make it easier, you should try narrowing down your choices by each state to find the perfect investment opportunities. If you're looking for a diverse state with a wide variety of investment properties to choose from, consider Arkansas.
This growing state his home to six Fortune-500 companies, including one of the world's largest retail chains, Walmart. Walmart has plans to expand its manufacturing and suppliers all across Arkansas, so this will create more jobs and a higher demand for real estate.
Another driving force in Arkansas is their agricultural economy. They rank 13th in the U.S. in terms of the values of products sold. Arkansas also attracts a lot of tourism with its beautiful scenery, wildlife, and other various attractions.
Here are some of the best investment markets in Arkansas:
Little Rock
The Little Rock area has been one of the top locations for investors for a while now. Home prices are expected to rise by 16% in the next three years. Builders are also in the process of setting up new developments. The expected number is going to be 2,500 new homes and 1,500 new rentals. Little Rock also has the 4th strongest economy in the nation and extremely low property taxes, making it an ideal spot to invest in.
>Find: Top Real Estate Agents in Little Rock
---
Looking to invest in real estate? You need a realtor who specializes in investment properties.
The first step in your real estate investing journey is to find a top local realtor with experience helping real estate investors find great deals. The right agent can help you find the best property for your goals and budget — and craft a winning offer so you can stop looking at houses on Zillow and start building wealth.
If you need help finding a realtor who specializes in investment properties, Clever Real Estate can match you with an experienced local agent so you can find the right property and get a great deal. You can also earn cash back when you close on your purchase!
Requesting agent matches is free, and there's no obligation. Just fill out the form below to get agent recommendations sent straight to your inbox!
💰 Buy an investment property, earn cash back!
Buy your investment property with a top local realtor from a trusted brand like Keller Williams or RE/MAX. Get cash back on eligible purchases.
Enter your zip code to get personalized agent matches sent straight to your inbox. Compare your options until you find the perfect fit, or walk away with no obligation
Bentonville
Bentonville has an accelerating population growth, specifically twice the national pace. They are also seeing growth in their job market because of Walmart. Walmart has a large corporate location in Bentonville and they have plans to expand their suppliers.
They are expected to see a 24% price increase in homes in the next three years. New home developments are being built and they hope to have 6,000 new single-family homes and 4,000 new rentals.
Fayetteville
Fayetteville is another city in Arkansas that is experiencing a large amount of growth due to Walmart corporate offices. Walmart's expansion plans are bringing in new employees and increasing the demand for single-family homes. Fayetteville has also seen a 22% increase in home prices.
They are expecting to construct 3,000 new homes and 3,000 new rental homes. This is a great city to buy houses and rent them out due to the high percentage of residents who prefer renting. Arkansas is a state where you can easily own more than one property, whether it be houses or commercial real estate.
Hot Springs
Hot Springs is a great city that attracts tourists and travelers looking for a fun-filled vacation. They have an endless list of attractions for families, couples and tourists looking to relax. All of these different activities offer changes for investors to take advantage of these opportunities.
You could choose to invest in commercial real estate, vacation rental properties or even run an Airbnb. The continuous influx of tourists throughout the year keep the job market strong and create a demand for accommodations and updated storefronts.
Texarkana
Texarkana has been experiencing a population growth of 3.54% since 2010. Home appreciation has been up 17.8% in the last 12 months. They are also experiencing a growing trend in their rental properties. You can be profitable by flipping houses to sell or renovating houses for rentals.
Overall, Arkansas has become a booming state with growth in all areas, including real estate, job opportunities, and investments. As suppliers are looking to move closer to the large retail chain, more workers will move to look for a nice family home.
>Find: Top Real Estate Agents in Arkansas
Whether you've never invested in real estate or you've already started your portfolio, partnering with a real estate professional is always a good idea. They can offer guidance through every step of the way and help you conduct market research to pick the right location.
Clever Partner Agents understand the local market and how much success can come from real estate investments. With Clever, you'll be able to get the quality service that any real estate agent can provide while spending less on commission rates.
👋 Find your perfect agent now!
Finding a great local realtor is the first step in making your home buying dreams a reality. Our free service matches you with top agents from trusted brands like Keller Williams and RE/MAX.
Enter your zip code to request hand-picked agent matches in minutes. Compare your options until you find the perfect fit, or walk away with no obligation. Try Clever's free service today!
Related Articles
You May Also Like