Staged homes consistently sell quicker and for more than homes left vacant or decorated with the current owners' personal effects. Talk to an experienced real estate agent to learn why home staging is a clever way to ensure a speedy, profitable home sale.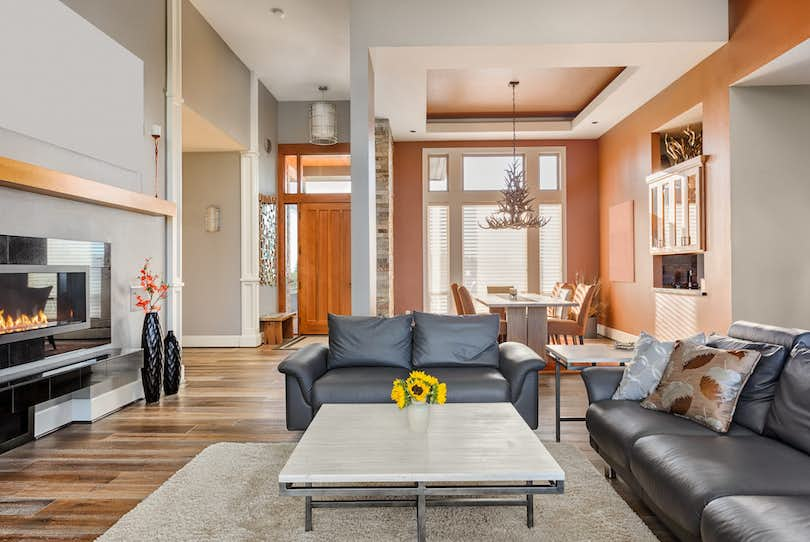 Statistics show that staged homes sell faster and for a higher price than empty homes or homes left as-is. When selling your home, presentation plays a huge factor in attracting potential home buyers and encouraging an offer.
Home staging is a necessary step that doesn't have to cost home sellers a fortune but will work in the seller's favor in prompting a desirable offer.
Work with an experienced Clever Partner Agent who will offer invaluable guidance during the staging process and throughout the entire real estate transaction.
Buyers Need to See Themselves in Your Home
A majority of realtors will advise that clients are more inclined to offer a higher initial bid on a staged home than one of similar caliber that is unstaged or vacant.
Over 81% of potential home buyers in the U.S. reported that, when viewing a staged home, it's easier to imagine themselves living in that house.
Of those asked, nearly 45% also had a positive impression when the taste of the current homeowner was like their own. Neutral, modern, or trendy decor helps the home appeal to a wide variety of potential buyers with varying tastes.
To Stage or Not to Stage?
Many home sellers opt out of staging because of the up-front costs. They often think skipping the staging process will keep more money in their pocket.
However, spending money on staging costs often earn buyers double or triple the cost of what the seller spent on staging.
Buyers are typically willing to offer at least 1% and sometimes up to 5% above asking price for staged homes. Coldwell Banker Real Estate Corporation conducted a recent survey that found staged homes sell for over 6% above the asking price.
If you list your home for $150,000, you stand to earn $9,000 just from staging. Compared to the cost of staging a home with new furnishings, which averages out to approximately $500 per room, staging stands to net you more than your original sale price.
Staging Sets Your Home Apart from Competitors
When properly staged, your home will stand out from the rest and create a lasting impression on buyers. Open houses and tours can easily overwhelm potential buyers. Staging helps them remember your home throughout their whirlwind real estate journey.
The same survey by Coldwell Banker Real Estate Corporation discovered well-staged homes spend less than half the average time on the market compared to unstated or vacant homes.
Research from the National Association of Realtors (NAR) shows that the longer a property sits on the market, the less it finally sells for. The same research shows that staging a stagnant home currently listed makes it sell up to 73% faster.
Let Clever help sell your home!
Get advice on staging and earn thousands more!
Additional Perks of Staging
Buying a home is an emotional affair often dictated by the buyer's gut feelings rather than hard facts. Staging your home makes it more welcoming, as potential buyers can immediately see what their life could be like if they called your house home.
Staging also offers each room a sense of scale. For example, during an open house, guests might have a hard time visualizing what their king-size bed will look like in the master bedroom. The same goes for a living room or dining room; stage them well so the buyer can imagine themselves living there and using the spaces. If there is already furniture in the room, it is easier for a guest to picture how each room would feel with their personal items.
Staging also gives would-be home buyers an opportunity to brainstorm the utilization of "awkward spots" around the house — like a small loft or asymmetrical alcove. If you've already created a nice sitting area or craft storage space, it will be easier for buyers to imagine how they will use the area.
The Average Cost of Staging a Home
Staging a home doesn't have to be expensive. Hiring a professional home stager to purchase new furniture and interior decor costs around $500 per room. Hiring a professional stager to use your own stuff to rearrange and decorate costs around $800 total. Looking to get started yourself? Read on for DIY staging tips:
Declutter
Clutter is the death of a high offer. Make sure every room is free from knick-knacks, trash, and visible storage of personal items like clothing, dishes, or cleaning supplies. Everything should have a place out of sight during a walkthrough. Decluttering makes your home more appealing to prospective buyers.
Get Rid of the Storage Room
If you have a "catch-all" room in your house, it's a good idea to convert it to something practical before you begin showing your house. Furnish it as a guest room, office, or playroom and potential buyers will be more inclined to make an offer than if it was a spare storage space.
Neutralize It
A key part of staging your home to sell is ensuring that you remove your personality from the home. While your collection of rocks from that hiking trip to Sedona are lovely momentos, someone else may view them as junk. Depersonalizing your home also helps buyers' agents help their clients imagine living in the property.
Your home should look like a showroom at a furniture store. It's also a good idea to stick with neutral wall colors and classic furniture styles so the potential buyer can get a feel for the space but not feel overwhelmed by your French Countryside aesthetic.
Clean Up the Curb Appeal
First impressions are important. Sprucing up the outside of your home is often the easiest part of staging it. You can powerwash the driveway, weed flower beds, and clean the windows. Replace cracked or broken house numbers and other external hardware. A fresh coat of paint on the door and mailbox hide wear and tear.
Whatever you can do, however small, to make your home a more neutral and welcoming place will ultimately benefit you on closing day.
Staging your home to sell can net you thousands more than originally expected. Save even more by working with a top-rated Clever Partner Agent. Our experienced, local agents offer a flat-fee commission of $1,000 or 3% if the home sells for over $350,000.
Looking to sell your home and want more advice on staging? Contact us for a no-obligation consultation on your home sale.
FAQs on Staging a Home to Sell
Are sellers required to clean the house?
A majority of real estate contracts stipulate the seller must leave the home in "broom-clean" condition. This means everything must be removed from the home and sellers must clean up by sweeping, dusting, and removing any additional debris.
How can I make my living room look cozy?
Maintain neutrality but facilitate warmth by adding earth tones. Remove clutter but strategically place soft lighting, potted plants, and simple accents around the room. Add throw blankets and pillows to the couch for a cozy feel.
Does a room look smaller when empty?
Rooms tend to look smaller when empty. Filling a room with furniture allows the potential buyer to see just how large the room is. Small rooms can look larger when you add sleek, modular furniture.
What should I do to my house before I sell it?
Before selling your house, give it a good cleaning. Remove clutter, unwanted items, and old or worn furniture. Deep clean and remove debris from the outside of the home, including the roof, driveway, side yard, etc. Stage each room to present the home in its best light.
Related Articles
You May Also Like