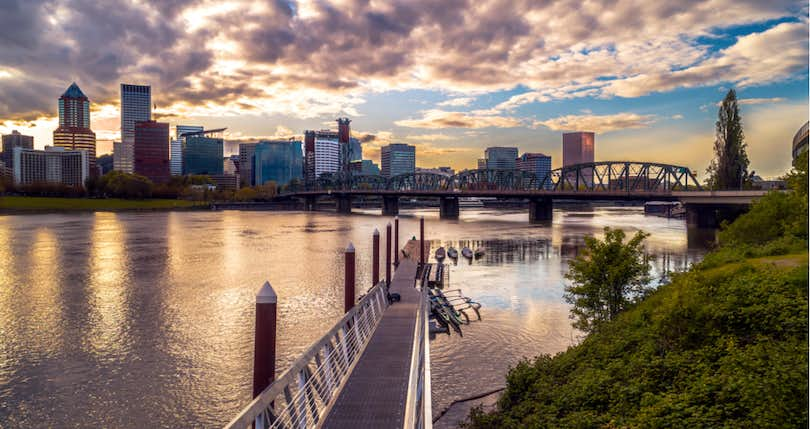 The Pacific Northwest is an exciting part of the country, and its population is booming. Unfortunately for prospective transplants, parts of the region have grown exceedingly expensive.
As an example, the median home values in San Francisco and Seattle are $1,152,300 and $713,600, respectively. Yikes!
Luckily, there are still some great affordable places left to explore in the Pacific Northwest. We've compiled a list of the most affordable cities to help you save big on your home search.
Another way to save? Work with a top real estate agent who knows how to negotiate and score you a lower sale price.
At Clever Real Estate, we can match you with agents in any area you're interested in — even multiple areas at the same time. You can interview as many agents as you like until you find the perfect place to call home — all at no cost or obligation to you.
Most affordable cities in the Pacific Northwest
No matter where in the region you want to be, there should be somewhere that fits your needs.
Here are our top five affordable places to live in the Northwest corner of the United States.
1. Coos Bay, Oregon
Coos Bay, Oregon is one of the most affordable cities you'll find on the Pacific Ocean. The median home value in Coos Bay is $191,100, placing Coos Bay home prices nearly $155,000 below the Oregon median. SmartAsset has ranked Coos Bay the most affordable U.S. Pacific coastal community.
With around 16,000 residents, Coos Bay is the largest community on the Oregon coast. Formerly an industrial city focused on mining, lumber, and shipbuilding, Coos Bay is now a center for healthcare jobs.
Coos Bay has a lot to offer in terms of culture and natural beauty. It's home to the Coos Art Museum, Egyptian Theater, Coos Historical and Maritime Museum New History Center, and the Oregon Coast Historic Railway. And the Oregon Coast Music Festival has been taking place in Coos Bay since 1978.
With its excellent location, Coos Bay is a great place for people who like to spend time outdoors. The Oregon Dunes National Recreation Area and Umpqua Dunes are close by, as are the state parks which surround the bay.
2. Ephrata, Washington
Located in Central Washington in the Columbia River basin, Ephrata is the county seat of Grant County
Although home values in Ephrata have gone up considerably in recent years and rose 10.4% last year, Ephrata remains affordable. The median home value in Ephrata is $162,900, which is less than half of the normal state median.
If you enjoy spending time outdoors, Ephrata just might be for you. Ephrata is home to outdoor activities year-round, including Basin Summer Sounds, the Sage-n-Sun Festival, the Beezley Burn mountain bike race, and Splash Zone.
3. Blackfoot, Idaho
Blackfoot is a city of around 12,000 in Bingham County, Idaho. It is the county seat and main city in the Blackfoot metro area, located on the south side of the Snake River. Like Ephrata, Blackfoot is still affordable despite recent real estate price jumps. The median home value in Blackfoot is $170,600, 14.1% higher than one year ago.
In a word, Bingham is known for potatoes. It has the largest potato industry of any single area and is called the Potato Capital of the World. Blackfoot is the home of the Idaho Potato Museum and the world's largest potato chip and baked potato. During the first two weekends in September, Blackfoot is also the site of the Eastern Idaho State Fair.
Even after you've found a more affordable place to live in the Pacific Northwest, moving there can be expensive. By working with a Clever Partner Agent, you'll have an expert in your corner and you may be able to take advantage of Clever Cash Back.
When you buy a home with a Clever agent, you might be eligible for cash back to use on anything you want, no strings attached.
Use this free money to help you move (or splurge on a great housewarming gift for yourself).
» SAVE: Learn more about what you can save with Clever Cash Back!
4. Willows, California
Willows is one of the few affordable cities remaining in Northern California. Located in Glenn County, California, Willows is a small town of around 6,000, with a close-knit, western feel.
The median home value in Willows is $200,600, compared to the statewide median of $548,000. The median income in Willows is just over $50,000.
Willows is the county seat of Glenn County and home to many regional government offices. It's also home to the main office of the Mendocino National Forest, which takes up around one million acres of land in the mountainous region west of Willows.
5. Umatilla, Oregon
Umatilla is located in Eastern Oregon, on the south side of the Columbia River, and is the place where the Umatilla River meets the Columbia. Umatilla, home to around 7,000 people, is in Umatilla County and is part of the Hermiston-Pendleton metro area.
The median home value in Umatilla is $154,200, nearly $200,000 less than Oregon's statewide median. That's after an 11.6% increase in property value over the last year.
Umatilla is great for outdoorsmen. It's the home of the Umatilla National Wildlife Refuge, the McNary National Wildlife Refuge, and a short drive from the Pacific Salmon Visitor Information Center at McNary Lock and Dam.
How a good agent can make your home purchase more affordable
If you're just researching affordable places to live, you might wonder why you need a real estate agent. They're the ones that help you once you've already decided on a house, right?
Not necessarily. The truth is, it's never too early to start looking for an agent. In fact, talking to a realtor early on in the process can help you narrow down your options much faster than doing research on your own.
A real estate agent's job is to know everything about their local area. They'll find the best deals in desirable neighborhoods — and might just help you snag your dream home for an affordable price. Let a Clever agent help you discover your options today — all while you enjoy cash back!
💰 Buy with a top agent, earn cash back!
Buy your dream home with a top local realtor from a trusted brand like Keller Williams or RE/MAX. Keep more money in your pocket by earning cash back on eligible purchases.
Enter your zip code to request hand-picked agent matches in minutes. Compare your options until you find the perfect fit, or walk away with no obligation. Try Clever's free service today!
Related articles