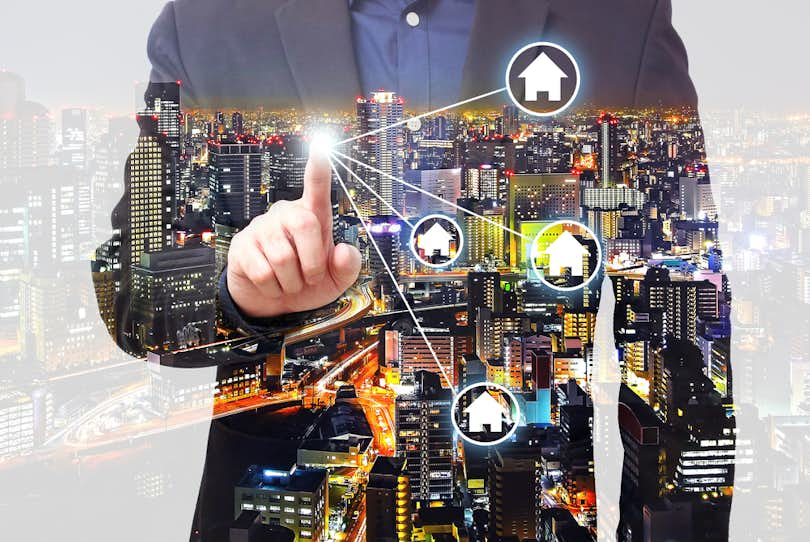 How we do business is constantly influenced by innovative technologies — and the real estate market is no exception, especially when it comes to home sellers. New technologies — like virtual reality, augmented reality, and drones — create a larger market of buyers since more people have access to information about a house for sale.
Plus, the overall home selling process is also becoming easier with technology like virtual home staging tools coming on line and taking away the added cost and time spent on actually staging a home. Finally, real estate pricing is changing. Now, more algorithms and online home valuation tools are being used to price your home exactly right. Here's more on those technologies and what they mean for you as a home seller.
Access to More Buyers
Virtual Reality
Arguably, the most awkward part of selling your home includes letting complete strangers traipse through your home and rustle through all your personal belongings. All while you kill time dragging your family to a movie on Sunday afternoon.
Well, these days may be over! (Or at least less frequent.) Virtual reality now allows potential buyers to "walk through" your home from the comfort of their own couch, while you sit on yours. Many companies offer 3D, 360-degree virtual tours that offer immersive visualizations in high resolution.
Not only is this a win-win for both you and a buyer that may not want to miss those Sunday afternoon football games, it may also increase your buyer pool. Virtual reality allows those who live outside your market — abroad even — to tour your home whenever and wherever they want.
Open access to buyers through virtual reality means you don't have to deal with the hassle of keeping every inch of your home spotless for the entire time it's on the market. Virtual staging is another innovative technology in which you can present the look of a (pristine and clean) lived-in home without the hassle or expense of actually moving in staging couches or dining room tables.
Augmented Reality
While virtual reality allows people to immerse themselves in what's actually there, augmented reality allows them to imagine what could be. By using this technology for real estate, potential buyers could point their phone's camera at the living room and "move in" their own furniture or change wall colors to fit their style. If you've ever played Pokémon GO, you're familiar with this concept of virtual overlayed on reality.
Not only does augmented reality give an idea of how your life and belongings may fit in the space, it can also clearly and seamlessly communicate home information to a buyer. At the door to the virtual tour, you may see details about listing price, square footage, or the number of bedrooms and bathrooms.
While standing inside the utility room, you may see details about when the furnace was installed and its brand. While in the backyard, augmented reality may clue you in that the property features in-ground sprinklers. The possibilities are endless.
Drones
For acreages, larger properties, or ones with stand-out exterior features, drone footage can give buyers a better feel for the footprint of the property and highlight key elements like pools, landscaping, nearby golf courses, or water features.
When you purchase a home, you're not just paying for four walls — you're buying into the neighborhood and the feeling you get when you drive up the long, meandering driveway to your garage and front lawn. Aerial photography and videography has an excellent way of portraying these emotions and it doesn't have to break the bank. For less than $400, you can hire a company to film stunning, professional aerial drone video.
Easier Process
Virtual Home Staging
According to the National Association of Realtors' 2019 Profile of Home Staging, 83% of buyer's agents say staging helps their buyers visualize the property as their future home — and thus plays a role in their purchase. On top of that, staging a home has proven to sell it more quickly and for a higher price.
But, not all sellers can avoid the high price tag — we're talking $1,000 at minimum — of hiring a professional stager. Thankfully, there's a happy medium — and that comes in the form of virtual staging, which can start at just $200.
Similar to augmented reality technology, virtual staging gives viewers the illusion of a lived-in space by digitally altering a photo of an empty room. And more and more companies are now offering virtually-staged 3D tours of homes. While this may be no substitute for a buyer actually seeing the home before its purchased, this technology can help weed out those unlikely to put in an offer. It's also important to note that best practice is to note that the images or video tours were virtually staged so you don't mislead buyers.
Accurate Home Pricing
Algorithms
Algorithms aren't just for Facebook and Google anymore. Home sellers can combine big data and algorithms to fine tune the best time to sell in order to maximize their profits on a property. This data, along with the human-touch of a tech-savvy real estate agent, makes it easier to find comparable listings that better match your home for sale in order to determine the best listing price.
Not only may algorithms affect when you sell your home and at what price, they may also affect the decisions of potential buyers of your home. They can help evaluate a property's projected future value when making a decision on what to buy. For real estate investors in particular, nontraditional variables — like the number of food stores within a two mile radius — can be used with an algorithm to determine an association and help with future decision-making and purchasing behavior.
Online Home Valuation
We touched on this earlier, but big data can provide an accurate home valuation online. This technology creates a holistic picture of a home's value based on geographic, economic, demographic, and other more specific features of a home. And, it can do it almost instantly. While this is incredibly valuable to both sellers, buyers, and their agents, it also provides validation behind a bank's decision to lend money.