Are you in the market to move to Austin, Texas? If you're trying to decide between renting and buying, you need to consider a few factors based on your situation. Keep reading to help you determine which option is best for you.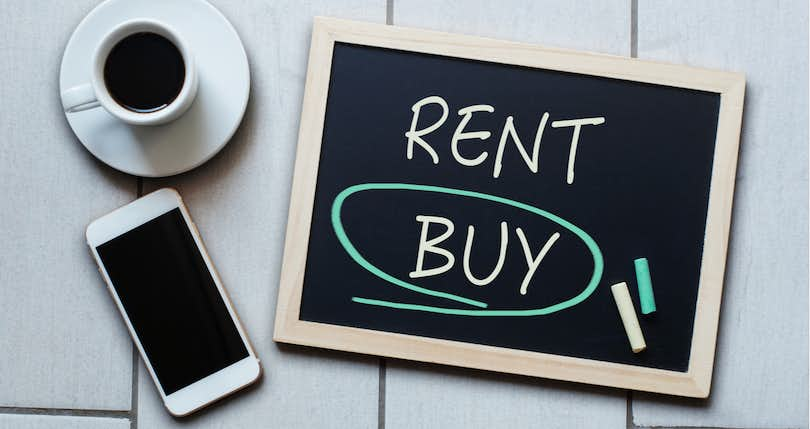 The current real estate market conditions are going to play a substantial role in your decision to rent or buy in Austin, Texas. The market will determine home values, average listing costs, and real estate availability. Since every person has a unique situation and requires different types of properties, you'll want to keep your eye on the market in Austin.
Right now the market in Austin is a buyer's market. This means you will be facing less competition and lower prices. In a buyer's market, sellers aren't able to sell for as much as they could in a seller's market. Typically, in a seller's market, you will see higher competition among buyers, which results in inflated listing prices.
The median home value in Austin is $368,800. Austin home values have gone up 7.1% over the past year and Zillow predicts they will rise 2.8% within the next year. The median price of homes currently listed in Austin is $392,990. Based on this data, if you were to buy a house in the current market, you might see a return on investment if you sold your house down the road.
As you can see, now is the time to buy a house in Austin. However, buying a house is not feasible for everyone so you should still do your research on both options.
Renting
Austin has a large university which attracts young adults looking to get their Bachelors or Masters degrees. They also have a booming economy thanks to the fortune 500 companies that have planted their roots in the city. This means you have an influx of new residents looking to find a place to live.
Advantages of Renting
There are many advantages to renting that make it a better option for some people. To start, renting comes with the flexibility to move whenever and pretty much wherever you want. As a young adult who is either just starting a new career or in the process of getting a degree, you might not want to be tied down to one city. Renting gives you the option to leave due to job relocation or pursuing a career after finishing college.
Renting also doesn't have nearly as many upfront costs as buying a house does. Typically, will require you pay a security deposit and first months rent. If you have pets you might have to pay an extra deposit or get extra every month. Pet deposits aren't normally more than a few hundred dollars up front or a few extra dollars a month.
Disadvantages of Renting
Renting does come with some disadvantages that push people to want to buy a house instead. To start, renting can be costly in some parts of Austin. In fact, it can cost more than you would pay monthly for your mortgage on a bigger house. As stated previously, there is a large number of college students and young adults looking to rent so there is high competition among renters.
For some people, they would rather put their monthly residential payments toward a property that they'll eventually own. Based on the data provided previously, properties in Austin are rising in value as each year goes by. This will mean the chances of you having a higher return on investment are greater.
Also, as a renter, you won't be able to make upgrades or renovations to the property. If the carpet in the bedrooms is old and the bathroom needs a renovation, you won't be able to make that decision. However, if you plan on renting a house or townhome for a long time, you can talk to the owner to see what your options are. If you are one of the many people that enjoy home renovation and "DIY" projects, renting won't give you the option to make big changes.
Buying
Just by taking a look at the data for Austin's real estate market, you can see that buying a house would be a smart investment. Austin is funding many projects to make the city a suitable place to live in. Specifically, they're expanding their highways and airport, as well as making some much-needed upgrades. In addition to those projects, they're also expanding on the east side of the city and adding affordable housing. All of these changes are going to help raise the values of the houses in the city.
Advantages of Buying
If you choose to buy a house in Austin you'll have many options to choose from. There is an abundance of new construction houses and communities, and a majority of them are affordable. Purchasing a new construction home in brand new developments will only add to your investment because those areas are highly sought after.
If you know buying would be a better option for you but you're worried you can't afford the upfront costs, there are different types of loans you can apply for. Some of them are tailored to new buyers or low-income buyers who need help with down payments or closing costs.
Disadvantages of Buying
Just like most things in life, buying a house can come with some disadvantages. To start, buying a house is costly and requires a decent amount of money up front. As a buyer, you'll be required to pay a down payment, closing costs, and real estate commission fees. You'll also need to pay for homeowners insurance and property taxes. These two fees are important to take note of because Texas has some of the highest property taxes and homeowners insurance rates.
Buying a house is a big commitment and requires long-term upkeep if you want to make the most out of your mortgage. If you aren't sure you'll be in Austin for a long time or if there's a high chance you'll be relocating because of a job, buying a house might now be your best option. Keep in mind you will also be responsible for paying for repairs, upgrades, and renovations. Some people aren't ready for this kind of financial commitment.
Whether you decide to go down the path of buying or renting, it's important to do your research on the current market conditions and take a look at your financial standing. Buying a house can be a tricky process if you have never bought before, so it's important to connect with an experienced, local real estate agent for guidance and support throughout the process.
Related Articles