Real estate in New Hampshire has proven to be a profitable investment choice when you pick the right market. There are so many desirable locations, so it's important to do research on each one and partner with a professional to help you make a successful investment.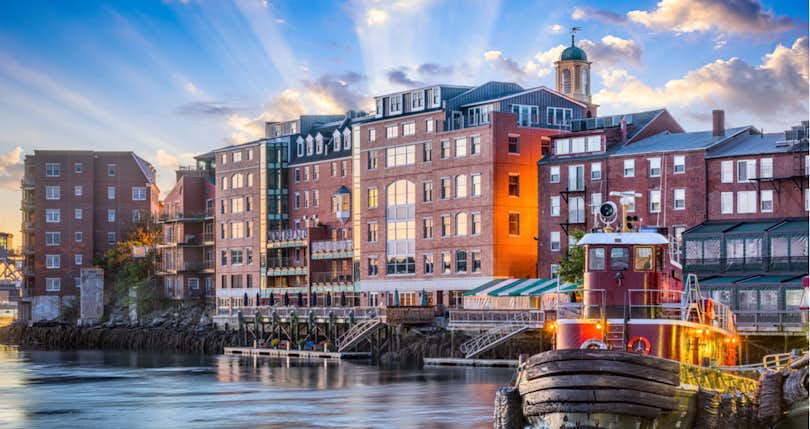 A successful real estate investment involves picking the right market. To make it easier, you should try narrowing down your choices by each state to find the perfect investment opportunities. New Hampshire is a favorable state to invest in, thanks to its breathtaking scenery and consistently ranking in the top richest states in the country. Thanks to its rich history, the state attracts travelers from all over to experience what each city has to offer.
New Hampshire has a very powerful economy that's being powered by many top performing industries such as health care, IT, and construction. This directly translates to job growth, increasing demand in the real estate market. Whether you choose to flip a house, rent out a condo or renovate a commercial building, there is plenty of room for success.
»FIND: Top Real Estate Agents in New Hampshire
Portsmouth
Portsmouth is the ideal spot for those with an artistic passion, thus making it great for millennials. This small city is only an hour drive to Boston, making it a suitable location for commuters. Their unemployment rate is pretty low, sitting at 3.3%, which means you shouldn't have a hard time making a great investment on property.
The median home value is around $361,000, making it the second best in all of New Hampshire, and has continued to rise. In Portsmouth, they are also seeing a 2% rise in the average cost to rent, making it a city with long-term potential.
---
Looking to invest in real estate? You need a realtor who specializes in investment properties.
The first step in your real estate investing journey is to find a top local realtor with experience helping real estate investors find great deals. The right agent can help you find the best property for your goals and budget — and craft a winning offer so you can stop looking at houses on Zillow and start building wealth.
If you need help finding a realtor who specializes in investment properties, Clever Real Estate can match you with an experienced local agent so you can find the right property and get a great deal. You can also earn cash back when you close on your purchase!
Requesting agent matches is free, and there's no obligation. Just fill out the form below to get agent recommendations sent straight to your inbox!
💰 Buy an investment property, earn cash back!
Buy your investment property with a top local realtor from a trusted brand like Keller Williams or RE/MAX. Get cash back on eligible purchases.
Enter your zip code to get personalized agent matches sent straight to your inbox. Compare your options until you find the perfect fit, or walk away with no obligation
Londonberry
Londonberry has a fairly high median income of around $89,643. About 83.5% of residents in this city are renting, with the average property being rented out for $1,225. As an investor, you can really use this to your advantage by purchasing a fixer-upper for a low price and asking just above the average rental price.
They are expecting a job growth of 36% over the next 10 years, which is 5% higher than the national average. Londonberry also has a low crime rate, attracting large families that are there for a long time.
Hanover
Hanover has the highest home value in New Hampshire, sitting around $469,300. This is partially due to the high income of its residents and because it's a safe community. Half of the residents own their home, while the other half choose to rent. This is favorable for investors because either route can bring you success.
In Hanover, you can easily find homes for sale that are under market value just waiting to be renovated. If you are looking for a profitable fixer-upper, consider making this move in Hanover.
Exeter
Exeter is known for celebrating its historic roots and attracting people from all over the country who have a passion for our nation's history. You can expect high home values and a variety of historic homes that have a lot of potential. This city also attracts tourists throughout the year with its summer and fall festivities, so you could also consider investing in commercial real estate.
Exeter is also making waves in their new construction homes, which can also lead to a high return on investment. If you are one of the lucky investors who get their hands on a historic home, use this as an opportunity to restore the home's historic features. There is a high demand for restored historic homes in Exeter.
Manchester
Manchester is one of the larger cities in New Hampshire with great potential for long-term growth and opportunity. If you purchase a property in need of renovation, you can expect to see a 20-30% rent increase by making luxury upgrades. Your best chance of receiving a high return on investment would be to play into the high renters market and renovate properties.
Manchester also has a low unemployment rate of 2.6%. There are many new jobs that are attracting people from all over the country, looking to plant their roots in this growing city.
Whether you've never invested in real estate or you've already started your portfolio, partnering with a real estate professional is always a good idea. They can offer guidance through every step of the way and help you conduct market research to pick the right location.
Clever Partner Agents understand the local market and how much success can come from real estate investments. With Clever, you'll be able to get the quality service that any real estate agent can provide while spending less on commission rates.
👋 Find your perfect agent now!
Finding a great local realtor is the first step in making your home buying dreams a reality. Our free service matches you with top agents from trusted brands like Keller Williams and RE/MAX.
Enter your zip code to request hand-picked agent matches in minutes. Compare your options until you find the perfect fit, or walk away with no obligation. Try Clever's free service today!
Related links