Elements of ranch homes l Types of ranch-style homes l Who should buy a ranch home? l Pros l Cons l How much does it cost to build a ranch home? l Ways to finance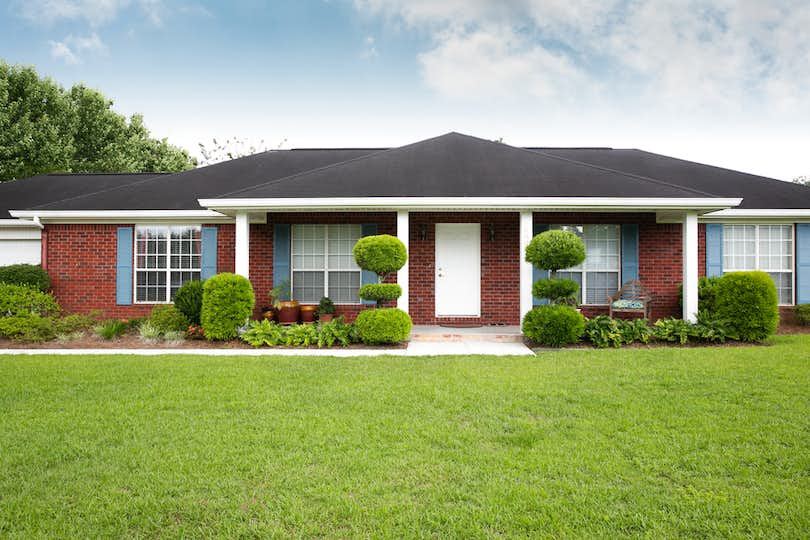 Ranch homes are among the most popular types of homes found in America. They are known for being built on one level and typically have a low roof and a rectangular floor plan.
The focus for ranch-style homes is on open living, meaning everything should flow seamlessly from the indoors to the outdoors. These homes are also called ranchers and ramblers.
Ranch homes are found all over the United States. And they're quite loved — they are the most popular home style for sale across 34 states.
The history behind ranch homes
Ranch-style homes originated in the 1930s under the eye of architect Clifford May. May took inspiration from the adobe Spanish Colonial style homes found in Southern California.
Interest in ranch homes boomed after World War II when many young families moved to the suburbs. In fact, nine out of 10 new homes built in 1950 were ranch homes.
While they fell out of popularity in the 1970s, these homes have seen a boost and revival among first-time home buyers and those looking for single-story living over the past few years.
What are the defining elements of ranch homes?
Defining features of ranch-style homes:
Single-floor living
Asymmetry
Big windows
Sliding glass doors
Backyard emphasis
There are several defining elements that ranch homes are known for, ranging from layout to design features.
Single-story living
Ranch homes are known for single-story living although other variations of ranch homes exist where there is more than one floor.
The low profile of ranch homes takes its inspiration from its roots in the Western United States where living spaces on working cattle ranches were one-level and practical.
Asymmetry
One of the staples of ranch-style homes is asymmetry. These homes are known for being open and airy, focusing on a seamless transition from room to room leading to the outdoors.
Classic ranch homes are often L-shaped or U-shaped.
Big windows
Most ranch-style homes have at least one big window overlooking the front yard, with several more spread throughout the home showcasing the backyard.
Windows have long been a mainstay of ranch-style homes because they help keep the floor plan open and light.
Sliding glass doors
Sliding glass doors have been a standard of ranch-style homes since the 1940s. These doors let in a lot of light, offer a view of the backyard, and connect the living space directly to the patio.
Backyard emphasis
Ranch homes were designed with backyard living in mind. The ultimate goal has always been to make the outdoors a part of everyday living.
>>MORE: 10 Landscaping Tips That Increase the Value of Your Home
Types of ranch-style homes
Different types of ranch-style homes
California ranch home
Draws from Spanish architectural influences and often features an L or U shaped layout
Suburban ranch home
Built on concrete slabs featuring open floor concepts
Split level ranch home
Features three levels of living
Storybook ranch home
Known for its ornamental details, including diamond-shaped window panes, decorative chimneys, and steep, gabled roofs
Ranch-style homes evolved over the last few decades and now include many different types with their own designs.
California ranch
California ranches are the original ranch style created and designed by Clifford May in the 1930s. This ranch home draws from Spanish architectural influences that include a one-story layout and a low roof.
This type of residential architecture is typically L-shaped or U-shaped and sometimes has a courtyard in the center. The average size of a California Ranch home is approximately 1,500 square feet.
Suburban ranch
Suburban ranch homes are similar to California ranches in size and shape. They are usually built on concrete slabs and share open floor concepts with little demarcation between living spaces.
They were made famous in the late 1940s after World War II.
Split level ranch
Split-level ranch homes are different from suburban and California ranches because they feature three living levels rather than one.
The living area is generally combined with the kitchen and dining room with a staircase leading upstairs to bedrooms. A separate staircase leads downstairs to additional living spaces that can be used as an extra living room, movie room, or gym.
Storybook ranch
Storybook ranches are known for their ornamental details, including diamond-shaped window panes, decorative chimneys, and steep, gabled roofs.
These ranches are also known as Cinderella ranches since they are picturesque. They are mainly found in wealthier neighborhoods as they often incorporate additional features such as pools, courtyards, etc.
Who should buy a ranch home?
Ranch homes are perfect for older and younger couples looking for single-story homes that are easy to maintain. These homes are smaller than many recently developed homes reaching 1,500 square feet on average.
Ranch-style homes are also ideal for those who do not intend to make any major renovations, such as an addition. Renovation projects are extra costly for ranch-homes since there is limited area and land to work with.
Here are some pros and cons to keep in mind if you're considering moving to a ranch-style house.
>>MORE: 15 Best Websites for Home Buyers in 2020
Pros of living in a ranch home
1. Easier to clean and maintain
Ranch-style homes are easy to clean and maintain because they have only one story. This means that upkeep and home maintenance projects, like cleaning out the gutters or painting the outside of your home, may be less time-consuming since everything is on the same level.
2. Open floor plans
Ranch-style homes feature open living plans where rooms flow from one to the other with very few walls. Open living makes it easier for parents to deal with toddlers on the move and those who are elderly to have the space and mobility needed to move around freely and without restriction.
3. Safety
One-story homes are safer than multi-story homes when it comes to emergencies. Ranch homes have lots of windows and access to outdoor areas in case of a fire or other disaster. Owners also do not have to worry about portable stairs or hanging ladders being stowed away in each bedroom since everything is located on one level versus two.
Cons of living in a ranch home
1. Less Privacy
There is less privacy living in a one-story home — especially ranch homes that usually feature larger windows. Living areas are closer in proximity to one another since everything is located on the same level. This could mean having multiple bedrooms right next door to one another.
2. Smaller backyards
One of the significant downsides to ranch homes is that backyard spaces tend to be smaller. That's because one-story homes require more space to build since everything is located on one level.
If outdoor living space is essential to you and your family, ranch-style living may not be the best option for you.
3. More expensive to build and add-on
If you're looking to make an addition or upgrade part of your ranch home in the future, it's important to know it could cost you a pretty penny. One-story living requires a larger blueprint and more land — meaning more materials are needed to build out additions, like an extra bedroom.
Home Advisor estimates that buyers can expect to pay $80-200 per square foot to add a room to a ranch house.
>>READ: How to Add a Room to a House on the Cheap (6 Must-See Tips)
How much does it cost to build a ranch home?
Costs to build a ranch home
Prep work costs
$4,000-6,500
Foundation
$9,300-11,000
Framing
$9 per square foot
Exterior of the ranch home
$25,000-35,000
Interior of the ranch home
$30,000 for the kitchen; $20,000 per bathroom
Roofing
$11,000
Major system installation
$40,000-75,000
You may not find the ranch home of your dreams, but there's always the option to build one from the ground up.
The national average cost to build a ranch-style home is between $196,000-625,000. Most homeowners pay around $340,000 for a 1,700 square foot ranch with three bedrooms, a patio, and a single-car garage. Costs mainly depend on what type of ranch-style home you plan on building.
>>READ: The Ultimate Guide on How to Buy Land and Build a House
Prep work costs
Prep work for building a ranch home includes getting the permit to build, purchasing plans, passing a utility inspection, and clearing the land and excavation.
Costs for prep work includes:
Permits: $1,000-2,000
Purchasing plans: $1,000
Utility inspection: $500
Land clearing and excavation: $1,500-3,000
Foundation
Some ranches are built on concrete slabs and feature a full basement depending on where you live.
Costs also vary for foundation depending on what you want. A basic slab foundation costs $9,400 on average, while a full basement may cost you closer to $11,000.
Framing
The framing process makes up one of the most significant parts of building a new ranch home, taking up 18% of total project costs. While it varies on location, wood frames are constructed typically after pouring the foundation, erecting the skeleton of the walls, and framing out the windows and doors.
Framing costs $9 per square foot on average. For a 1,700 square foot home, you can end up paying up to $61,000.
Exterior
Costs for the exterior of a ranch-style home include purchasing horizontal lap siding with wood or vinyl and fiber cement along with house wrap, insulation, windows, doors, and paint.
Building the home's exterior with everything needed usually costs between $25,000-35,000 on average.
Interior
Work also needs to be done in the interior of the ranch home. A kitchen with countertops, cabinets, sinks, and faucets can run up to $30,000. Each bathroom typically costs $20,000 with all the furnishings.
Roofing
Low roofs are a staple of traditional ranch homes and cost $11,000 on average to build. Truss roof framing is usually used to tie the walls and the roof of the house together.
A truss is a prefabricated wooden structure that incorporates triangular webbing to support the roof above while tying the house's outside walls together. During roof construction, multiple trusses are spaced out evenly over a span extending from one end of the house to the other.
Major system installation
Each new home requires major system installations, including plumbing, electrical wiring, heating, cooling, and ductwork. System installations usually cost anywhere from $40,000 to $75,000, depending on how much work needs to be done.
Ways to finance a ranch-style home
There are several ways to finance your purchase of a ranch-style home. It can be done through conventional mortgages, jumbo mortgages, government-insured mortgages, fixed-rate mortgages, or adjustable-rate mortgages.
Conventional mortgages
Conventional mortgages are loans that are not secured by the government. They can be either conforming or non-conforming loans.
A conforming loan means the loan falls within maximum limits set by the Federal Housing Finance Agency (FHFA). Mortgage loans that don't meet FHFA requirements are considered non-conforming loans.
Conventional mortgage lenders require borrowers to pay private mortgage insurance when they put down less than a 20% down payment on the home.
Private mortgage insurance: a type of mortgage insurance borrowers may be required to pay for conventional loans when a down payment of less than 20 percent is made of the home's purchase price.
Conventional mortgages are ideal for borrowers with strong credit, stable income, an employment history, and a downpayment of at least 3%.
>>MORE: What are some popular loan options for first-time homebuyers?
Jumbo mortgages
Jumbo mortgages have non-conforming loan limits, meaning the home price exceeds federal loan limits. The maximum conforming loan limit for single-family homes in 2021 is $548,250.
These mortgages are common in higher-cost areas and require more in-depth documentation to qualify. Lenders will often ask for credit scores, debt-to-income ratios, cash reserve statements, documented proof of income and assets, and an appraisal to confirm the value of the property you wish to purchase.
Jumbo mortgages are best for buyers:
Purchasing high-end ranch homes
With excellent credit
With high income
Who have a substantial down payment
Government-insured mortgages
Things to know about government-insured mortgages
FHA Loans
Borrowers typically have lower credit and a smaller down payment to put towards the home
USDA Loans
Help low to moderate-income borrowers purchase a home in rural areas (only certain areas apply)
VA Loans
Apply only to current service members or veterans and their families
The Federal Housing Administration (FHA), the United States Department of Agriculture (USDA), and the Department of Veterans Affairs (VA) all back mortgages with certain stipulations and requirements.
Loans backed by the federal government are ideal for homebuyers with low cash savings and not great credit.
FHA loans
FHA loans make it possible for borrowers who don't have a large down payment or pristine credit to buy a home.
Borrowers of FHA-backed loans need a minimum credit score of 580 to get the FHA maximum of 96.5% financing with a 3.5% down payment. FHA loans are typically used by first-time home buyers.
USDA loans
USDA loans help moderate- to low-income borrowers looking to buy a home in rural areas.
To qualify for a USDA loan, the home must be located in a USDA-eligible area and meet specific income requirements. A down payment is not needed for qualified borrowers who have low incomes.
VA loans
VA loans are flexible, low-interest mortgages for current military service members and their families. Veterans can also apply for VA loans.
VA loans do not require down payments or private mortgage insurance. Closing costs are typically capped.
Fixed-rate mortgages
Fixed-rate mortgages keep the same interest rate over the life of the loan. Simply put, this means that monthly mortgage payments always stay the same.
These mortgages come in terms of 15 years, 20 years, or 30 years.
They are best for borrowers who plan on staying in their homes long-term and are looking for some kind of stability with monthly payments.
Adjustable-rate mortgages (ARMs)
Adjustable-rate mortgages (ARMs) fluctuate interest rates based on current market conditions. Some ARM loans have a fixed interest rate for a few years before the loan changes to a variable interest rate for the remainder of the term.
ARMs are best for homebuyers who don't plan on staying in their homes long-term and are comfortable with some degree of risk.
>>READ: ARM vs. Fixed-Rate Mortgages: How to Choose
Next steps: Talk to an expert
If you're looking to buy or sell a house and weighing your options, Clever can help! Our fully licensed Concierge Team is standing by to answer your questions and provide free, objective advice on how to get the best outcome with your sale or purchase.
Ready to get started? Give us a call at 1-833-2-CLEVER or enter your basic info here. Our Concierge Team will be in touch shortly to help. Remember, this service is 100% free, and there's never any obligation.