You may think your down payment is the only expense to consider when buying a home. However, closing costs can put a stop to your plans. Want to learn how much it can cost you to close on your dream home? Read our article for your guide to closing costs in the Granite State.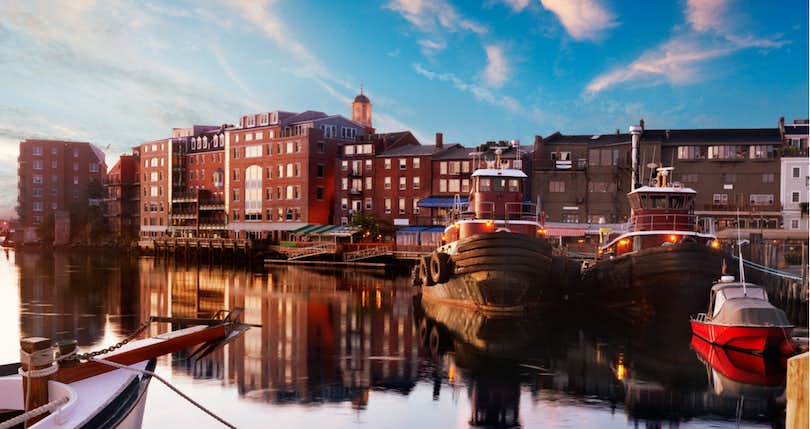 When you decide to buy your dream home, you may think saving your down payment is the only cost to consider. However, you must prepare to cover a long list of additional out-of-pocket costs.
We recommend that you consult an experienced local real estate agent to get a complete picture of how much it will cost you to close on your dream home. Home buyers must know what they're getting into before making an offer on a home.
Want to get connected with a top-rated, New Hampshire buyer's agent? Clever can help! Fill out our online form and we'll be in touch to answer any questions you might have and introduce you to one of our local Partner Agents for a no-obligation consultation.
Ready to cover your bases and get ready to close on your home? Read on for your personal guide to New Hampshire Real Estate Closing Costs.
Closing Costs for New Hampshire Homes: What to Expect
According to recent data from Bankrate, New Hampshire closing costs are $2,048 on average.
However, this number didn't take into account fluctuating fees such as taxes, title searches, escrow fees, discount points, home buyer rebates, escrow fees, and other government fees.
Typically, buyers can expect to pay between 2% to 5% of the purchase price in closing costs. The median listing price in the state of New Hampshire is $300,000, you can expect to pay between $6,000 and $15,000 in closing costs for this home. However, you should keep in mind that your total closing-related expenses will depend on certain variable costs and your lender.
While closing costs can be expensive, one of the largest mortgage expenses is the interest rate. Over the life of the loan, a few small percentage points can result in hundreds of thousands of dollars in interest payments.
One of the best ways to lower your interest rate? Shop around and compare lenders! Fill out the form below for a quote from a licensed, local lender – even if you're pre-approved it pays to compare.
Common Closing Costs for New Hampshire Home Buyers
Calculating the exact amount you'll pay in closing costs may be challenging. However, learning and understanding the closing fees you might have to cover can help you estimate your closing costs. Don't know where to start?
Here are the most common New Hampshire closing costs you'll be on the hook for when buying a house.
Application Fee: You'll pay this fee to cover the cost of processing your home loan application. The amount and applicability will depend on your lender.
Escrow Fee: This fee is also known as the closing fee. The buyer pays between $350 and $600 to the title or escrow company to conduct the closing.
Home Appraisal Fee: Before closing on your home, the appraiser will have to confirm the value of your home. This fee can range between $400 and $600 depending on your property.
Courier Fees: These fees will cover transporting documents to complete the closing on your home. Courier fees shouldn't exceed $50.
Credit Reports: Your lender will need your credit score and history to determine the interest rate and terms on your home loan. You'll need to pay between $25 and $75 to cover the cost of requesting your credit report.
Home Inspection Fee: Before closing on your home, you must request a home inspection to verify the condition of your home. NH home inspections can cost between $400 and $1,200 depending on the tests you request.
Flood Zone: This fee shouldn't exceed $50. A company will determine if your property is located in a flood zone.
Title Search Fee: Before signing the deed for your home, the title company must conduct a title search to make sure no one has a claim over the property. This fee should range between $125 and $200.
Homeowners Insurance: This fee may vary depending on the property, and your credit. Getting homeowners insurance on your property should cost you $600 or more.
Transfer Taxes: Transfer taxes in New Hampshire are 1.5% of the sale price. Typically, buyers are only responsible for 50% of these taxes unless otherwise agreed upon between both parties.
Underwriting Fee: Your lender's underwriter is in charge of approving your home loan. We recommend you ask your lender to learn how much they will charge you for their underwriting services.
Recording Fee: You'll have to pay this fee to your local recording office to record your deed on the property. It should cost you around $50 to record the transaction.
Origination Fee: This fee is charged by your lender to cover all their administrative costs. Typically, lenders charge about 1% of your loan amount.
Prepaid Interest: This cost will depend on your lender. Most companies ask buyers to prepay the interest accrued between the closing date and first mortgage payment.
Legal Fees: These fees will cover all attorney costs to prepare and close the deed on your property. Legal fees can range between $600 and $1,000 depending on the attorney and transaction.
Property Taxes: Most lenders will ask you to pay any property taxes due in the next 60 days at the time of closing. The effective New Hampshire property tax rate is 2.104% of the property assessed value.
Other Costs to Consider
Saving your down payment and covering your closing costs are the first steps to purchasing your home. However, these expenses are just your initial costs to buy your home. Before taking the leap, you should consider all the recurring costs you'll need to cover on a monthly basis.
Property taxes, utility bills, and maintenance costs are some examples of typical monthly homeowner expenses. Can you afford your mortgage payments and your monthly recurring costs? Before buying a home, you must have enough financial stability to cover all your home buying and ownership costs.
How to Save on Closing Costs in New Hampshire When Buying a Home
Closing costs shouldn't stop you from buying your dream home. Believe it or not, you can take advantage of New Hampshire home buyer programs, closing cost assistance programs, or even negotiate with home sellers to lower these costs. HomeFlex Plus and the NHHFA Down Payment Assistance are some state-sponsored programs you may consider.
You can also look into bank loyalty programs that offer discounts on closing costs to their customers. An experienced local real estate agent may also help you negotiate with home sellers to cover some of your closing costs. It may come as a surprise but when you choose to partner with a Clever Partner Agent, you can save even more on your closing costs.
When you buy a home with a Clever Partner Agent, you could also be eligible for Clever Cash Back. We'll send you a check and that money's all yours. You may choose to use it toward your closing costs, mortgage points, or even a vacation for your family—the decision's up to you.
Related Articles