Delaware is booming and people are starting to take notice. It has a pro-business atmosphere and towns and cities with old world charm. And it's close to major eastern cities. Here's our guide if you are thinking of moving to Delaware.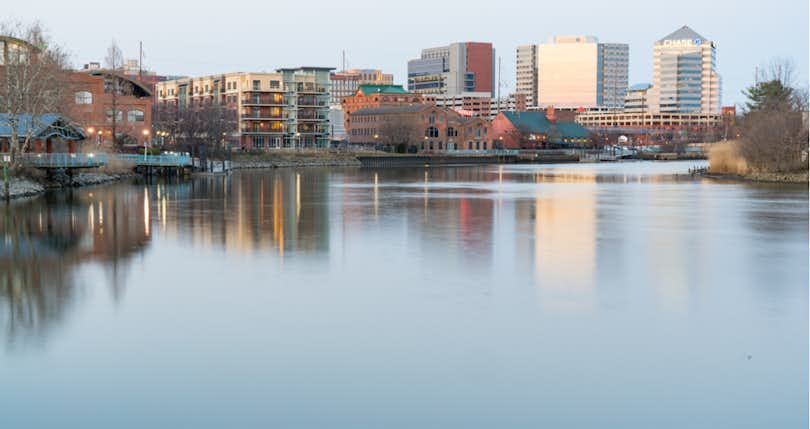 Delaware is one of the jewels of the east coast. It's not a state we hear much about, except for the odd story about Joe Biden riding an Amtrak train to Washington.
The state has a lot to offer, and not just because it's a relatively quick drive to the Big Apple, Philadelphia, or any number of other big cities. It has stunning towns filled with history and charm. It also has a business-friendly atmosphere. Plus, Delaware has jobs and lots of them.
The state's economic boom is being noticed. And it's attracting more and more new residents each year. Here's our comprehensive guide on everything you need to know about moving to Delaware.
Top 5 Reasons to Move to Delaware
1. It Has Big Tax Advantages
Delaware is a state for shoppers. It is one of only five states that doesn't have a sales tax. Compare that to Louisiana with its 10% sales tax. You get quite a significant discount from your purchases in Delaware.
That's not the only tax break for residents in Delaware. It's a great place for real estate. The median property tax rate is less than .5%. There are also social security benefit tax exemptions. In fact, anyone over 60 is exempt for nearly $13,000 of their pension or retirement income. That's attracting seniors from all over the U.S.
2. It's Close to Everywhere
Want to take a trip to New York City for the weekend. It's just two-and-a-half hours away by car. It's less to Philadelphia and it's under two hours to Washington, D.C. Or why not do what Joe Biden does and take a nice train ride to the nation's capital?
The fact that most towns and cities in Delaware have easy access to some of the world's most visited destinations is one of the reasons so many people are choosing to move there — especially in their retirement years. The low tax burden and top-tier health facilities make it an ideal location for seniors.
3. Day Trips to the Beach
This is the state to be outdoors. It is world renowned for its beaches, which are part of the clearest and cleanest coastlines in the U.S. And there's lots of coastline to enjoy — 26 miles in all along the Atlantic and 25 miles around Delaware Bay. There's also easy access to beaches and water spots from anywhere in the state — making for a nice day out in the sun or shopping or having lunch by the sea.
4. It's No Sleepy State
If you've ever been to Delaware, you know there is always something to do. This is a cultural paradise. It is dotted with art galleries, museums, and historic sites. And if you're into live music, there is always a performance to catch in Wilmington or Dewey Beach.
If you're near Dover, why not check out the Cowboy Up Saloon for some line dancing and live music? Think you're a star? You may want to head over to the Deer Park Tavern for some karaoke at a site that's connected to the American Revolution.
5. It Has a Hot Jobs Market
Delaware has one of the lowest unemployment rates in the country at about 3.5%. That's about 0.5% lower than the national average. With a population of more than 900,000 there are only 17,000 people out of work, the lowest figure since 2007.
Quality of Life
As noted above, Delaware gives its residents a lot to enjoy in the great outdoors. It provides a nice and leisurely pace of life while many of its towns still maintain the verve and cosmopolitan feel of much larger urban centers.
The towns and cities also have charm, you won't find anywhere else. It's a major reason so many people are choosing to move to the state. Take Dover, for example, it is known for its museums, children's theater and historical district. And a commute time you can count on two hands. It is also one of the safest communities in the eastern U.S.
As for the people in the state — it's an eclectic crowd. There are farming areas in the same communities with pharmaceutical workers. There are hunters and crabbers. And there are the entrepreneurs, small shop and restaurant owners throughout the state.
The state is also extremely diverse and tolerant. It has one of the largest LGBTQ communities in the region. There are more than 200-LGBTQ-owned businesses in this tiny state.
Economic Outlook for Delaware
Chemicals — drugs, industrial products, plastics, and synthetics) are Delaware's primary manufacturing product. It's the home of DuPont and the state is so well known for these types of industries that it is sometimes called the "Chemical Capital of the World."
But there's more to Delaware's economy than just chemical manufacturing and pharmaceuticals. The food processing industry, which includes canneries and fish products, is also constantly hiring in the state. And the state's biggest economic driver isn't chemicals, it's finance and insurance. These companies are attracted to the state by its low taxes and a pro-business atmosphere.
Delaware is also among the top three states when it comes to concentration of IT jobs. All of this is good news for state residents. They enjoy a relatively high median income at about $62,000, and Delaware has a poverty rate that is lower than the national average.
The State's Housing Forecast
Delaware's housing market is growing and the faster you get in the better. The median home value in the state is $238,000. And it's expected to grow by about 2.8% this year. The median price of homes sold in the state is about $235,000.
But it's not difficult to find inexpensive real estate in the state that's also a good investment. The median home value in Dover is just above a$173,000. It rose by about 5.7% last year and it's expected to go up further this year.
Home values are more at the state average in Wilmington, where the median home value is about $226,000. This is one of the hottest real estate markets in the state, having gone up 6.6% in 2018.
Thinking of Moving to Delaware?
Navigating Delaware's real estate landscape can be tricky. Whether you're a home buyer or a seller, understanding local market conditions is a complicated process that involves many factors. That's why it's always advisable to work with a Clever Partner Agent when buying any real estate property. All Clever Partner Agents are full-service and top-rated in their local markets. They also come from major brands and brokerages such as Keller Williams, Century 21, and RE/MAX.
Related Articles