Closing costs are one of the last things home buyers think about. However, they can become a big hurdle if you don't plan right. Here's our guide to what you can expect to pay for closing costs in Maine.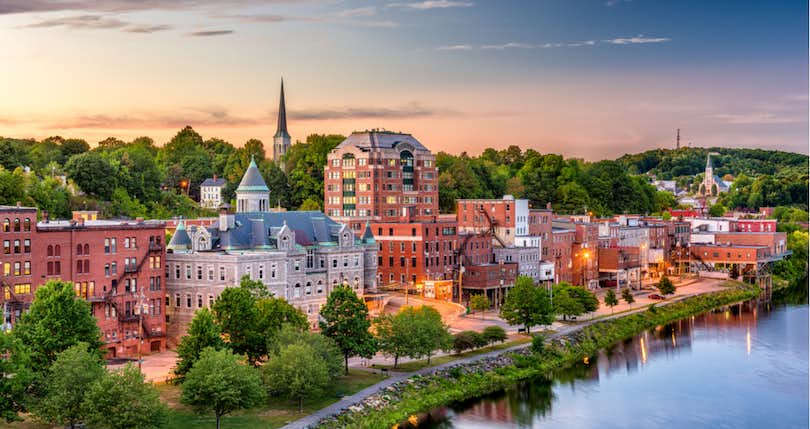 So, you're ready to buy a home. You've saved for years and have a good down payment. Your job is secure and your salary can handle the monthly payments. Everything's set.
It almost is. But you have to remember that before you can buy your dream home in Maine, you also need to factor in more than a dozen other costs at closing. Alone, most are relatively insignificant. But add them all up and they can seem daunting.
If you have a good realtor, they will explain all of the costs associated with buying a home. They will also be able to help you plan your budget so that closing costs don't become a hurdle to your homeownership dreams.
Would you like to connect with a top-rated, Maine buyer's agent? Clever can help! Fill out our online form and we'll be in touch to answer any questions you might have. We'll also introduce you to one of our local Partner Agents for a no-obligation consultation.
Here's what you need to know about Maine real estate closing costs for buyers.
Closing Costs for Maine Homes: What to Expect
There are more than a dozen different closing costs associated with real estate transactions in Maine. Some of them will cost you less than $100.
But they add up. For example, in Maine, you will also have to pay for a credit report. That's $50. A flood certification fee is $30. Courier and mailing fees are about $75. Are you starting to get the picture?
Unfortunately, not all of the fees are small. Some can cost you hundreds of dollars, and there are a few that will end up being much higher. When it comes to determining your closing costs, the general rule is that buyers should expect to pay between 2% and 5% of the purchase price of a home.
The median home value in Maine is $233,000. That means you will likely pay between $4660 and $11,650 in closing costs when you buy a home. Clearly, that's a substantial sum and you need to factor that into your financial plan when buying a home.
While closing costs can be expensive, one of the largest mortgage expenses is the interest rate. Over the life of the loan, a few small percentage points can result in hundreds of thousands of dollars in interest payments.
One of the best ways to lower your interest rate? Shop around and compare lenders! Fill out the form below for a quote from a licensed, local lender – even if you're pre-approved it pays to compare.
Common Closing Costs for Maine Home Buyers
Title Search
A title search is a must for all home buyers and can cost between $300 and $500 in Maine. It makes sure that the seller has can lawfully sell the property. That is, do they have the legal right to sell the property. This is not as straightforward as it sounds.
The home you want to buy may be involved in a legal dispute. A title search will confirm ownership and outstanding encumbrances and title deficiencies, such as liens on the property. By conducting a title search, you ensure that you have clear title once the deal is inked.
A full title search includes legal details about the current owners name and the property's legal description (usually its dimensions). It will also let you know if a title is held jointly. This is important.
If a home is owned by a couple going through a divorce, you want to make sure that the person selling you the home has full legal authority to do so on their own. Otherwise, you could end up mired in legal problems.
Title Insurance
Title insurance can cost up to $1,000 and is one of the most confusing concepts of real estate transactions. What exactly is it and is it the same as a title search?
While the title searches protect you from unwittingly buying a property from an unauthorized seller, title insurance protects the lender's interest in the purchase property until the loan is paid off or refinance.
They want to protect themselves in case of an error in a title search. These can occur (though it is rare) due to filing errors, undisclosed heirs, or forgeries. Usually, the lender will require a loan policy with title insurance when you sign for your mortgage. The owner's title insurance also insures your ownership rights to that property.
Title insurance is more popular in the U.S. than it is in other parts of the world. Property transactions in this country are recorded by state or local jurisdictions, but they are not conclusively determined to be valid. When a jurisdiction records the transaction they do not do a determination as to whether it is free from liens or other issues.
So, it's not just in your lender's best interest to have title insurance, it's also best for you. Generally, title insurance policies will cover the cost of resolving (or curing) most title problems (or defects) uncovered during the title search process. These defects may be tax liens, construction liens, creditor liens, or even court judgements.
The lender may refuse to issue a mortgage if any of these or other problems are not resolved.
Appraisal Fee
Appraisals are usually required by the lender and can cost between $150 and $500. They want to know that they are not providing a loan for a property that is not worth its cost. In other words, they want to make sure that the home you are buying is actually worth what you're borrowing. In essence, they want to make they can recover their money.
The reason for this is that the property is usually collateral for the loan. So, if you stop making payments or cannot make payments, the bank or lender has the option to take possession of the home and sell it. That way they can recover the cost of their loan, but only if the property has an equal or greater value than what they loaned out.
The value of a property is determined by an independent appraiser. They will visit the home and evaluate its conditions and interior. They will also measure the dimensions of the property and want to make sure there are no health or safety issues. They will also take note of any improvements to the property such as a new kitchen or remodelled bathroom.
Property inspection fee
A home inspection can cost anywhere from $300 to $500 dollars (or more depending on the size of the property). It's well worth the cost for the ease of mind that it gives home buyers. In fact, a home inspection should be undertaken as soon as an offer for a home is accepted by the seller.
A home inspection covers both the interior and exterior of a home. On the outside, home inspectors look for cracks in walls, damaged or missing siding, any damage to the roof. They will also look for signs of damage to the property and any structures on it, like garages.
Home inspectors will also look at the foundation of the property for visible cracks and any damage from the root systems of large nearby trees. A good home inspector will also check for proper drainage in the yard and any problems with decks and patios.
Inside the home, they will check for leaks in faucets or toilets. They will also point out any fire hazards, and a home inspector will also test the heating and ventilation systems.
This is one of the most important steps in the home buying process. You want to make sure you find out beforehand what is and is not part of your home inspector's examination.
Transfer Taxes
These vary from jurisdiction to jurisdiction and, in Maine, they are generally the responsibility of the seller. But that is not always the case. Many sellers opt to make them part of the closing negotiations.
That means you may end up paying for all or part of the transfer tax. In Maine, they can run into the thousands of dollars, so you need to factor this into your budget when it comes to closing costs. If you have a good real estate agent, they will help make sure to fight hard to ensure the cost of the tax does not fall to you.
Other Costs to Consider
Home buyers must deal with many other recurring costs of homeownership once they pay for the closing costs and buy the home. These can include condo fees, homeowners insurance, property taxes, maintenance costs, and utilities.
Some of these costs can be thousands of dollars a year. For example, in York County, property taxes are assessed at 1.200% of the home's value. On a property valued at $250,000 that would be $3,000 a year.
Homeowners insurance is another big cost for home buyers once they settle into their house, condo, or townhome. The U.S. average for homeowners insurance is just under $1,100. But it can be substantially higher (or even lower) depending on your neighborhood.
At any rate, this is a major expense that you must factor into the cost of homeownership.
How to Save on Closing Costs in When Buying a Home
The costs of buying a home seem daunting. But a professional realtor will help you at every step of the process. Be aware that there is a lot of aid of home buyers from the federal and state governments, if you know where to look.
There are grants to help make your down payment and ease the other costs of closing a home sale. Clever Partner Agents are familiar with many aspects of government and private programs that can help almost anyone buy a home.
Related Articles