Are you ready to buy your dream home in Iowa? If so, you've probably already started saving money. Your down payment is a big expense, but closing costs are another consideration. Here's how much you should save for closing and how to save money on your home purchase.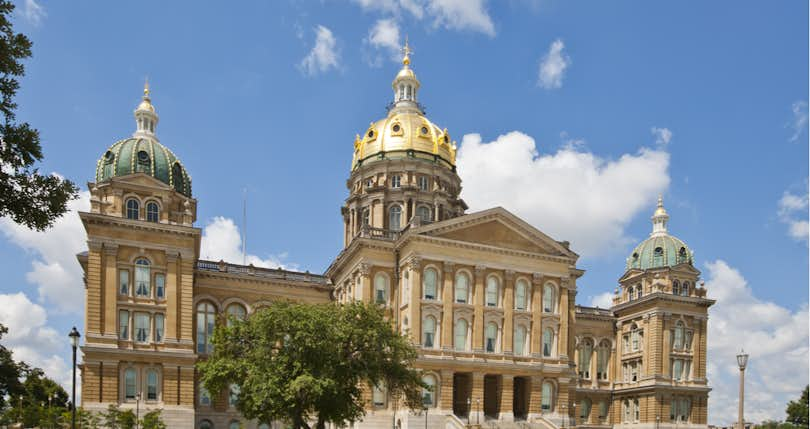 Buying a home is exciting, especially in a state as beautiful as Iowa. Known for its natural beauty, quiet way of life, and friendly population, there's a lot to love about the area.
As you get ready to buy your Iowa home, you're almost certainly saving up for your down payment. After all, that's the single biggest expense you'll face as you purchase a home. However, it's not the only major cost.
Closing costs can catch some home buyers by surprise. You think the down payment will take care of everything, only to encounter another huge bill at the closing table. And if you don't have enough money available, you could lose the entire deal!
Instead, do your homework and make sure you know what to expect. You can work with an experienced Iowa realtor to get the right house at the best possible price, as well.
Want to connect with a top-rated Iowa buyer's agent? Clever can help! Fill out our online form and we'll be in touch to answer any questions you might have and introduce you to one of our local Partner Agents for a no-obligation consultation.
Closing Costs for Iowa Homes: What to Expect
According to data from Bankrate, the average closing costs for a $200,000 home in Iowa is around $2,100. However, that doesn't include variable costs, including title insurance, title search, taxes, other government fees, escrow fees, and discount points.
In the end, fees vary significantly depending on your lender, where you buy, and how much the home costs.
As a general rule, you can expect to pay closing costs of between 2%–5% of the home's value. The median price of homes that sold in Iowa in the last year was $152,200. With that price and closing costs of 3%, you can expect to pay $4,566 in closing costs.
While closing costs can be expensive, one of the largest mortgage expenses is the interest rate. Over the life of the loan, a few small percentage points can result in hundreds of thousands of dollars in interest payments.
One of the best ways to lower your interest rate? Shop around and compare lenders! Fill out the form below for a quote from a licensed, local lender – even if you're pre-approved it pays to compare.
Common Closing Costs for Iowa Buyers
What exactly are you paying for with that $4,566? There are a variety of costs that are included in closing fees for a home buyer. Here are some of the most common.
Mortgage Fees. The money for your mortgage comes at a price. Banks charge a variety of fees for the privilege of borrowing money from them. This is easily the largest portion of your closing costs, so be sure you shop around before you commit to a lender. When you're pre-approved, a lender has to give you a good-faith estimate of the mortgage fees, so that will help you know what to expect at the closing costs.
Escrow Fees. Not to be confused with prepaids, escrow is paid to a third party who oversees the transaction to make sure it's done according to legal and state standards.
Prepaids for Escrow Accounts. You'll be required to set aside three months of home insurance and three months of property taxes to be held toward paying those accounts moving forward. This expense will only come up if you plan to pay your home insurance and property taxes as part of your monthly mortgage payment, which many Iowa homeowners do.
Home Inspection. You need to make sure a home is in the promised condition before you commit to purchase. While many home buyers are tempted to skip this step to make the deal better for the seller, it's vital to protect yourself and order and pay for a home inspection. Any problems you find can become negotiation points for a lower price or additional repairs before closing.
Pest Inspection. While this is an optional cost, it's a good idea in Iowa. You want to make sure there are no pests in the home because getting rid of them can take a significant amount of time and money. It's better to know up front so it can be part of the negotiation.
Title Company Search. Before you buy a home, you need to make sure the title is clean and that no one else has any claims against it. Usually, the title company costs are part of the lender fees, since no lender wants to guarantee a home that isn't free and clear.
Flood Determination. This $11 fee goes toward determining whether your home is on a flood plain. If it is, you'll need to buy flood insurance along with your regular homeowner's insurance.
As you can see, there's a lot that goes into closing! That's why being prepared for the costs is so important.
Other Costs to Consider
Once you finish closing, you might think your biggest expenses are behind you. The good news is that you're right! However, there are still recurring fees of homeownership that should not be overlooked. Be sure you're financially ready to handle these as well.
Repairs and Upgrades. Over time, everything breaks down. You'll need to budget for these repairs. One popular idea says that you should set aside one percent of the home's purchase price each year to save for repairs big and small. For the median home price of $152,200, that's $1,522 per year.
Annual Home Systems Inspections. One of the key mottos of a homeowner is that it's easier to prevent a problem than to solve one. As a result, it's important to budget for annual HVAC and plumbing inspections. These major systems can be checked and cleaned, helping you avoid issues and detect concerns before they become significant problems.
Homeowner's Insurance. You may choose to pay your insurance as part of your mortgage. If you do, expect your mortgage to change every year as your insurance premiums are re-rated. Costs have a tendency to go up, and that includes insurance costs. Don't be shy about shopping around every few years to save some money.
Property Taxes. In Iowa, property values are assessed every two years, in odd-numbered years. Different counties will charge different percentages, so it pays to live in a lower-cost county if you can. Polk County, for instance, charges 1.789%, while Pocahontas County is only 1.136%.
Utilities. Paying to heat, cool, and use water in a house is usually a lot more expensive than an apartment. A bigger house will also cost more in utilities than a smaller one. Be sure you're ready for these costs! You can also save money by using energy efficient appliances and improving your home insulation.
As you can see, a home is a big commitment. Having a high-quality realtor by your side will help you negotiate the best deal possible while also getting a realistic estimate of costs.
How to Save on Closing Costs When Buying an Iowa Home
If this is making you reconsider, you're not alone. It can be really overwhelming when you look at all the costs at once. The best thing you can do is set aside as much money as possible while also taking steps to get a great deal.
Having a great negotiator on your side is essential, which is why working with a Clever Partner Agent is such a good idea. Not only can you save on costs, but you may also be able to negotiate to have a motivated seller pay part of your closing costs. This can save you a lot at the closing table and make the transition to your new home smooth.
You can also take advantage of state home buyer programs that can help you save on closing costs. FirstHome is a great choice if you're a first-time homebuyer, and you can use Homes for Iowans if you're not. These programs help you save on lender's fees, and adding DOWN Payment Assistance will give you $2,500 towards closing in addition.
There's no reason not to move forward on purchasing your Iowa dream home today. Let us help. Fill out our online form and let us set up a no-obligation consultation today.
Related Articles