What is a roof inspection? | When should I have a roof inspection? | Who performs a roof inspection? | What happens during a roof inspection? | Specialized types of roof inspection | My roof inspector found damage. Now what? | Roof maintenance tips | FAQ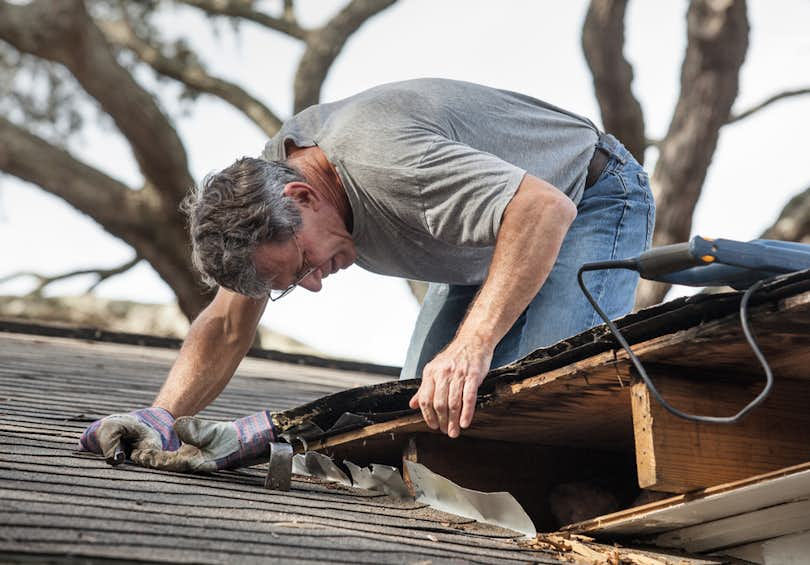 Roof inspections range in price from about $199 to $306. The average cost of a roof inspection in the United States is $212.[1]
Roof inspection pricing can be dependent on a number of factors such as:
The angle of the roof's pitch
The roofing material used
How difficult it is for the inspector to access all areas of the roof
The climate during the inspection (icy or hot surfaces can be dangerous)
How easily the inspector can access the attic space within the home
Although most roof inspectors charge a flat fee for their services, some may quote their roof inspection cost per square foot.
In the context of a home transaction, buyers may need to provide their lenders or insurers with a roof certification confirming the condition of the roof. The cost for a roof certification (also known as a "roof cert" or "roof certification letter") averages an additional $75-200.[1]
A knowledgeable real estate agent can help guide you through the roof inspection and certification process.
👀 Looking for a realtor? Clever can make the connection!
What is a roof inspection?
A roof inspection is a visual examination of all aspects of a roof's construction. It includes both the exterior and interior roof structures.
Roof inspections are conducted to determine the integrity of a roof. Inspectors typically pinpoint small areas in need of improvement or repair to extend the life of the roof.
Following a roof inspection, the inspector will provide the homeowner (or homeowner to be) with a detailed report illustrating the condition of all elements of the roof and what fixes are necessary to keep it in good shape.
Why do I need a roof inspection?
Your roof is the last line of defense between the inside of your home and the outdoor elements. Thus, it's important to maintain your roof to keep the outside from getting in.
Roof inspections identify issues for preemptive repair so that small problems don't become big ones. After all, it's easier and less expensive to replace a handful of shingles rather than the whole roof.
What's the difference between a roof inspection and a roof certification?
Roof inspection
Roof certification
Can happen independent of certification
Happens in tandem with roof inspection
Not typically required, but usually recommended
Often required by lenders, insurers, and warranty companies
Included in inspector's flat fee
Inspector may charge an additional fee
Examines and reports on condition of roof
Estimates remaining useful life of roof
Average cost: $119-306

[1]

Average cost: $75-200

[1]
A roof inspection and a roof certification are not the same thing. In order to obtain a roof certification, you'll need a roof inspection.
A roof certification comes after the inspection. It is a formal report estimating the lifespan of the roof once any identified damages have been repaired.
Often, lenders and insurers require a roof certification before agreeing to finance or cover a property. This occurs when the home meets certain criteria independently determined by the company. For example, some insurers require a certification when the roof is more than 15 years old or when the property is located in an area that experiences severe weather.
Once the roof reaches the end of its estimated life, you'll need to have another inspection and certification or opt to replace the roof to maintain your mortgage or policy terms.
A roof inspection can be done on its own independent of a roof certification. A homeowner may have one to identify potential damage resulting from a specific event (like a hurricane or a tree falling on the roof) or as part of general home maintenance. In these cases, a roof certification is not part of the process.
When should I have a roof inspection?
There are a variety of scenarios in which a roof inspection is recommended:
During a home transaction: When you're buying a home, a roof certification may be required by your lender, homeowner's insurance provider, or home warranty company (if you opt for roof coverage).Additionally, your general home inspector may recommend a more in-depth roof inspection. Or you may just choose to have one to check the roof's condition as it is a core piece of your home investment.
After a significant weather event: Hurricanes, hail storms, and other severe weather can wreak havoc on your roof. A roof inspector can pinpoint any areas of concern.
To prepare for winter: If you live in a place that gets heavy rain and snow, it is smart to ensure your roof is ready to take on the elements.
At regular intervals for peace of mind: Depending on the age of your roof, experts suggest that you schedule an inspection every so often as part of general home upkeep. Some advocate for twice-yearly inspections, while others say every few years is fine if your roof is newer and your area doesn't experience acute weather.
Who performs a roof inspection?
Roof inspectors with specialized knowledge and tools conduct roof inspections.
The best roof inspectors have extensive experience in your region, including a familiarity with the type of roofing materials commonly used in the area and the typical challenges homeowners face in your locale, such as weather conditions, pests, and vegetation.
There are multiple organizations that certify roof inspectors through education and exams. Two popular groups are the International Association of Certified Home Inspectors and the National Roof Certification and Inspection Association.
Didn't my home inspector already look at my roof?
Roof inspectors are not the same as general home inspectors, although a home inspector will examine your roof and include information on its condition in their report.
Generally, home inspectors do a visual inspection from the ground with a camera whereas a roof inspector will get on the roof to conduct a physical inspection. If they see signs of damage or if they can't fully view the roof, a general home inspector will refer a roof specialist.
In the context of a home purchase, a home inspector is not qualified to issue a roof certification. So, you may need to enlist the help of a roof inspector if your lender or insurer determines one is necessary to cover your property.
» LEARN: What Happens After a Home Inspection? A Step-By-Step Guide
What happens during a roof inspection?
Roof inspections last between 45 minutes and four hours depending on the size of the roof and the complexity of the job.
Roof inspectors work from the ground up, first examining drainage, wear and tear, and the condition of the home's exterior features such as its paint and gutters.
Next, the inspector climbs a ladder to the roof, looking for:
Curled, broken, or missing shingles
Compromised seals around fascia, drains, downspouts, skylights, chimneys, and vents
Areas of damaged or missing flashing
Roof valleys or other structural issues allowing water to collect
Visible rot and mold
Vegetation impinging on the roof causing decay and roof access for pests
A roof inspector will also check the inside of your home with an eye on:
Cracks, dark spots, or concave areas on ceilings
Moisture around your fireplace
Water stains on pipes near the water heater and furnace
Mold and rot on wood rafters
Visible damage and nail penetration within your attic space
Following the examination, a roof inspector will deliver a report (usually within the week) that details what they checked and what issues they found. The report will also list recommended next steps like repairs.
Specialized types of roof inspection
Type
Purpose
Cost

[1]

Standard physical roof inspection
Default type; visual inspection and report on roof condition
$119-306
Drone roof inspection
A flying drone with a camera used to examine parts of the roof an inspector can't access
$150-400
Infrared roof inspection
Equipment used to read infrared rays examines difficult-to-access roofs
$400-600
Commercial roof inspection
Inspection of larger commercial properties
Dependent on size — Often quoted per square foot
When an inspector can't physically access portions of the roof, a specialized type of inspection might be necessary.
Some inspectors employ drones to see areas of the roof they can't see otherwise. Drone inspections cost $150-400. Before using a drone roof inspector, make sure the operator has an unmanned vehicle (UAV) pilot license.
Alternatively, some roof inspectors use infrared cameras to help examine inaccessible areas. These cameras show hotter and colder areas of the roof. This can indicate places with surface damage and insulation issues. The cost of infrared roof inspection averages $400-600.
Roof inspections for commercial buildings cost more than those for homes because they are generally larger. Inspectors sometimes charge per square foot for commercial inspections versus a flat fee for homes. When inspecting commercial properties, inspectors should have some familiarity with relevant OSHA guidelines.
My roof inspector found damage. Now what?
Learning that your roof requires repair is not an immediate cause for panic. In many cases, repairs are simple and inexpensive.
Often, roof repairs are preventative in nature. Still, they should be taken seriously and done in a timely manner before the issue gets worse or seasonal weather prohibits the repair.
How much does roof repair cost?
The average cost for roof repair is $918. Generally, roof repairs range $355-1,482.
The price of roof repair is determined by the unique roof (including its materials and pitch), the extent of the damage, and local conditions.
Pricing for common roof fixes follows.
Repair
Average cost

[2]

Shingle replacement
$30+ per shingle
Flashing replacement
$20+ per segment
Skylight leaks
$25-80
Cracked vent booting
$10-20
Ice dam removal
$50-125
Moderate roof leaks
$300-$1,000
New roof
$12,000+ for 3,000 square feet
Prices can vary greatly based on material. For example, tile roofs are typically the most expensive to repair, followed by wood shake, asphalt, and composite.
» MORE: Should you repair or replace the roof before selling?
Can I DIY a roof repair to save money?
Never DIY a roof repair. Your homeowners insurance company may void your coverage if roof repairs are not performed by a professional.
Additionally, it can be dangerous to work on the roof, and you may cause damage to your roof and attic space if you don't know what you're doing.
Roof maintenance tips
Though we don't recommend doing DIY roof repairs, you can take personal action to keep your roof in tip-top shape.
Between professional inspections, you can examine your roof on your own for signs of disrepair. From the ground, most homeowners can spot obvious problems like missing or flapping shingles and sagging gutters. You can also inspect your attic for leaks when it rains.
Other types of damage are not visible to the untrained eye, which is why it's important to employ a professional for regular roof inspections and to handle repairs promptly.
Homeowners should regularly clear gutters to keep them working properly. You should trim back trees so there's less likelihood of damage from debris accumulating or a limb falling in a storm. Also, pruning trees eliminates easy roof access for damage-causing pests like bats and mice.
FAQ
Who pays for a roof inspection during a home transaction?
The buyer or the seller can pay for a roof inspection. Typically, the party with a greater interest in having the inspection completed pays.
Most times, the buyer pays if they intend to negotiate a credit or repair because of the poor condition of the roof. Also, the buyer requires a roof certification for financing and insurance.
However, there are some cases when a seller might pay for a roof inspection. For instance, a seller might conduct inspections proactively to show the house is in good condition. This is especially true for sellers of older homes.
Neither party can force the other to pay for a roof inspection. If you want the inspection, you have to pay for it.
How do I find a reputable roofing inspector?
Your realtor or home inspector should be able to refer roof inspectors with whom they've worked in the past.
You can also use the Internet to find a good inspector by: