Why do I need a foundation inspection? | When should I have a foundation inspection? | Who performs a foundation inspection? | What should I expect during a foundation inspection? | My inspection identified foundation issues. Now what? | Are foundation issues a deal breaker when purchasing a home? | How can I prevent foundation issues?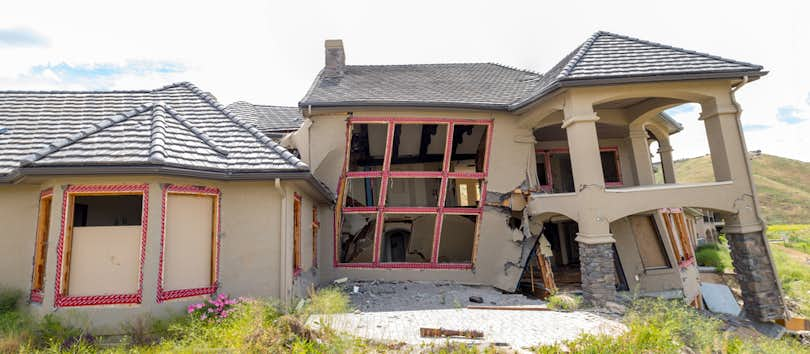 The average cost for a foundation inspection and report ranges $300-1,000.[1] The price might fluctuate based on:
The size of your house
Ease of access to the foundation
Local market conditions
Foundation issues can lead to major structural problems in a home that can be difficult to repair. So, when you're considering purchasing a home with foundation issues, it's vital to commission an inspection and report to understand the extent of any damage.
Foundation inspections are typically advised in addition to a general home inspection. The cost of the inspection does not include any repairs, which can be expensive.
In most cases, a smart real estate agent can help guide you through the foundation inspection process.
>> 👀 Looking for a realtor? Clever can make the connection!
Why do I need a foundation inspection?
Foundation issues can cause major damage in a home. Your house may start to literally fall apart with bowing walls, crumbling floors, and a collapsing roof.
Foundation repairs can be very costly, sometimes equaling more than the price of the home itself depending on the severity.
If there are signs of potential foundation issues in a house you're interested in purchasing, it's best to have them professionally inspected. Then, informed with the details, you can choose to walk away or negotiate for repairs or a financial credit.
Who pays for a foundation inspection? 🤷‍♂️
During a home transaction, the buyer or seller may pay for a foundation inspection.
It is in the interest of a buyer to pay for the inspection if their general home inspector suggests further examination of the foundation. Knowledge of the foundation's condition and associated repair costs can inform the negotiation process.
Although a foundation inspection is pricey, especially if the buyer ultimately decides to walk away from the transaction, the avoided headaches and repair expenses will be worth it.
It is in the interest of a seller to pay for an inspection before listing their home if they are seeing potential signs of foundation damage in the house already. Additionally, when selling an older home, it can benefit the seller to present reports to buyers proactively.
Neither party can force the other to pay for a foundation inspection. The party most interested in the report is the one that must pay.
When should I have a foundation inspection?
There are a few common situations that warrant a professional foundation inspection:
Buying a house: Your general home inspector may suggest a more in-depth look at the foundation if they find any signs or symptoms of damage. In this case, it's recommended that you engage a foundation specialist for an inspection and report.
Selling a house: When selling an older house, a seller may want to have a foundation report conducted proactively. Showing reports to prospective buyers upfront can make the house more appealing and smooth the negotiation process.
Potential damage: Sometimes, an event such as a large water leak within the home or an earthquake might negatively impact the foundation. If you suspect your foundation has been impaired in some way, a professional can let you know for sure.

Noticing symptoms: If you begin to see signs in your home that may point to foundation problems, you'll want an inspector to check things out as soon as possible.
What are the symptoms of foundation issues in a home? 🤷‍♂️
There are a number of things that happen within a home as a result of foundation deterioration:
Bowing walls
Doors and windows that won't close properly
Cracks in walls
Cracks in tiling
Baseboards separating at corners
Uneven floors
Crooked chimney
Bugs in the basement
Standing water in the crawlspace
Indoor humidity
It's imperative to treat both the symptoms and the cause when you experience these issues.
Whenever you suspect potential foundation damage, you'll want to take immediate action with an inspection. It's better to catch these issues early, when repairs might be preventative, simple, and comparatively low-cost. Foundation issues only get worse (and more expensive to repair) over time.
Who performs a foundation inspection?
Foundation inspections are performed by structural engineers. Structural engineers function as an unbiased third party in a home transaction.
The job of a structural engineer is to analyze, design, plan, and research structural components and systems within buildings. They ensure design goals are achieved while affirming the safety and comfort of occupants.
Structural engineers usually have a bachelor's degree in civil engineering and a master's degree in structural engineering. In the U.S., a structural engineer will also be licensed in the state where they practice. State licensing requirements vary but generally include a minimal level of practice experience and an exam.
The National Council of Structural Engineers Associations (NCSEA) is the governing body for structural engineers. Its website includes helpful resources regarding licensure and education.
>> MORE: Do You Need a Structural Engineer for a Home Inspection?
A general home inspector is not qualified or licensed to do the job of a structural engineer. That is why they will often recommend engaging one for a foundation inspection if they notice any signs of potential foundation damage in a home.
Are companies that offer a free foundation inspection legit?
🤷‍♂️
Some businesses offer free foundation inspections. Typically, these are companies that specialize in foundation repair.
You should always use an independent structural engineer for a foundation inspection because they act as an unbiased expert.
There is a major conflict of interest when a repair company does an inspection because they are incentivised to find problems.
It's appropriate to engage foundation repair companies for quotes once you've established the extent of foundation damage with a structural engineer. But avoid using these companies for your inspection.
What should I expect during a foundation inspection?
A foundation inspection will generally take less than two hours. It will begin with the structural engineer arriving at the home and interviewing the owner about its history and any relevant past events (flooding, renovations, repairs, etc.)
The inspector will do a visual inspection of the home's interior, exterior, and surrounding terrain, looking for moisture, cracks, and other symptoms of foundation damage.
They will then measure floor elevations and check the walls and doors for "plumbness." This means they will use a level to see if doors, walls, cabinets, counters, and more are slanting.
Next, the structural engineer will conduct a forensic analysis to determine the source of any issues. This could be things like standing water under the home, poor grading, or a number of other causes.
The inspector will then leave the home and write up a report of observations and recommendations, which they will provide to the party who ordered the report. This may take several days.
The report will not include repair price quotes. If you require this information to negotiate within a home transaction, you will need to obtain it separately from a foundation repair company.
My inspection identified foundation issues. Now what?
If a structural engineer confirms foundation problems within the home, the next step is to understand what a repair will entail.
The average cost of foundation repairs is $4,488. The repairs necessary depend on the extent of the problem. They generally range between $1,985-6,991, but they can cost anywhere from $500 to more than $10,000.[1]
The average pricing for some common foundation-related repairs follows.
Repair
Cost

[1]

Details
Cracks
$250-800
Filling foundation cracks more than ⅛" with epoxy or polyurethane foam as a preventative measure.
Leaks
$2,000-7,000
Updating drainage, filling cracks, and adding a waterproof coating to foundation.
Piers
$1,000-3,000 per unit
Installing piers underground to lift and support the foundation when it is sinking.
Mudjacking
$500-1,300
Pumping a grout-like mixture into the space under the foundation to raise it to its original position.
Wall reinforcement strips
$350-1,000
per strip
Inserting carbon fiber or steel reinforcement strips into bowing walls to return them to their original condition.
Generally, homes with basements experience more high-cost foundation damage because their construction is prone to further issues.
In addition to repairing your foundation, you will likely also need to consult other professionals to address related concerns such as mold remediation, chimney damage, a failing roof, or buckling floors.
Are foundation issues a deal-breaker when purchasing a home?
Whether or not to purchase a home with potential foundation issues really depends on your tolerance for risk and if you can land a deal that makes sense financially.
Specific foundation issues might be minor and can wait for repair. Certain buyers might be OK buying a house with foundation issues, knowing it's something they will have to address down the road.
>> MORE: Is It Safe to Live in a House With Foundation Problems?
Some foundation fixes might be minor and more preventative in nature, costing less comparably. Others might actually cost more than the house itself. So, it's invaluable to enlist a structural engineer to suss out the problem and help you understand the extent and potential cost of repair.
Leveraging the foundation inspection report in the negotiation process
Buying a house with foundation issues might actually help you score a better deal.
Some buyers will be automatically turned off by foundation issues, which means you'll have less competition.
After the foundation inspection, contact three foundation repair companies for quotes. Entering the negotiation with these figures will help smooth the process.
You can ask the seller for a credit to handle the repairs yourself. Alternatively, you can request the seller perform the repairs before you take ownership of the property. However, in the latter case, keep in mind that the seller is leaving and might prioritize price over quality.
Once the seller becomes aware of the foundation issues discovered in your report, they will need to disclose them to any future potential buyers. So, this might motivate them to negotiate more amenable terms with you, an existing and willing buyer.
As you enter into the undertaking of buying a home with foundation issues, understand that there are additional implications to consider. For example, there may be certain timelines and conditions you must meet to insure the property. It can also be difficult to finance the purchase or borrow funds for repairs.
>> MORE: Buying a Home with Foundation Issues
Selling a house with foundation issues
From a seller's perspective, it could be worth doing repairs in advance of putting your home on the market if you are aware of potential foundation issues. Once they're complete, have them certified by a structural engineer. This will definitely increase your buyer pool.
If you feel it is not financially advantageous to conduct repairs preemptively or if you don't have the money to do so, ensure your asking price reflects that. It's always best to be upfront. You might even want to provide prospective buyers with an inspection report and quotes from repair companies so they know what they're dealing with.
>> MORE: How to Sell a House with Foundation Problems
How can I prevent foundation issues?
Most foundation issues stem from excess moisture. So, any time you notice water pooling near the house, it should be addressed. This could involve updating the home's drainage systems or fixing a water leak under the slab.
All trees on your property should be maintained annually and checked by an arborist as tree root intrusion is another frequent cause of foundation damage.
Many other things that cause foundation issues can't necessarily be prevented, these include:
Poor home construction
Soil settling and changing in moisture volume
Aging foundation in older homes
Natural disasters such as earthquakes or flooding
Homeowners should always keep an eye out for symptoms of foundation issues because it's always best to address them early on when fewer structures are impacted.