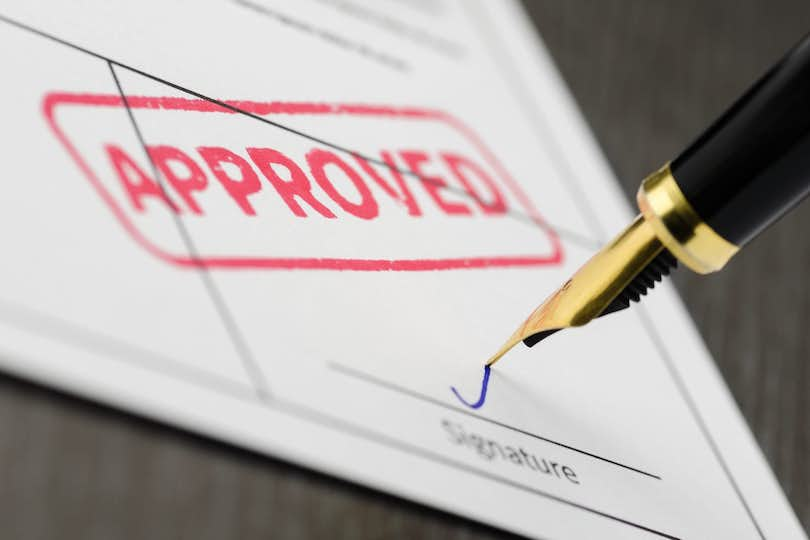 Anxious to finally close on your house? Sometimes it feels like forever waiting to get approved for a mortgage. You can't schedule that moving van because you don't know the exact closing day and you've got deadlines to meet! For those of you who are stressed out and wondering, "How long does it take to get approved for a mortgage?!" This one's for you.
Application
Timeframe: A few hours
If you already got pre-approved for a mortgage, you are in the process of working with a mortgage lender. Once you make an offer on a house and the seller accepts it, the approval process begins. You'll start off the process by filling out your loan application. This first step doesn't usually take long at all—not more than a few hours if you sit down and get right to it.
In many cases, you don't even have to go anywhere to complete your mortgage application. Many lenders will help you over the phone, or you can usually just fill one out online.
The application is just a form you fill out with some of your personal details and property details. You'll need to back up all of the information on the application later in this process, so make sure you have those records available. After you fill out the application, you'll give your permission if you want to continue with the loan process.
Appraisal
Timeframe: Three days to two weeks
Your real estate agent then gets in touch with your mortgage broker, who starts a file for you and sends out a third-party home appraiser.
Once the appraiser arrives at the house, they'll take anywhere from 15 minutes to two hours overlooking the home to get a gauge of its condition and quality. The amount of time the appraiser spends at the house largely depends on the size of the house.
From there, they'll take their notes back with them and compare those notes with other homes in the area. Many home appraisers use a software to compare the homes, which doesn't take a terribly long time.
This whole process can take anywhere from a few days up to two weeks. The time frame largely depends on the loan you use.
FHA and VA loans require a more detailed appraisal and therefore take up a bit more time than conventional loans. You'll be notified of the date of the appraisal and the appraiser's report is available to you and your lender to review when they finish it.
If the appraisal checks out, you'll continue down the mortgage loan process. If it doesn't check out, however, you'll go back to the drawing board and either renegotiate, find a way to pay the difference, or use the appraisal contingency and back out of the deal.
Underwriting
Timeframe: Four days to four weeks
After the appraisal checks out, your loan officer gathers up your file. They'll ask you for tax returns, bank statements, credit reports, and a pay stub (or two). Once they have all of this information, they send it over to the underwriters.
The underwriting process is where the waiting game really begins. The underwriter will do a complete check into your financial background. Everything from your credit scores to past debts, investments, and inheritances show up in this report.
Often throughout the process, your underwriter will reach out to your loan processor and ask for clarification or more documents. They'll typically do this by giving you a conditional approval, or approval based on a few stipulations. You may even get asked to provide a letter explaining certain deposits and expenses. Provide those documents as soon as possible to avoid slowing the process down.
Another thing that can potentially make problems during the underwriting process are lower credit scores, excessive debt (avoid using your credit cards for any major transactions during that time), previous foreclosures, short sales, bankruptcies, and late payments. Give yourself the best chance at getting your lenders approval when buying a home and repair your credit and DTI ratio in advance.
Final Approval Process
Timeframe: Up to 2.5 weeks
Once you get the green light from the underwriter, you're nearly there!
This process includes you sending over your down payment and closing costs. Your lender takes you through your mortgage payment and breaks it down over the term of the loan. This is really the least exciting part of buying a home, as you'll spend hours signing paperwork with a notary.
Just because you are in the home stretch doesn't mean you should go out and rack up some debt, though!
Many people reach this phase in home loans and go out and finance their home furnishings. This is a bad idea because your loan hasn't actually been funded yet, which means there is still time for your lender to pull your funding. Once every initial and signature is on the housing contract and the keys are in your hand, you are free to shop as you please.
Conclusion
The approval process can take anywhere from a few days to a few months depending on your credit, debt-to-income ratio, and the loan you're using. Take the time before applying for a loan to fix your credit and pay off some debt to really speed through the home buying process.
‧ ‧ ‧ ‧ ‧
Get through the entire home buying process with an expert real estate agent. Get Clever. Call us today at 1-833-2-CLEVER or fill out our online form to start.
You May Also Like