When buying a home in Georgia, home buyers may be surprised by unexpected, associated expenses. Learn what to expect when house hunting so you can create a plan that fits your budget.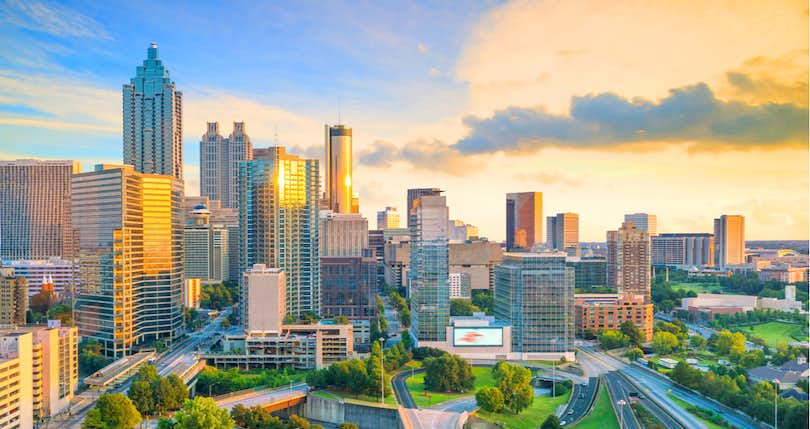 When buying a home in Georgia, a factor you consider is how much the down payment will cost you. While this is definitely something you must budget for, there are numerous other expenses involved. It's best to be prepared before beginning the home buying journey to prevent surprises from unexpected costs.
Making a real estate purchase in Georgia doesn't have to be frustrating if you plan ahead. With the right savings strategy, you can streamline the process with little headache. One way to stay ahead of the curve is working with a local real estate agent who has a firm grip on the local market and its associated costs.
Want to connect with a top-rated, Georgia buyer's agent? Clever can help! Fill out our online form and we'll be in touch to answer any questions you may have and to introduce you to one of our local Partner Agents for a no-obligation consultation.
Closing Costs for Georgia Homes: What to Expect
The closing process is the final step before grabbing the keys to your dream home. Unfortunately, this exciting stage is also the time when buyers face the brunt of their expenses.
According to data from Bankrate, Georgia home buyers are expected to pay an average amount of $2,323 when closing on their property. While that may sound encouraging, the study failed to account for lesser-known fees like title insurance, title search, taxes, other government fees, and escrow fees.
To get a better grasp on all your obligations, consider that the median home value in Atlanta is $261,200 according to data from Zillow. In general, closing fees rack up to between 2 and 5% of the sale. This means a buyer should expect to pay anywhere from $5,224 and $13,010.
While closing costs can be expensive, one of the largest mortgage expenses is the interest rate. Over the life of the loan, a few small percentage points can result in hundreds of thousands of dollars in interest payments.
One of the best ways to lower your interest rate? Shop around and compare lenders! Fill out the form below for a quote from a licensed, local lender – even if you're pre-approved it pays to compare.
Common Closing Costs for Georgia Home Buyers
While closing costs can vary dramatically based on your lender's requirements and the value and condition of a property, there are several that you will always be responsible for in Georgia.
Appraisal Fee
Before a lender will move forward with a loan, buyers are required to hire a professional appraiser to value the property. This is to protect both the financial institution's investment and ensure a home buyer is paying fair market value. Costs can vary but the service costs an average of $333 nationally.
Application Fee
A buyer is required to pay their lender a fee to process a loan application. This expense can mean different things depending on the institution. Sometimes, this service includes a credit check or even the appraisal fee — it's important to know exactly what you're paying for.
Attorney Fees
While this fee isn't present in every state, Georgia is an exception and requires an attorney to sign off on real estate transactions at closing. The expense covers their charges to review each of the closing documents. Bankrate data says that on a $200,000 home purchase, an attorney charges about $721.
Home Inspection
In Georgia, a home inspection isn't a required but an elected service. While it's not a mandatory part of the process, skipping this step can cause financial devastation to buyers if expensive issues arise unexpectedly.
Discount Points
One discount point typically costs 1% of your home loan and can significantly reduce the interest rate. If your loan is $200,000 with a rate of 4.5%, buying two points can drop it to 4%, resulting in monthly savings of $58.54.
Title Fees
A title search and transfer ensure a property has no claims against it and that the legal ownership is successfully transferred from seller to buyer. You may also be presented with a title insurance policy to protect your investment if someone challenges your ownership.
Down Payment
Most lenders require a down payment at closing to prove you are reliable with your finances. The standard amount for the expense is usually 20% of the loan amount. Don't get this cost confused with an earnest money deposit which is generally a smaller percentage presented to a seller when making an offer.
Additional Fees in Georgia
Many states have real estate transfer taxes when a property changes hands and Georgia is no exception. While these fees are typically the responsibility of the seller, it's common that the obligation is passed to a buyer during negotiations.
The fee accounts for $1.00 per thousand (plus $0.10/hundred) based upon the value of the property.
Here are two other Georgia-specific tax requirements:
Intangibles tax imposes $1.50 per $500 based on the amount of the loan and is required within 90 days
A $10.00 tax is required for any loan subject in accordance with the Georgia Residential Mortgage Act
Without planning ahead for the additional expenses required to close in Georgia, home buyers may be caught off guard and forced to dip into their savings. Plan to work with a top-rated local agent so they can lay out exactly what to expect and get you ahead of the curve by creating a savings strategy.
Unsure what taxes you face when buying a home?
Talk with a Clever Partner Agent and make sure your bases are covered.
Other Costs to Consider
In addition to a monthly payment, there are additional expenses that responsible homeowners must plan for.
Property taxes are a recurring fee that Georgia residents are required to pay annually. What you pay will largely depend on the county's millage rate and a property's assessed value. A licensed real estate expert can show you the requirements specific to the area.
Other fees you can expect include homeowners' insurance, utilities, and costs to maintain your investment. Owning a home is an expensive venture that costs more than many expect. Don't find yourself in a credit-crippling foreclosure or bankruptcy because you made a jump into ownership before being financially stable.
How to Save on Closing Costs in Georgia When Buying a Home
The good news for buyers is there is a way to ease the expenses of closing. One way is to work with an expert negotiator who can bargain with a seller's agent to share some of the responsibilities. They will use their knowledge of comparable homes, minor repairs the property requires, and the current market temperature to negotiate terms in a buyer's favor.
Georgia residents can also take advantage of government assistance like the Georgia Dream Homeownership Program and Fulton County HOP to lessen the expectations of a down payment. To qualify for these incentives, home buyers must meet several requirements.
Clever can help buyers save on closing costs, too. When buying a home in Georgia with an agent in the Clever Partner Network, home buyers are eligible for Clever Cash Back. What are you waiting for? Fill out this simple online form to connect with a Clever Agent.
Related Articles