In a real estate transaction, both buyers and sellers will be responsible for a variety of different fees and taxes, which are commonly referred to as "closing costs." These costs will vary from situation to situation, and state to state. If you're preparing to buy a home in Colorado, read on to learn which fees you'll be on the hook for — and how much you can expect to pay.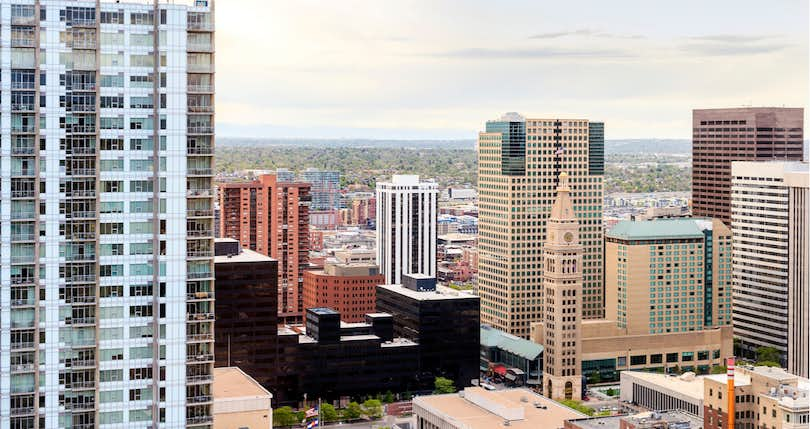 If you're planning to buy a home in Colorado, you'll need to save for more than just your down payment.
As a general rule, expect to pay between 2-4% of the final purchase price of your home in closing costs. Typical closing costs for Colorado buyers include transfer taxes, title fees, attorney fees, home inspection fees, and more.
To put this in perspective, according to Zillow, the average sale price for Colorado homes is $366,800. That means purchasing a home in the Centennial State could cost you up to $15,000 — on top of your down payment.
If you're looking for some closing cost assistance, Clever can help.
With Clever Cash Back, you can get back some of the purchase price of your home by working with one of our Partner Agents. That's a check in the mail after the sale is done that you can use to pay for renovations, pay off part of your mortgage, or invest for the future.
» Get in touch to learn more and interview top buyer's agents near you.
In the meantime, read on to learn everything you need to know about closing costs when buying a home in Colorado.
Closing Costs for Colorado Homes: What to Expect
A Bankrate study found that buyers in Colorado spend $1,946 in closing costs on average. That's $967 in origination fees and $979 in third-party fees.
These numbers are based on a mortgage loan taken for the purchase of a single-family home by a buyer with excellent credit and 20% to put as a down payment. Those may not be your circumstances going into the purchase of your home.
And while closing costs can be expensive, one of the largest mortgage expenses is the interest rate. Over the life of the loan, a few small percentage points can result in hundreds of thousands of dollars in interest payments.
One of the best ways to lower your interest rate? Shop around and compare lenders! Fill out the form below for a quote from a licensed, local lender – even if you're pre-approved it pays to compare.
Common Closing Costs for Colorado Home Buyers
Now let's see where all of that money you spend on closing costs actually goes. Below is a list of various taxes and fees that you will have to spend money on when you purchase a home.
Loan Origination Fees
This is money collected by your lender to process your loan. It generally comes up to about 1% of the value of your mortgage. That said, you can negotiate loan origination fees down if you have good credit history and are able to provide enough collateral to reduce the risk involved in giving the loan.
Discount Points
Discount points are purchased from mortgage lenders to reduce the interest rate on your loan. The cost of a discount point varies from lender to lender, but often you can get one discount point for remitting 1% of the value of a loan. Each discount point can be used to reduce your interest by between 0.125% and 0.25%.
Appraisal Fees
When buying a home, you have to have its value appraised by a professional appraiser. This is primarily for lenders to ascertain how much the house is worth and the value of the loan you qualify for as a consequence. Home appraisals in Denver cost about $317 on average and depend on the size of the home under consideration.
Title Insurance
This is a form of insurance that protects you against any defects that there may be with the title issued for your home. That can include things like the previous owner's outstanding taxes, liens, and outstanding mortgages. Most mortgage companies will require borrowers to purchase title insurance. In Colorado, the party selling the home generally pays the owner's policy. The buyer pays for the lender's policy, which protects the interests of your mortgage company.
Other Costs to Consider
Apart from the ones mentioned in the previous section, there are also certain recurring costs that are associated with owning a home. Here are a few of them.
Property Taxes
Property tax is an ad valorem tax, which means that its magnitude depends on the value of the property. As a result, the local government will assess the value of your property every few years in order to determine how much you owe in property taxes.
Fortunately for homeowners in Colorado, property taxes in the state are among the lowest in the country. For example, the property tax rate in Fort Collins is 0.655%. If you own a home worth $300,000 in the city, you would pay $1,965 per year in property taxes.
Fire Insurance
Fire insurance provides you with indemnity against any damage caused by a fire on your property. This is a fairly common form of insurance that homeowners get when they purchase a home. Since many places in Colorado are prone to fires, it has become increasingly hard for homeowners to insure their property. If your home is judged to be in a fire-prone area, you may have to take measures to protect the property in order to get insured.
How to Save on Closing Costs in Colorado When Buying a Home
The easiest way to save on closing costs is by negotiating them with the seller. A number of closing costs, even certain taxes, can be paid either by the seller or buyer. If you're able to make a strong case at the negotiating table, you could get the seller to handle a share of your expenses during closing time.
Another way to cut down on your costs is by working with an experienced real estate agent. A local realtor will be able to help you find affordable neighborhoods with homes fitting your requirements. They will also be able to assist with negotiating with buyers to get a good price on the home.
In addition to all those services, you may qualify for Clever Cash Back after the sale is closed when you work with a Clever Partner Agent.
Working with a Partner Agent also gives you the ability to see houses you're interested in on-demand. If you provide the address of the home and your availability, one of our agents will set up an on-demand showing for you. With this service, you don't have to wait for an open house to see a home you're interested in.
Visit our website to set up a no-obligation call with a Clever Partner Agent in your city.
Related Articles