Looking to buy a home in Indiana? Buying at the right time is more important than you might think. Before placing an offer on a home, use this guide to learn how to spend less by buying at the right time, finding the best place to live, and saving money during the buying process.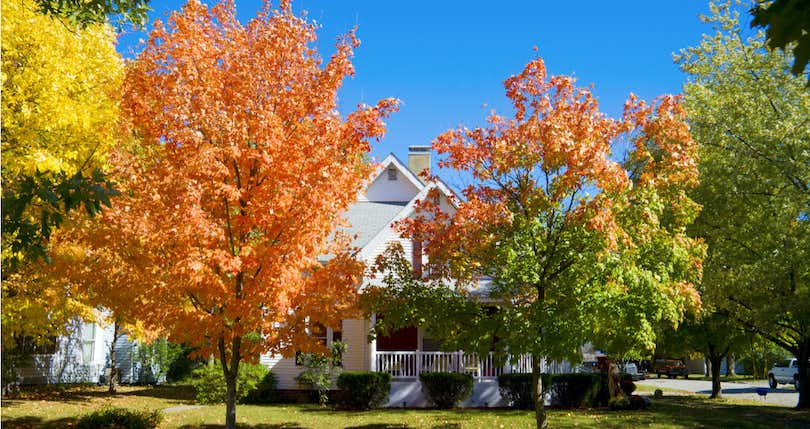 Buying a house is a stressful and emotional process. You'll likely have to spend weeks touring properties, fill out hundreds of forms, and invest a large chunk of your savings to secure the right house.
One way to make buying a house easier is starting the process at the right time. In Indiana, housing inventory, mortgage rates, and market trends vary from month to month.
For example, this year listing prices for homes in Indiana were lowest in February. On average, homes were $23,816 less expensive. While in July — the month with the highest prices — the listing prices were $18,974 more than the annual average.
In truth, the best time to buy a house really depends on your priorities and situation. Read on to find out which time of year will give you the most options and the biggest savings when buying a house in Indiana.
If you're interested in buying a home, the first step in the home buying journey is to find an experienced realtor who's an expert in your local market. The right agent can help you find the best house for your budget and priorities - and negotiate a winning offer so you don't miss out on your dream home.
The easiest way to find a great local realtor is to use a free service like Clever Real Estate. Clever matches home buyers like you with top agents in your area so you can compare your options and choose a realtor who's the right fit for you.
You can interview multiple agents until you find the perfect fit, or walk away at any time - Clever's service is 100% free with no obligation. Fill out the form below to instantly request hand-picked agent matches now!
💰 Buy with a top agent, earn cash back!
Buy your dream home with a top local realtor from a trusted brand like Keller Williams or RE/MAX. Keep more money in your pocket by earning cash back on eligible purchases.
Enter your zip code to request hand-picked agent matches in minutes. Compare your options until you find the perfect fit, or walk away with no obligation. Try Clever's free service today!
Best Time of Year to Buy in Indiana
Something interesting is currently happening in the real estate market in Indiana. While across the country home prices are continuing to increase, making it slightly more expensive for buyers to purchase homes, in Indiana, potential buyers are moving away from large cities to the suburbs and rural areas. This is increasing demand in an area where home sales were not historically high, which is driving home prices down.
With that in mind, mortgage rates are still expected to rise in Indiana in 2019, so buying sooner rather than later will help you lock in a lower interest rate. The springtime is when the selection in Indiana is at its highest, but it's also when competition tends to drive pricing up.
As a result, most interested buyers should hold out on purchasing a home in Indiana until the end of summer, when the selection is still good, but prices are reduced. Waiting until the end of the year will leave home buyers with less of a selection, but lower home prices, though mortgage rates are anticipated to be much higher.
The Best Places to Buy a Home in Indiana
In general, Indiana home buyers will find the highest real estate prices in major cities. However, there are many suburbs and neighborhoods near these large cities with more affordable home prices and great standards of living. If you're debating where to buy your home in Indiana, check out these 5 cities.
1. Fishers
This central Indiana city is just north of Indianapolis and home to 83,000 residents. Fishers was named the number one place to live in the country in 2017 and for good reason. Home values here average $216,900 which is affordable for many families. Fishers is also home to one of the top school districts in the country and has an extremely low crime rate.
2. Carmel
Slightly south of Fishers is the city of Carmel, roughly 16 miles away from the state's capital. Like Fishers, Carmel has some of the best schools in the country and has a unique and downtown area and arts district. Homes here are slightly more expensive at around $304,400 on average, but Carmel also has a low unemployment rate and higher than average annual salaries for residents.
3. Zionsville
This Indianapolis suburb has been named the safest place to live in Indiana and has a smaller population of around 25,000 residents. Zionsville is slightly more rural than most suburbs but has quick access to amenities and city life. On the downside, home values are slightly higher at $337,900, but it is possible to find homes below this average rate.
4. Dyer
Nestled just south of Munster, Dyer is home to approximately 16,000 residents and boasts home of the highest residents' incomes in the state. Despite the economic wealth in Dyer, average home prices are extremely affordable, coming in at around $191,000 on average. Gorgeous parks and attractions are also in surplus in this Hoosier town.
5. Noblesville
Another Indianapolis suburb, Noblesville offers high employment rates, low crime rates, and good school districts. Home prices are only $177,500 on average, making it one of the most affordable places to live in Indiana. With quick access to the city and attractions to boot, this Hoosier suburb is the perfect place to call home.
4 Ways to Get a Great Deal On a Home in Indiana
Knowing when and where to buy is a great start to owning a home in Indiana. But there are a few more steps potential home buyers should take when beginning the real estate buying process.
Find a Great Indiana Real Estate Agent
Teaming up with a great agent is the first step all potential home buyers should take in the buying process. A local real estate agent will understand your specific market and can make recommendations on neighborhoods to live and offer advice on financing and negotiating.
Agents will work on the buyer's behalf to help them secure the home of their dreams for the best possible price.
Learn More: What Does a Real Estate Agent Do for a Buyer?
Assess Your Needs and Lay Out Your Goals
Finding the right home for you can take a lot of research and searching. Luckily, when you team up with a qualified agent, they can work with you to find out what features you want in a home and set up searches that include your desired areas and budget.
Agents also have access to homes before they hit major search sites like Zillow and Realtor.com, so you may be able to view a home before the general public is aware it's available.
Learn More: What to Look for When Buying a Home
Find a Lender and Secure Financing
Unless you plan to buy your home with cash, you'll need to apply for a mortgage. For most home buyers in Indiana, interest rates are among the biggest factors when choosing a lender. Doing a little upfront research and comparing options to find the best rates could save you tens of thousands of dollars over the life of your loan.
For example, in Indiana a typical house is worth $168,000. Assuming a 20% down payment, if you took out a 30-year mortgage for 3.5%, your monthly payment would be $599. But if you shopped around and found a 3% mortgage, your monthly payment would drop to about $567.
Getting a mortgage is a big decision – and it pays to shop around! Keep shopping until you find a lender with competitive rates who also understands your goals. Don't get pressured into taking on a bigger loan than you're comfortable with – work with a lender who explains what you're really signing up for.It's easy to start your home buying journey – answer a few questions to get instantly matched with a lender who works in your area.
Negotiate for the Best Possible Price
Once you've found your dream home, your agent can get to work helping you decide on the right offer to make. From there, your agent will negotiate with the seller or seller's agent and can walk you through the inspection process.
Sometimes the inspection report may lead to further negotiation, which your agent can offer expert advice on, to ensure you're getting the best deal possible. Best of all, some agents even offer home buyer rebates, which can save you even more money during the buying process.
If you're ready to start searching for your new home in Indiana, get in touch with a Clever Partner Agent today. Just fill out the online form and a Clever representative will get in touch with you to answer your questions and connect you with a local agent.
Related Articles