Selling your house can be overwhelming. There is so much that goes into getting top dollar. Staging your house properly is one of the most important aspects of making it seem like a home to prospective buyers. Find out about the best neutral paint colors to help you get the most for your house.
Staging your house properly for a sale is one of the most important things you can do to get top dollar. You need to make your home as appealing to the widest number of buyers as possible.
It can be hard for sellers to envision their home in any other way than their own style. Therefore, you need the eyes of an experienced seller agent who knows how to make your home as attractive as possible to as many buyers as possible. Find an expert seller agent in your neighborhood to get the most for your home.
One of the best ways to give your home a makeover when staging your house is by choosing a beautiful neutral paint color for the interior.
What are neutral paint colors?
Neutral colors are light to medium colors that work well in the background as a backdrop for other furnishings and accents. Neutrals can be warm with yellow, orange or brown undertones. Or neutrals can be cool with blue or green undertones. They can be grey based, brown based or even "greige" which is a blend of grey and brown.
When choosing a color, be wary of making too much of a statement. Remember that prospective buyers will have all kinds of different personalities. You don't want to paint yourself into a corner here.
What is a good neutral color for walls?
The neutral color you pick for walls depends on the house and/or rooms. Before you pick a neutral color for walls, you'll want to decide whether a warm or cool color matches the ambiance of the space. Think about the natural feel and personality of your house. Then look at your home's permanent features such as fixtures, flooring, or cabinets. What color are they? Are they warm or cool tones?
Is it worth painting a house before selling?
It's absolutely worth painting a house before selling. A light fresh paint job is one of the most inexpensive, efficient, and easiest ways to give a house a complete face lift, open up the space and help your house sell quicker for a better price.
What colors are best to sell a house?
Neutral colors are the preferred choice for making a house appealing to a wide variety of buyers, which is what you want. Because you want prospective buyers to envision themselves in your house. You don't want to make too bold a statement or create an environment that is taste specific.
It's best to stick to variations of light beige, grey, or greige (beige+grey). Avoid white with orange or yellow undertones that can appear dingy and cheap.
Stay away from pastels or gender specific tones like pink. Keep it simple. Too many colors can appear cluttered and distracting. Avoid dark colors, which can make your house look smaller and confined
Here are some of the most popular neutrals used today.
Find the best agent to stage and sell your house for top dollar!
Get in touch, sell your home, save thousands.
Inviting Ivory is a warm white. Its undertones hint at beige, while staying clearly on the white side. It's a nice backdrop for brown and light brown accents. It can be used in any room depending upon the feel of your home. This color that can exist quietly in the background, showcasing the house itself rather than the walls.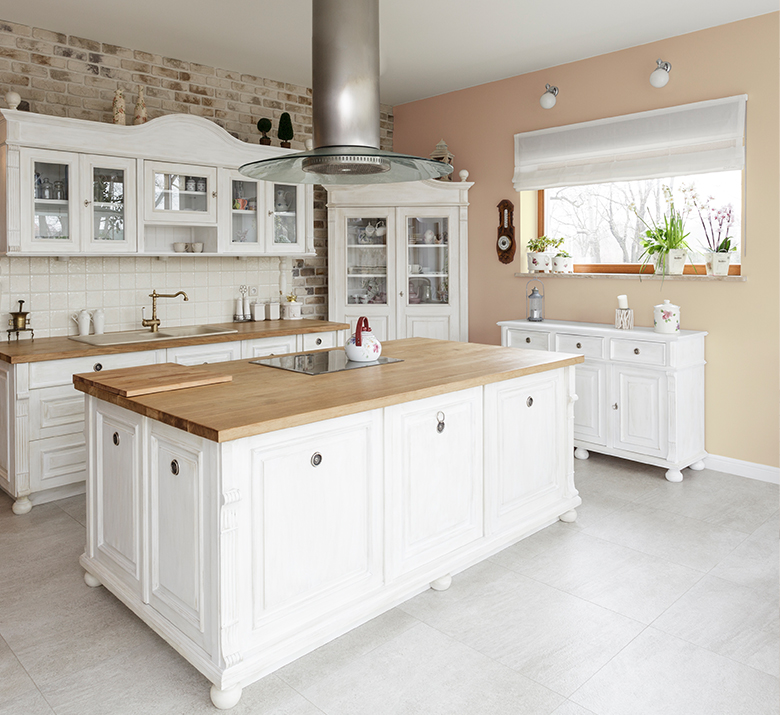 Courtesy of Sherwin Williams
This is the perfect kind of color to paint a study or living room when you're trying to sell your home. This is because it is so inviting. It's one of those neutral colors happy to exist quietly in the background, but when you do notice it, you feel good about your choice to use it.
Silverstone is an elegant, medium silver. Its matte finish keeps it somewhat subtle, so it doesn't come off as too bold. Silverstone should be used in balance with other lighter colors as a part of an overall look that speaks of elegance and sophistication. Whether you use it as a background or accent color, make sure to plan carefully.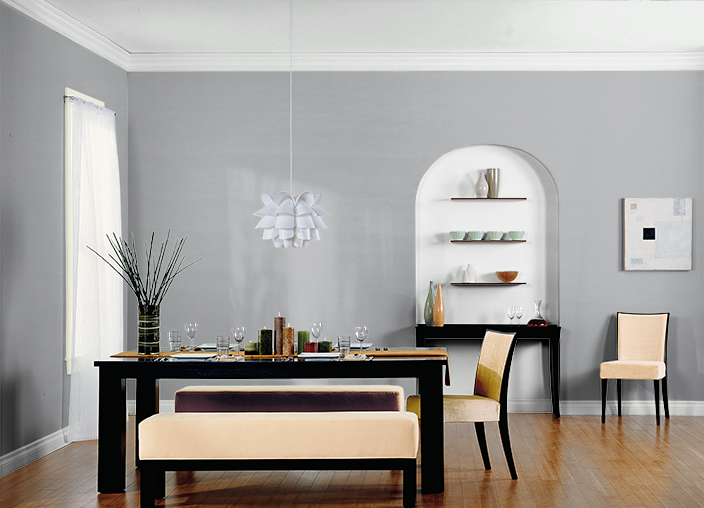 Courtesy of Behr
Because of its matte finish, Silverstone also makes a great color for an accent wall in a living room or dining room. It is bold enough to make a statement, but not so overpowering that it would take over a room and not let people imagine their own belongings inside.
Front Porch is a subtle gray with just a hint of green that allows it to blend well with beiges and whites. It's a cool color and a bit darker than most neutrals. You'll want to make sure that the natural light of the room can carry it. It can be a nice option for the exterior of your home because it coordinates well with browns, whites, and reds which makes it a nice pairing with classic brick work.
Vanilla Mocha is a light, peachy beige. This kind of color would work well in a study, a kitchen, or a laundry room. This is because it is a very subtle color. When you're painting your home to try to get the best sales price, you want to make sure that the rooms people will spend a lot of time in are very inviting.
Courtesy of Behr
And when you think about it, you spend a lot of time doing laundry. You spend a lot of time working in your office. And you spend a lot of time cooking in your kitchen. So, the opportunity to have a light, airy, and basic color like Vanilla Mocha as the background to all of these activities is going to be very appealing to buyers.
Flurry is a milky, creamy white with rich beige undertones This lends warmth to a room without it being yellow or dingy. Because its beige undertones are subtle, it can be paired with cool colors as well warm colors. Flurry is a safe color to use throughout your house for a clean fresh look.
Flurry is a calm, versatile color. You can use it to paint any room in your home as you get ready to sell. When you use a color like Flurry, potential buyers should have no problem with being to see your staged home for what it really is. Not just as a simple piece of real estate, but as a place they really want to live.
How can you make more by working with a top real estate agent?
When you choose a realtor to sell your house, look for an agent with experience in your local area. Make sure you check references and testimonials since the most critical factor is not necessarily how many homes the agent has sold, but how many homes were sold for the highest price and to the satisfaction of all parties.
Many sellers overlook the importance of staging a house. Staging your house is not as easy as it seems. Think about staging as an actual advertisement. Owners can be too close to their house because it's been a part of their personality for a long time. It can be hard for owners to visualize their house in a way best suited to be marketed to the largest audience. This is where the professional eye of an experienced seller agent is necessary to get top dollar on the sale.
Clever Partner Agents are top in their local market and carefully screened. If you want the best advantage at getting top dollar for your house and walking away with more in your pocket, find a Clever Partner flat-fee agent in your neighborhood today and get the price you deserve without the high commission. Get in touch to learn more and connect with a top agent in your area for a no-obligation consultation.
Top FAQs About the Best Neutral Paint Colors
Keep in mind that emotions play a big part of a buyer's decision process and the best way to trigger a potential buyer's emotions is the aesthetics of your house makes them feel. If a potential buyer can visualize your house as their own because your agent has done an excellent job at making it inviting to them, you've won half the battle. Choosing the best neutral paint color for your house is a huge part of this process.
What color of house sells the fastest?
The best exterior color to sell your house faster and for more money depends upon the style of your house and the neighborhood. If you're painting the exterior of your house to get ready for a sale, choose a color that will blend in well with the neighborhood, your house style, roof color, and the season in which you're selling. Note siding, walkways, garden fixtures, and brick accents when choosing a color.
Should the entire house be painted the same color?
Homes that look newer and more modern attract more buyers. This is because they are often painted in light, neutral shades, including light tones of gray, cream and beige. Shades of white mostly appear on the trim to create attractive accents and styles. Whether you want to add accents in different colors depends upon the style of your house. But don't overdo it. Your agent can help advise you on how much color is too much color.
What is the best color to paint a living room for resale?
The best color to paint a living room for resale is a neutral color that brings out the best features of the living room. Whether you use neutrals in cool or warm tones will depend upon the permanent fixtures and floor in your living room. For example, if you have rich, medium brown hardwood floors with warm tones, pick a grey with a warm taupe undertone rather than a grey with a cool blue undertone for a better overall blend of universally complementing aesthetics.
Should ceilings be painted the same color as the walls?
There is no rule that says ceilings should be painted the same color as walls. But care should be taken when painting ceilings. If you paint ceilings darker than walls, the room may seem smaller and enclosed. Rooms that are small or have odd angles at the ceiling wall joints are good candidates for a single light color because it can hide these angles to make the room look bigger. If you have high ceilings and want to make a room seem cozier, you can think about playing with darker shades on the ceiling.
As you can see, there is a lot of thought that goes into properly staging a house. Choosing the right paint color is just one factor that can boost your selling price and the time it takes for a buyer to fall in love with your house. An experienced seller agent who has their pulse on their local market is your best ally when deciding how to stage your house to show to buyers.
Related Articles
You May Also Like