They say 35 is the new 25, and that Seattle is the Boston of the Pacific Northwest. Or is it the other way around? Where's the best place to settle down if you're single in Seattle?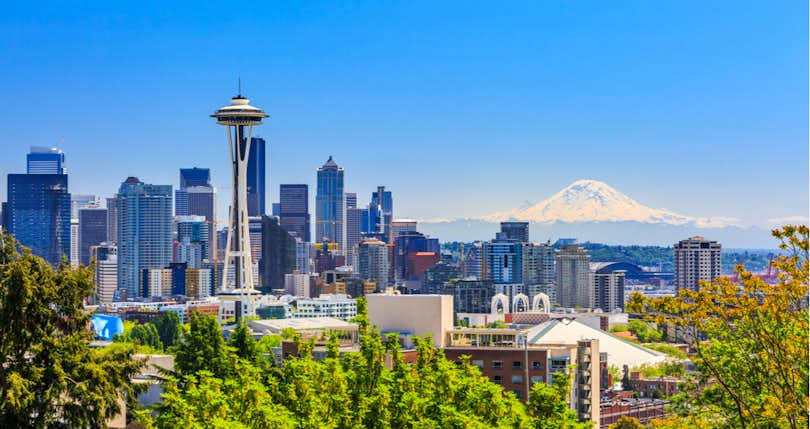 Howsoever you're oriented, start walking and you're virtually bound to find one of the Emerald City's variegated attractions. This town is too richly diverse for any single neighborhood to steal the shine. The following five areas represent good starts for anyone who is single and considering a move to Seattle.
Downtown
Absent Google and Amazon, it seems like every other major business in the city calls downtown home. The busy hub borders the lively Pike Place Market and contains several popular art destinations, including Seattle's eponymous art museum and library.
Living downtown, you're at the nexus of the city's good public transportation system, which means all the rest of these neighborhoods are well within reach. Pricewise, you're almost certainly paying more than the city median for rent, while few homes exist or sell in the region.
Belltown
Belltown is named after William Nathaniel Bell, an O.G. landlord of sorts with respect to the city proper. Views of the Puget Sound and the Olympic Mountains abound from the restaurants, cafes, indie clothing stores, and art galleries which pepper these streets. And at night, the neighborhood's many bars and music venues will be open and eminently walkable.
The cost of living in Belltown in some ways reflects the fact that it is the most densely populated neighborhood in the city. The housing market is cold, with prices jumping 6.2% in the past year, while median rent is deuces wild at $2,222. Needless to say, you'll pay plenty for the privilege of this area's central location and busy vibe.
Capitol Hill
Capitol Hill is known as the LGBTQ center of Seattle, and this culturally diverse community is home to an array of attractions that ranges far within the boundaries set by Bruce Lee's gravesite to the north and the Elliot Bay Book Company to the west.
Condos, bars, single-family homes, and tattoo parlors are some of the most common structures which dot either side of most streets in the neighborhood. About 20% of the households in Capitol Hill have children, so there's a good mixture of demographics all-around for single people who value that.
Like most neighborhoods in Seattle, and any city for that matter, there is some discrepancy between the figures homes are listed for and the amount they actually tend to sell for. In Capitol Hill, the difference is greater than $100,000, which is one reason why it's so vital to find a good agent.
---
Looking to buy your dream home? Finding the right realtor makes all the difference!
The first step in your home buying journey is to find a top local realtor who's an expert negotiator and has proven experience in your area. The right agent can help you find the best house for your budget and priorities — and craft a winning offer so you don't miss out on your dream home.
The easiest way to find a great local realtor is to use a free service like Clever Real Estate. Clever matches home buyers like you with top agents in your area so you can compare your options and choose a realtor who's the right fit for you.
You can interview multiple agents until you find the perfect fit, or walk away at any time - Clever's service is 100% free with no obligation. Fill out the form below to instantly request hand-picked agent matches now!
💰 Buy with a top agent, earn cash back!
Buy your dream home with a top local realtor from a trusted brand like Keller Williams or RE/MAX. Keep more money in your pocket by earning cash back on eligible purchases.
Enter your zip code to request hand-picked agent matches in minutes. Compare your options until you find the perfect fit, or walk away with no obligation. Try Clever's free service today!
Fremont
At $595 per square foot, property values in Fremont hover above the city average but below values for property in the most sought-after neighborhoods. Fremont is located across Lake Union from Capitol Hill and is home to an eclectic mix comprising both Google's Seattle campus and a nice Bohemian scene.
The housing market in Fremont is lukewarm, with costs staying steady to live among the many high-end boutiques around. Even if you decide Fremont is not even in your top ten best neighborhoods, keep it on your radar — its weekly Sunday market, yearly Oktoberfest, and seasonal Summer Solstice Parade offer quality value and entertainment.
Ballard
"Ar du Amerikansk?" you may be asked at Ballard's Nordic Heritage Museum. This neighborhood, steeped in both maritime and Scandinavian history, rests far north of downtown between Discovery Park and the Puget Sound to the west, the Woodland Park Zoo to the east, and Salmon Bay to the immediate south.
Newly finished construction means there are classic single family homes as well as new apartments to choose from. You're likely to pay suburban-level prices even in this urbane area, with the average median home value and rent cost well above the city's respective averages.
This quiet area of Greater Seattle hosts a good many unique shops, indie fooderies, and craft breweries for its denizens, the average age of which falls somewhere in the late-thirties. Just like not all single people want to marry, a good amount also prefer not to be surrounded by singles, which is why we've included Ballard, formerly a separate city from Seattle, here.
Connect with an Agent
We have seen in the summaries above how awesome and expensive it can be to live in Seattle. It's certainly not one of the cheapest cities to buy a home, but can be well worth it.
So if you're thinking about relocating here, a savvy next step is to connect with an experienced Clever Partner agent local to the city.
Related Articles