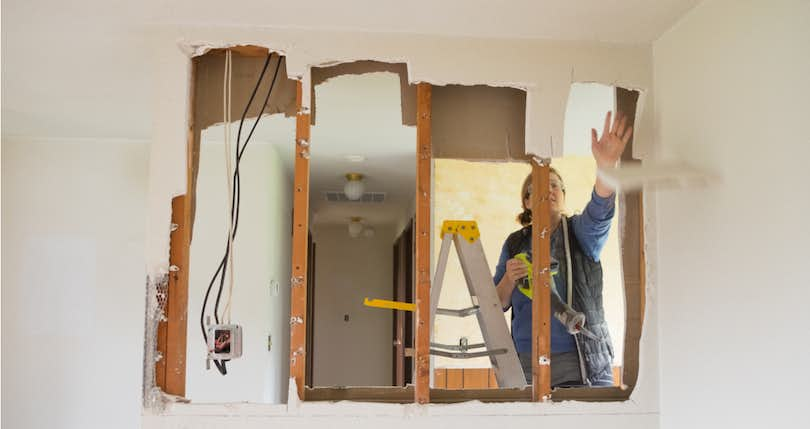 A fixer-upper comes with many perks, whether you're renovating a house to live in or flipping one to make a bit of money. Many people have begun to recognize this, as roughly 60% of potential home buyers aged 18-34 are open to buying a house in need of renovations.
But before jumping in, it's important to recognize that there are both pros and cons of getting yourself into a fixer-upper project. It's very easy to become overwhelmed, so make sure you put the time in and do your research.
Pros of Buying a Fixer-Upper
1. Save money and land in a neighborhood that could otherwise be unaffordable
Landing a fixer-upper in your wheelhouse is a great way to save some money when purchasing a home. In exchange for taking on a project, you give yourself the opportunity to sneak into a neighborhood that may not normally be in your budget. At the same time, you can likely get more square footage for your buck.
2. Lower taxes
Another component of cost savings when buying a fixer-upper is real estate taxes. If you buy a house that needs work, the assessed value for real estate taxes will initially reflect that, and it will most likely take a while for the city or town to catch up to your renovations. That being said, however, prepare for the taxes to jump up at some point, but you can initially save money on taxes.
3. Customization
With a fixer-upper, you have the opportunity for personalization. Instead of paying a premium for a move-in ready home that may or may not be your style, a fixer-upper allows you to create the home you actually want — rather than someone else's idea of a dream home.
4. Ability to make a profit
Another great thing about putting money and sweat into a fixer-upper is that you generally end up making a profit you go to sell, if you do decide to go that route. For example, if you buy a home for $250,000, put $50,000 worth of work into it, and do some of the work yourself, there's a great chance that your resale value is going to be much higher than $300,000. This is why house flipping has become so popular.
If you're interested in learning more about what it takes to flip a home, here's a great beginner's guide that takes you through financing, finding a property, and some tricks.
Cons of Buying a Fixer-Upper
1. Hidden costs
Even if it's not your first fixer-upper or house flip, it can be difficult to know exactly how much renovations cost. It's a safe bet to always add a buffer into your expected fixer-upper budget. You never know what might be hiding behind some walls. Unfortunately, the home inspector is not going to be able to find everything, so you must be prepared to spend more than you expect.
2. Time-Consuming
Renovations take time and often take longer than you expect. So if you're buying a fixer-upper to live in, you'll have to be pretty patient. This is mainly due to the fact that, depending on your skillset, you'll likely have to rely on other people. Maybe you can handle the painting and flooring, but unless you know how to do carpentry, roofing, plumbing, and electrical, you're going to have to find good subcontractors you can rely on.
3. Living in a Construction Zone
Along the same lines, if you plan on living in the home while doing the work, be prepared to live in a construction zone for a few months. Make sure you do your research on buying a fixer-upper to live in, and ask around to make sure you really know what you're getting yourself into — can you actually live where a bathroom or kitchen may be out of commission for several days or weeks?
Are You Ready for a Fixer-Upper?
There are clearly a lot of potential benefits of flipping houses, but there are also a lot of risks. If you're okay with dealing with uncertainty, don't mind getting your hands dirty, and have a history of being handy, working on a fixer-upper could be a great project for you.
If you're not one of these people, buying a fixer-upper may not be a great fit. That being said, there are other ways for you to save money on a home outside of finding a fixer-upper. A great option is to work on negotiating your real estate commissions and fees.
And if you've realized that house flipping isn't your game but you still want to enter the world of real estate, check out this guide that will take you through other real estate investing options.
This article titled "An Introduction to Buying a Fixer-Upper" originally appeared on the Clever Real Estate blog.