Thinking about putting your house on the market in March? There are many factors to consider when trying to time the market, but seasonal trends are certainly worth noting. Here are five tips for selling your home in March for a great deal — and fast.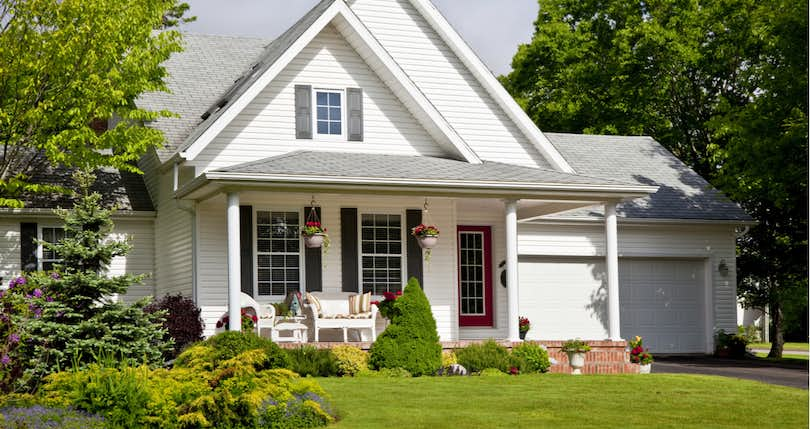 Seasonality has a great effect on the outcome of a home sale. Buyers are smart; they know when to start their house hunt, and are often persuaded by factors such as outdoor temperatures, housing inventory, and the holidays — which all tie back to seasonal trends.
If you're aiming to sell your home in March, you may find it useful to understand both the advantages and disadvantages of listing during this time. By gaining knowledge on homeselling trends in March, you will be better positioned rapidly sell your home at top dollar.
If you're looking to sell your home quickly, the end of spring through the beginning of summer is the best time to list. According to a study by Zillow, homes listed between mid-March and mid-April traditionally sold the fastest.
But don't just take it from us; the median days on the market before closing in the month of March is 86. Compared to December's whopping 104 days on market before closing, it's safe to say your home will sell a lot quicker in the warmer seasons.
Listing your house at the right time can have a huge impact on both the deal you are able to snag, and how fast you are able to find an interested buyer.
Listing in Springtime
Spring is the time of the year when more people get moving on their home buying efforts. Schools are due to be out for summer, and the cold temperatures of winter are no longer keeping people hibernating in their current homes. For all intents and purposes, spring marks the time of year when buyers are expected to be on the hunt for their next house — which you can benefit from as the seller.
Taking an even closer look, the week of March 31 to April 6 was deemed the best time to put a home on the market. In that week, homes are listed for an average 6% more than at the beginning of the year, totaling an extra average $17,000. Homes listed during this time also receive 14% more views on website listings when compared to other times of the year.
But that's not all: since a majority of homes go up for sale in late spring, they get 5% less competition and sell about six days faster. They're also 1% less likely to experience a price drop during this time. Selling in March is sounding better and better.
Since it usually takes about 30 to 60 days or more from the time a home contract is signed to the time its actual closing date arrives, families looking to move into their new abode by summer typically need to start house hunting a few months earlier, giving March a slew of potential buyers.
Here are five tips for selling your home in March:
1. Keep Your Area's Weather Patterns In Mind
March is a great time to list your home and start attracting potential buyers. A lot of this logic has to do with the temperatures outside; buyers are more motivated to sell when the weather starts warming up. Regions that experience nice weather all year long may not benefit as much for listing in March, while other regions will find it's the most optimal time to sell.
In fact, Homelight created a table with the best time to list a house for sale in 100 major US cities. March is listed as the best month to sell for several cities, including Buffalo, NY, Chicago, IL, Franklin, TN, and Fredericksburg, VA.
When looking to sell in March, it's best to evaluate your area's weather patterns before putting your home on the market. As this varies from different locations, it's ideal to seek guidance from a local trusted real estate agent that understands your area's market trends like the back of their hands.
2. Use Seasonal Perks to Your Advantage
If you live in an area that experiences all four seasons, buyers in your market are likely to take weather and seasonal trends into consideration before coming to a decision on their purchase.
Although many of the benefits of selling a house in the spring apply to the warm summer months, keep in mind that a lot of potential buyers tend to travel a lot during this time. Think about this: if you were planning a vacation to Aruba in July, would you really wait until mid June to start searching for your next home? Probably not.
By now, you're probably aware of all the perks of having warm weather when finding interested buyers, but what about selling in extreme heat? In some parts of the country such as Florida and California, prohibitively hot weather makes shopping for a new home unpleasant in July and August.
On the flip side, cold winter weather also deters buyers from entering the market, choosing to hold off until the weather picks up. And with school having recently started not too long ago, families are not likely to make a big move in the fall either.
Mild weather often experienced during the month of March in many regions of the country lends to more active buyers and increased natural curb appeal.
3. Consider the Competition
You might have heard that May is the perfect time to list your house. We're not arguing with the research; it is a great time to put your house on the market which means a lot of homesellers had the exact same idea. Although houses listed in May on average sell faster, competition is certainly higher. If your neighborhood is saturated with homes for sale around the same time, you might find it difficult to stand out in the market. Opting to list your home earlier than the prime time of May could lead to a faster deal at a better price. Something to consider when listing in March.
4. Vamp Up Your Property's Curb Appeal
March is a great time of year; the sun is shining and the flowers are blooming. Potential buyers are spending warm weekends outdoors shopping around for the perfect place to call home — and you can bet they are taking notice of every property's curb appeal.
To make your house seem more appealing to buyers, plant some flowers in your front yard and make sure your grass is freshly mowed. Trust us, the little details in appearance matter to home buyers in spring. They are looking for a fresh start, and seeing dead patches of grass and weeds before even entering the house could be a huge turn off and might even cost you the sale (or reduce the amount they'd be willing to purchase it for).
5. Consult with a Local Real Estate Agent
As we've learned, seasonal trends have a strong impact on home sales — and a lot of these factors can vary greatly depending on your specific location. If you're looking to get the best possible outcome on your home sale in terms of pricing and the amount of time it will take to sell your property, your best shot is to partner with an experienced, local real estate agent for guidance and support.
Reach out to Clever today and get connected to a top-rated, full-service agent in your area who can help land you a great deal for your house. As an added bonus, you'll save thousands on realtor commission fees.
Related Articles
You May Also Like