If you're looking to move to Lexington, KY you're already making a great choice. It's a great place to live and full of fun year-round activities and excellent schools. Of course, every city is only as good as the neighborhood you live in, so take the time to discover the five best in Lexington.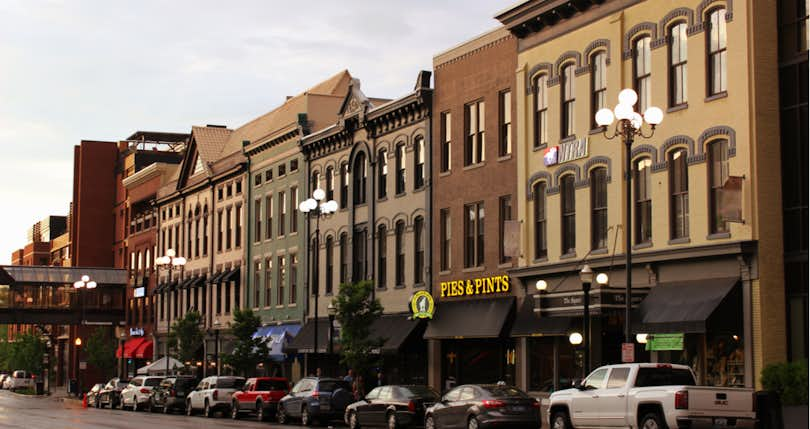 Lexington may be a university town, hosting the University of Kentucky, but it's also so much more. The city of over 315,000 people is very highly rated in terms of family-friendliness, schools, nightlife, and diversity.
It's no surprise so many people want to live there! It's the horse capital of the world, has 24 miles of shared-use trails, and the Fourth of July celebration lasts for days. There's a lot to do, but you want to make sure that when you move here you choose the right neighborhood.
Working with an experienced local realtor is essential, but this list of the five best neighborhoods in Lexington will help you get you started.
Looking to move to Lexington, KY?
Work with a Clever Partner Agent to find the perfect home for you.
Chevy Chase and Ashland Park
If you have the cash to spend, look at buying a home in this desired area. According to data from AreaVibes, the median home value is $448,371 and median household income is $112,213, so this is definitely an upscale area.
This district has tons of historical charm, tree-lined streets, and is very close to both downtown and the University of Kentucky. The area is convenient and boasts a low crime rate, along with excellent schools.
Whether you're a young professional or older, you'll love living in Chevy Chase and Ashland Park. Be sure to check out the frequent events held at Ashland Estate like concerts and outdoor garden parties.
Historic Downtown
Are you interested in living in a more urban setting with easy access to cultural events, arts, and a thriving nightlife? If so, historic downtown could be exactly where you want to live.
You'll find Transylvania University, which was once a premier school in the U.S., Gratz Park, and the Opera House, to name a few. The homes boast unique architecture in a mixture of styles, and there is a lot of revitalization going on to preserve the area's history. You're close to Rupp Arena and a wide range of stores and restaurants.
Homes in this neighborhood have a median sale price of $252,500, and there plenty of houses to choose from. Take a look around and you may find your dream home.
Beaumont
For families with children looking for an excellent education, you can't overlook the Beaumont neighborhood. A thriving residential and shopping space since 1990, the area now holds high-end homes, condos, and townhouses.
You'll be close to the airport and Keeneland Racetrack, and you'll have convenient access to a host of other amenities. It's easy to get to the grocery store or to work, along with the Moondance Amphitheater for some weekend entertainment.
Average listing prices in this neighborhood range from $221,231 to 498,953, so be sure to work with an experienced local buyer's agent to find the best deal within your price range.
---
Looking to buy your dream home? Finding the right realtor makes all the difference!
The first step in your home buying journey is to find a top local realtor who's an expert negotiator and has proven experience in your area. The right agent can help you find the best house for your budget and priorities — and craft a winning offer so you don't miss out on your dream home.
The easiest way to find a great local realtor is to use a free service like Clever Real Estate. Clever matches home buyers like you with top agents in your area so you can compare your options and choose a realtor who's the right fit for you.
You can interview multiple agents until you find the perfect fit, or walk away at any time - Clever's service is 100% free with no obligation. Fill out the form below to instantly request hand-picked agent matches now!
💰 Buy with a top agent, earn cash back!
Buy your dream home with a top local realtor from a trusted brand like Keller Williams or RE/MAX. Keep more money in your pocket by earning cash back on eligible purchases.
Enter your zip code to request hand-picked agent matches in minutes. Compare your options until you find the perfect fit, or walk away with no obligation. Try Clever's free service today!
Southland Corridor
For more affordable homes in an area that's welcoming and fun, take a look at the Southland Corridor. You'll find homes built in the 1950s and 60s that don't get much larger than 2,000 square feet. It's the perfect place to raise a family and enjoy a large backyard with ample trees.
There's a community pool and the popular Southland Drive Farmers' Market, along with unique shops and restaurants. It's a great mix of different types of people and businesses. You'll find something surprising around every corner.
This area is very affordable with median home prices below $200,000. It's centrally located to a lot of the things you might want to do in Lexington, so it's a great place to buy a home.
Kenwick
This walkable neighborhood is very attractive to those looking for an affordable and picturesque neighborhood in Lexington. You'll find Victorian and early 20th-century bungalows in this small community. There are regular community get-togethers and a shared garden.
It's easy to take in a Pilates class and follow it up with coffee before getting started on the rest of your day. You can grab a drink at a variety of pubs and restaurants and listen to live music at local venues.
According to realtor.com, homes in this area have a median list price of $179,000, and there is a healthy balance of both buyers and sellers in the neighborhood.
Find Your Dream Home in Lexington Today
If you're ready to move to Lexington, Kentucky, you'll find a thriving community with an affordable cost of living in most areas. To find your dream home, however, you'll want to work with a local realtor to target the right neighborhoods.
Some areas have smaller homes, and others have more yard space. You'll find a range of prices and amenities available. Be sure your buyer's agent is a great negotiator so that you get the best price for the features you're looking for.
Looking for a highly-rated local realtor? Work with a Clever Partner Agent. Not only do Partner Agents offer a full-service buying experience, but they can also offer a $1,000 rebate toward closing on homes over $150,000.
Interested in learning more? Let Clever set you up with a no-obligation consultation right away.
Related links