Where should you live in a new city? Trying to figure that out by yourself can be frustrating. Let's look at a few of the best neighborhoods to live in Boise, ID. Then you can connect with a realtor who can guide you better and help you zero in on the neighborhood that best fits your personality.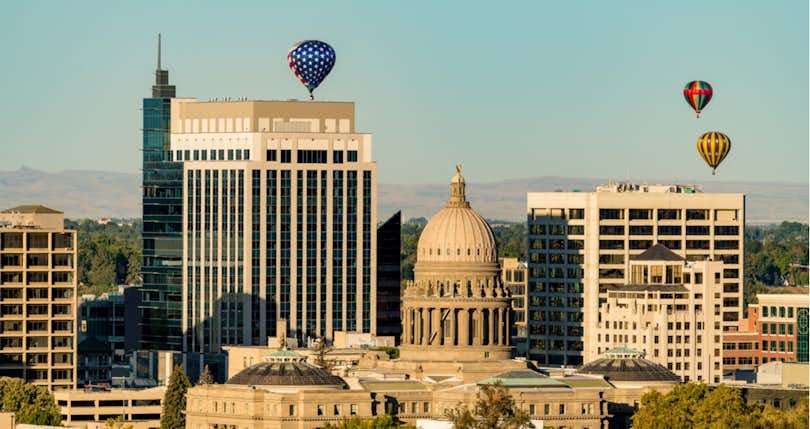 Where can you find "The City of Trees?"
In Boise, Idaho. Many people are discovering that the high cost of living in other, more expensive parts of the country isn't worth it.
Why not go to a place where there are plenty of modern-day amenities, yet gives you that small town feeling? Amazingly enough, Boise, ID is the perfect spot.
Once you get there, you're going to need to decide where in the city that you want to live. Here is an overview of the five best neighborhoods to live in Boise.
Moving to Boise, Idaho?
Find the best neighborhood with a Clever Partner Agent.
North End
Looking to live in a historic section of Boise? You'd better check out the quiet, tree-lined streets of the North End. Harrison Blvd, in particular, has many homes listed on the National Register of Historic Places.
The small town atmosphere along with quaint homes (most of which were built before 1930), makes the North End a desirable place to live. Not surprisingly, the median home value at $452,700 in the North End is higher than Boise in general at $299,300.
The little parks, great amenities, and stellar schools make it more than worth it for many families to live in this section of the city.
East End
Even more expensive are the elaborate Victorian homes in the East End. However, there are plenty of more modest, more affordable homes in the area that help bring the median home value down to $438,500.
Step back in time and enjoy the beauty of the oldest section of Boise. The excellent schools, low crime, laid back atmosphere, and more make this section of the city a desirable spot.
However, the East End isn't all old buildings and historic houses. There are also plenty of ways to enjoy the great outdoors. From the Boise Foothills to the Boise River to the south-central Idaho mountains there is plenty to see and do.
Boise Heights
The ritziest section of town is the luxurious Boise Heights. Things are more spread out here, meaning you can enjoy room to breathe while still having all the amenities of the city close at hand.
The median home value is $455,600 and the cost of living index is 124 — which is more expensive than the index of Boise as a whole at 96. However, the high average income means that people in this area can afford the tranquility and convenience of living in Boise Heights.
---
Looking to buy your dream home? Finding the right realtor makes all the difference!
The first step in your home buying journey is to find a top local realtor who's an expert negotiator and has proven experience in your area. The right agent can help you find the best house for your budget and priorities — and craft a winning offer so you don't miss out on your dream home.
The easiest way to find a great local realtor is to use a free service like Clever Real Estate. Clever matches home buyers like you with top agents in your area so you can compare your options and choose a realtor who's the right fit for you.
You can interview multiple agents until you find the perfect fit, or walk away at any time - Clever's service is 100% free with no obligation. Fill out the form below to instantly request hand-picked agent matches now!
💰 Buy with a top agent, earn cash back!
Buy your dream home with a top local realtor from a trusted brand like Keller Williams or RE/MAX. Keep more money in your pocket by earning cash back on eligible purchases.
Enter your zip code to request hand-picked agent matches in minutes. Compare your options until you find the perfect fit, or walk away with no obligation. Try Clever's free service today!
Northwest Boise
Looking for a place that will be a little easier on the wallet? Don't hesitate to check out Northwest Boise. This diverse area of the city has plenty to offer newcomers.
There is a lot of natural beauty and mountain views to enjoy in this area. With great schools, families will find this a desirable location. Plus, the selection of newer townhomes are an attractive draw for retirees.
The best part is that many homes are smaller and more affordable than in the other nicer areas of Boise. The median home value for this lovely section is a mere $265,800. Prices have been steadily climbing so now is a good time to start planning for your move.
Boise Bench
Looking for something a little more unique? Check out the Boise Bench section of the city. You'll find an exciting mix of hipster and blast from the past culture.
The area is super tranquil and quiet and you can enjoy some epic nature views at sunrise and sunset. To further the look, you can opt for one of the many custom-designed homes in the area.
Housing in this area is quite affordable. What makes it even better is it's proximity to downtown, making this section of the city a good spot for those on a budget.
Finding Your Home In Boise
The best way to find your dream home in the perfect spot in a new city is to talk to a local expert. A real estate agent can help you find exactly what you're looking for — know when to look for it. They will also facilitate the negotiations and the rest of the transaction to ensure things go your way.
But how do you find a trustworthy agent?
The best way is through Clever. We can connect you with knowledgeable, local agents for a no-obligation consultation. The best part is that on homes that sell for more than $150,000 you will be eligible to receive a $1,000 home buyer's credit.
Ready to learn more? Don't hesitate to get in touch with us today!
Related links