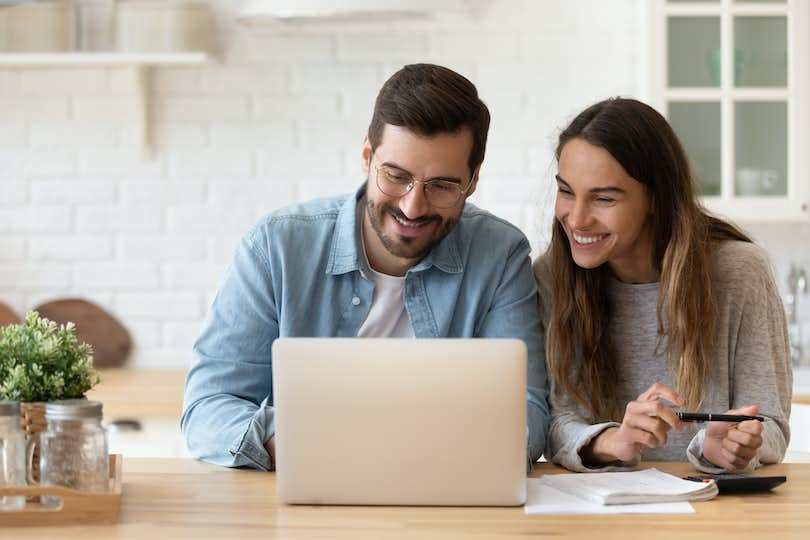 House hunting is unique and highly personal. Buyers have different needs and priorities based on their lifestyle and financial situation. Millennials are no exception. However, there are some shared values that are important to most members of this group.
The generation, born between 1981 and 1996, has been hit hard by multiple recessions. The economic downturns have made millennials slower to jump into the housing market, but as they recover financially, many are looking for that perfect home.
Here are 20 things driving their search for prime real estate.
1. Safe location
Public safety is a top priority for millennials. They don't want to worry about break-ins or even excessive traffic that could cause accidents. Millennials with children may be particularly concerned about finding a safe suburb with low crime rates and friendly neighborhoods.
2. Updated kitchen features
Whether it's a farmhouse sink or a unique backsplash, an updated kitchen is a must for millennials. For this group, the kitchen is much more than a space to cook. It's an area to entertain and make memories. That means space and sufficient seating options are essential. Millennials also seem to favor stainless steel appliances, central islands, and a combination of recessed and pendant lighting.
3. Designated laundry area
Gone are the days of housing a washer and dryer in the garage. That setup isn't sufficient for most house-hunting millennials. Regardless of how big or small the space is, they're looking for a designated laundry room — or even a closet.
4. Outdoor living spaces
For this generation, a spacious yard with grass and other amenities may be just as important as the home itself. More millennials are choosing suburban areas because they want access to outdoor spaces for kids, pets, or hosting parties.
5. Modern bathrooms
Much like the kitchen, millennials want modern bathrooms with all of the amenities: standing showers with glass doors, plenty of storage, and well-lit mirrors for makeup application. Many of them also prefer to have a freestanding bathtub that is functional and eye-catching.
6. Work space
Studies show millennials are more fond of remote work than any other generation. In fact, 42% of people between the ages of 25 and 34 say it's their preferred work setup. As a result, a home office or flex work space is essential. Millennials want a room that is quiet and away from other distractions in the house to plug in and get to work.
7. Quality schools
As millennials have kids, quality school districts become increasingly important. This generation wants their children to receive a high-quality education with the right student-to-teacher ratio. For some, a convenient location that allows kids to walk or take the bus is also important.
8. Spacious garages
A spacious garage is a high-priority item, especially for millennials moving to the suburbs. In addition to having a safe place to keep their vehicles out of the elements, a garage can serve other purposes. Many people use this area to house a treadmill or home gym. Others store strollers, bicycles, and equipment for outdoor hobbies.
9. Storage solutions
Thanks to minimalistic design trends, millennials don't want to clutter their spaces. As a result, they'll need plenty of storage solutions — such as closets, drawers, and cabinets — to keep their belongings and décor out of sight when they're not in use.
10. Walk-in closets
Sliding closets were once the standard to save space, but they aren't sufficient for most millennials who are ready to buy. Walk-in closets provide plenty of space for clothing, coats, shoes, and accessories. Many millennials value organization, so a closet outfitted with drawers and shelves will be a big hit.
11. Smart-home technology
It's important to remember that millennials grew up with rapid advancements in technology. They're savvy and highly connected, which is why they value smart-home features. Millennials want to control their thermostat, garage door, and home security system from their smartphone. Some even prefer automation when it comes to lighting and appliances.
12. Nearby amenities
From restaurants to grocery stores, nearby amenities are important to millennial home buyers. This group isn't keen on traveling far to get what they need, and many of them would prefer to be within walking distance to these services. For example, they may want to go to the store multiple times a week to reduce waste and take a day-by-day approach to meal planning.
13. Turnkey properties
Millennials are known for having a higher debt-to-income ratio because of student loans. As a result, most of them already have a long list of monthly expenses. A tight budget makes it difficult to take on extensive home projects, which is why most millennials prefer a turnkey house that doesn't need expensive renovations. Although an affordable fixer-upper may be tempting, it likely requires money that millennial buyers simply don't have after closing costs.
14. Low maintenance
It may seem like millennials want it all, but they also value minimalism and a low-maintenance lifestyle. This is especially true when it comes to landscaping and other outdoor features. Although it's nice to have a pool or spa, millennials may pass on a home if those amenities will make it difficult to save money. Yet they may be persuaded to splurge if they can save on their home purchase through a discount real estate agent or a home buyer rebate.
» MORE: 13 Ways Millennial Homeowners Can Save Money Every Month
15. Open floor plans
A floor plan that allows people to freely flow from one room to another will catch the attention of millennials browsing MLS listings. Open floor plans often feature a kitchen and living room combination with a dining set space. This allows for easy and informal hosting with plenty of room for everyone. It's a bonus if this space also provides easy access to a patio or backyard.
16. Hardwood floors
Carpet is out. Tile and hardwood floors are in. In addition to being more aesthetically appealing, hardwood floors are much easier to clean and maintain. Most millennials would rather ditch the carpet altogether and add texture and warmth through area rugs.
17. Sustainability
Many smart-home features result in energy savings, which continue to be a top priority for millennials. In addition, many millennials prefer a home that is built with sustainability in mind to ensure a green and nontoxic lifestyle.
18. Natural light
Millennials recognize the importance of sunlight, which can boost their mood and productivity. As a result, large windows and French doors that let in plenty of natural light are a highlight for this generation.
19. Guest rooms
Millennials love to host. Whether it's family or friends, they want a dedicated space for guests to relax and spend the night. Although a dedicated guest room will suffice, detached guest houses are becoming more popular, especially in suburban neighborhoods.
20. Close proximity to an airport
As companies allow employees to work remotely, millennials may choose to move from their current location to an area that's closer to friends and family or has a cheaper cost of living. As they explore their options, close proximity to an airport will be essential.
Millennials may also take advantage of remote work opportunities to fulfill their desire to travel. While working during the day, they can spend their nights and weekends exploring new destinations.
Related Articles