The August foreclosure spike may open up a few opportunities for beleaguered home buyers – if they know how to find them.
With the right resources, you can identify potentially discounted properties and determine if a foreclosure is a good idea for you.
Here's a look at how to get started.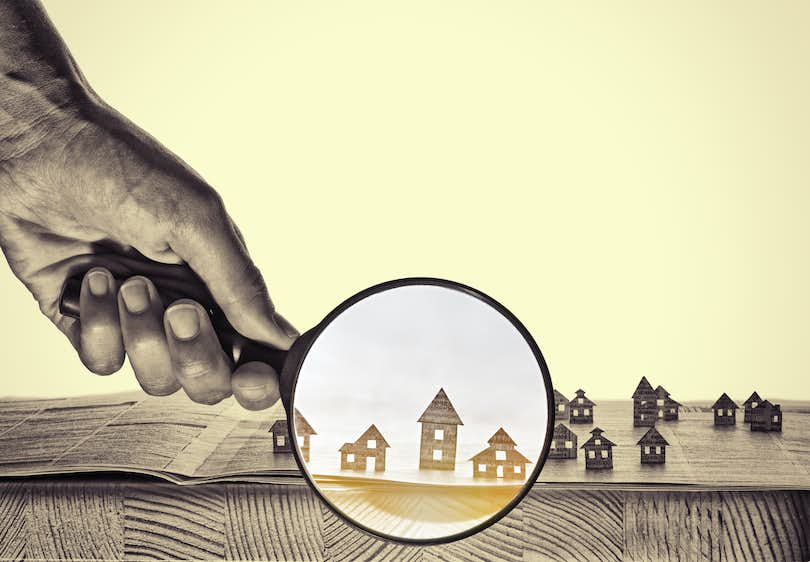 Assemble the right team
Partner with experts who have helped people buy foreclosures, preferably many times.
"Make sure that you're working with a reputable real estate agent who has experience with foreclosures," says Shaun Martin, CEO of We Buy Houses In Denver. "They'll be able to guide you through the process and help you avoid any potential pitfalls."
An agent well versed in the local market can help you figure out which areas are ready for foreclosures, says Klara Dumancic, marketing specialist at Investors Club.
"They will know which houses have been for sale for a long time and may be ready to sell at a lower price. They will also know which properties are in foreclosure but haven't been made public yet."
Also, consult with a real estate attorney with foreclosure experience. You can ask your real estate agent for recommendations.
Look at pre-foreclosures and short sales first
Pre-foreclosure begins when a homeowner stops making their mortgage payments. A short sale is when a borrower agrees to sell their property for less than what they owe to avoid foreclosure.
"The best time to buy a foreclosure is in pre-foreclosure," says Mark Motes, CEO and chief real estate investor at Mark Buys Houses. "The reason being is you will have direct negotiations with the homeowner, not with a bank that's repossessed the home.
"On top of that," he adds, "in pre-foreclosure, you have a lot of leverage because the owner has no other options but to quickly sell or destroy their credit. In this scenario, you can likely purchase the house for 60 to 70% of its market value."
Pre-foreclosure also provides the best chance to look closely at the home. Once a property goes to public auction, you won't have an opportunity to inspect it.
But, it can be challenging to talk to a homeowner about selling during pre-foreclosure. It's a sensitive time. They might be trying to catch up on their delinquent payments. Or they could be in denial and unwilling to discuss selling their home with you. But, if a home is listed for a short sale, at least you know they are willing to sell.
Know all your available resources
You have plenty of resources for finding foreclosure listings.
Your real estate agent. This person will be your primary source, particularly if they know the local market and have experience with foreclosures.
Home sale websites. Most multiple listing services (MLS) and home sale websites like Realtor.com and Zillow will include listings of foreclosures, pre-foreclosures, short sales, or REO properties. REO stands for "real estate owned," which means owned by the bank or the government.
Government agencies. These agencies provide lists of foreclosed properties they have financed: HomePath.com (Fannie Mae), HomeSteps.com (Freddie Mac), HUD.gov (FHA), and the USDA. And the IRS has listings of properties they've seized for non-payment of taxes.
Foreclosure websites. Foreclosure.com and RealtyTrac are among the most popular. Both require a paid subscription to access. But you might find the same listings through free sites. If you want to try Foreclosure.com, it offers a free 7-day trial.
Your local newspaper. To file a foreclosure, a notice of sale has to run in the local newspaper of record. The legal notices section will also list public foreclosure auction houses in your area.
Bank websites. Many larger banks list their REO properties.
Public records. Legal notices are filed throughout the foreclosure process. Check your local county recorder's office or city courthouse. You want to search for the terms "notice of default" (NOD) or "notice of sale."
Sheriff's sales or public auctions. Auction house websites will list upcoming locations and times for foreclosure sales. It's possible to find great deals at auction, but you will be buying them "as is." You see a home, the auctioneer will provide a description, and you will bid. And all sales are final. This is a buyer-beware situation.
Shop the neighborhood. Go to the area you're interested in buying in and look for home-for-sale signs that say foreclosure, short sale, and the like. Then, call the agent listed to inquire about it and similar listings that may be coming on the market.
How to identify a suitable foreclosure
You should ask many questions and get advice from your realtor or attorney before deciding on one.
"Foreclosures carry risk," says Michael Shapot, an associate broker with Keller Williams in New York City. "Hidden fees, cumbersome purchasing processes, unexpected and expensive repairs, and the possibility of evicting tenants and squatters can be just the tip of the foreclosure closing iceberg."
Get an inspection, if at all possible. If you know what repairs are needed, you can budget for them. Or, decide that you can't afford the repairs and move on to the next prospect. "Go look at it with your contractor and estimate repairs," says Olga Raptis of Velos Property Solutions, a cash buyer for homes. "You already know it'll need them, so onward and forward."
Make sure that the property is priced below market value. Have your agent perform a CMA (comparable market analysis) to see how the foreclosure's price compares to similar properties.
Make sure the property is in a neighborhood you like. The money may work out, but what if you don't want to live there? Then it's not for you, unless you're an investor who plans to flip or rent it.
Find out about any liens or encumbrances. Do a title search. Your agent or real estate attorney can help you with this. Title and lien issues can be fixed but will require money and time.
Be prepared to move quickly. When there's a good deal available, you'll face a lot of competition. Know your budget ahead of time – accounting for repairs and other costs to make the home livable – so when a good prospect comes along, you can jump on it. "Don't miss out because you were willing to pay more, and didn't," says Ray Ellen, a realtor at Pixel Properties. "If you would pay $1,000 more but are trying to play the game, is it more important to play the game or get the house? Put in your walk-away offer and be happy about it if you get it, and just as happy if you don't."
Related Articles