Foreclosures are rising, presenting an opportunity for certain buyers looking for a more affordable home.
The increase arises partly from the end of pandemic protections for homeowners but also from inflation and overall economic pressures.
Buyers may find homeowners eager to sell before a lender takes back their home. However, buyers should weigh the pros and cons and ensure the math works out.
Here's guidance on how to decide if a foreclosed home might be right for you.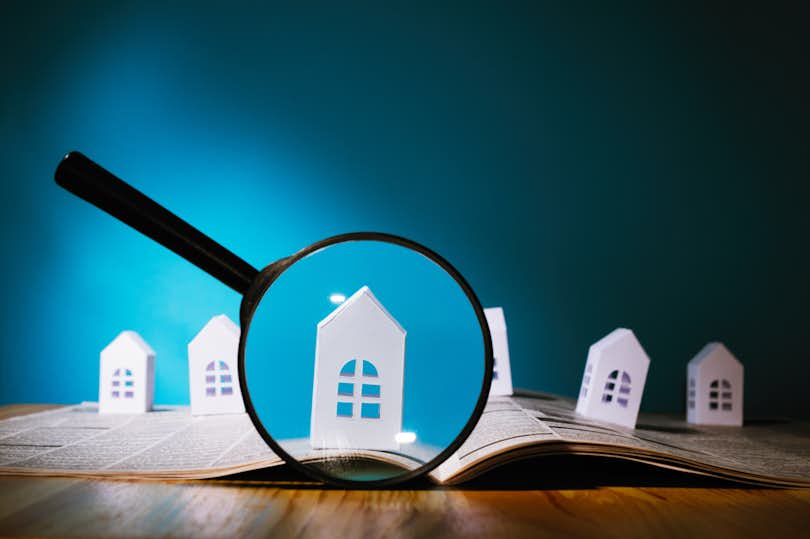 First, consider the stage of the foreclosure
All foreclosures aren't created equal. Where the home is in the process could make it easier or harder to purchase.
Foreclosures generally progress in four stages:
Pre-foreclosure. This is when a homeowner stops making their mortgage payments. The bank typically sends a notice of default to the borrower when their mortgage payment is 30 days late. Pre-foreclosed homes aren't necessarily for sale yet, but their status is made public. So you could keep your eye on a home that is of interest.

But, this can also be the hardest time to close a deal with the homeowner. They might be working on making up their delinquent payments or negotiating with a cash buyer. Or they could frankly be in denial and unwilling to discuss selling their home with you. If you want to approach them, tread lightly.

There are instances where a homeowner goes into pre-foreclosure but finds out that with rising home prices, they may have enough equity to sell their home and repay what they owe. These homes could present opportunities for buyers.

Short sale. The borrower agrees to sell their property for less than what they owe to avoid foreclosure. Short sales are also listed, and if you can pay cash or are willing to put up with a lengthier loan approval process, which is typical, this kind of deal could work for you.

Public auction (also called a sheriff's or trustee's sale). The home is officially foreclosed and the owner has been evicted. The bank wants to recoup its losses quickly by selling it at auction. You can get a great deal but lose the opportunity to talk to the former owner and get more background on the home and the potential issues or repairs needed.

Real estate owned (REO). The bank couldn't sell the property at auction, so it maintained ownership. Or, in the case of Fannie Mae and Freddie Mae-backed loans, the government now owns the property. In either case, price negotiations could work out at this point since neither the bank nor the government wants to be in the business of selling real estate.
August foreclosure data
Do the pros outweigh the cons for you?
There are good reasons to buy and good reasons to be wary of buying a pre-foreclosure or foreclosed home.
Reasons to buy:
You can absolutely buy a home at a discounted price, making homeownership affordable when it would otherwise be out of reach.
You could possibly buy a larger home in a nicer neighborhood than would be able to afford otherwise.
"The best thing about foreclosures is the bargain, " says Olga Raptis of Velos Property Solutions, a cash buyer for homes. "It costs the bank so much money to hold onto that house, that they are willing to negotiate, so sharpen your negotiating tools!"
If the home is habitable, you can get a conventional, VA, FHA or USDA loan to buy it (unless you're purchasing it at a cash-only public auction).
Reasons not to buy:
Foreclosures are generally sold "as-is." You will be on the hook for any needed maintenance and repairs.
The property will likely require a lot of maintenance and repairs. Since the owners fell behind in their mortgage payments, they likely weren't able to pay for regular maintenance and upkeep. There may be foundation or structural issues. There could be serious issues that aren't obvious to the naked eye that will cause significant problems fairly quickly if not addressed.

Find a contractor to identify and estimate how much it will cost to fix these issues. You might also use a home inspector.

Liens and back taxes are another possible expense because, again, the owner didn't have enough money to pay creditors.You will need to budget for repairs, liens and any other liabilities that may come up, then crunch the numbers to make sure these costs won't erase the deal you're getting on price.
"As an investor, you might be used to this as we buy properties 'as is,''' says Raptis.
"For a first-time home buyer, however, it can get costly. But would it be as much as paying full price on the MLS for a home?"
The mortgage lending process could take longer, particularly for a short sale.
" Acquiring a short-sale property is similar to a typical purchase in most ways, but the verbiage in the agreements will change, stating that the conditions are subject to the lender's permission," says Alvaro Moreira, CEO, mortgage broker and financial advisor for Moreira Team. "A bank may take various weeks to reply to a brief offer, making the process far lengthier than a typical purchase."
You are less likely to face a multitude of repair issues if you purchase a home closer to the date the owner originally purchased it.
"A good foreclosure prospect was purchased by the previous owner less than three years ago with a traditional mortgage," says Shri Ganeshram, CEO and founder of Awning.com, a real estate company for investors. "You can look up that information in the public record. These homes were structurally sound three years ago and passed inspection, making them much lower risk."
Bottom line
Buying a foreclosed home has its drawbacks and isn't for everyone. Go into it with your eyes wide open. Consider it if you can purchase a foreclosure for a price low enough that you still have funds left over for repairs, liens and other expenses needed to make it livable and save money compared to buying a new home.
Hedge your bet by working with a real estate agent who has experience navigating foreclosures. The National Association of Realtors offers certification for agents in handling short sales and foreclosures. Also, consider working with a real estate attorney with experience with these transactions.
"If you're buying a foreclosed home because that's all you can afford with your budget, you're going to be in a really tough position when all of a sudden you have to pay a ton of money for repairs," says Andy Kalmon, CEO of Benny. "But, if you have a great financial safety net, and you can afford to pay for any potential damages, then buying a foreclosed home might be a good move for you."
Related Articles