Xome is a real estate auction website that allows users to list and bid on properties. For sellers, Xome provides a no-commission real estate agent in return for listing on their platform. But is this offset by the site's unconventional fees and conditions for buyers?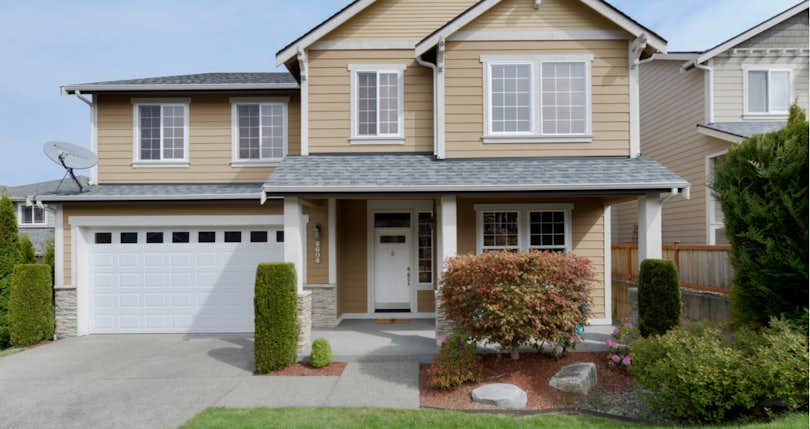 Xome (pronounced zome) is a real estate auction website. Sellers can list on Xome's marketplace with the help of a real estate agent for free, and buyers can register for auction events and place bids on Xome's exclusive selection of properties.
Though Xome claims this platform makes selling and buying easier, the site's unconventional fees and conditions limit the potential for successful sales. On Xome, buyers are responsible for paying all realtor commissions on top of their winning bids, which could scare off many buyers. What's more, as its auction agreement states, winning the auction does not guarantee the buyer the home and Xome can enter bids to "encourage bidding" and ensure the seller at least gets the listing price.
An alternative, tried and true way to sell and buy property is simply to work with an experienced, local real estate agent. A good realtor can provide expert advice, tailor the process to your unique situation and needs, and ensure everyone walks away happy.
> Connect with a top-rated, low-commission real estate agent in your area.
Read on for an overview of Xome's auction service, how it works for sellers and buyers, and alternatives to consider for a painless property sale.
What is Xome?
Xome is a nationwide real estate auction website based in Texas, with offices in Seattle, Denver, Pittsburgh, and Chennai, India. Xome also has a variety of subsidiary companies and divisions that provide title services, mortgage solutions, field services, valuations, notary signings, and more.
On Xome's platform, sellers put their home up for auction on its national marketplace. In return, Xome offers sellers a free MLS listing, access to marketing tools, and the services of a commission-free Xome real estate agent.
Xome's buyers browse its exclusive marketplace, which includes residential and commercial properties, real estate owned (REO) properties, short sales, and more. Buyers can register for Xome's timed auction events and place bids on the properties they like.
How does Xome Work?
Buying a Home with Xome
Xome's draw for buyers is its exclusive selection of properties for auction. The Xome Offer Marketplace contains real estate owned (REO), short sale, foreclosure, and luxury properties that can be found nowhere else on the market.
Here's what buying with Xome looks like in practice:
1. You register for a free Xome account.
2. You browse Xome's properties and can request tours.
3. Once you find a property you want to buy, you register for an auction event in which it's listed. You must submit personal information, review legal agreements, and set up payment.
A $1,000 hold is placed on your credit card when you register for an auction. This will be removed when the event ends, or, if you win a property, after you make your earnest money deposit.
4. During the auction, which lasts between three to six days, you can bid on the property you want to buy in fixed bid increments. You can review your bids and how much time is left on the auction from your account dashboard.
Some properties can also be purchased instantly, for a fixed price, without waiting for the auction to close. Xome calls these "Own It Now" properties.
5. If you win the auction, you'll receive an email prompting you to review and electronically sign a purchase agreement. The final purchase price will be adjusted to your winning bid plus a 5% "Buyer's Premium," which is used to pay both realtor commissions and Xome's service fee.
6. Lastly, you go through the standard closing process — and closing costs — of a home inspection, title and escrow service, mortgage qualification, property appraisal, and the like.
Though the process is simple enough, there are some major drawbacks for buyers:
Xome auctions are non-binding: Sellers have the right to accept or reject any bid, regardless of an auction's outcome. They can also send counteroffers to the winning bid or withdraw their property at any time, for any reason.
Xome inflates bids: Xome participates in its own auctions on behalf of the seller. The company can bid on properties to "encourage bidding" until bids reach the asking price. These are non-winning bids, but increase the odds that the seller will at least receive their asking price.
You pay your own realtor commission: If you're working with a real estate agent (and you should be), Xome mandates they register for a Xome account and agree to a lower than normal commission of 2% — paid out from your Buyer's Premium. In most property sales, the seller is responsible for paying the buyer's agent's commission.
Selling a Home with Xome
Xome offers home sellers a free online platform called "Super Seller." When you sign up, Xome lists your property on the MLS, sets you up with online tools, and assigns you a commission-free realtor from their Agent Network.
While you receive an MLS listing and an agent, like in a traditional real estate sale, Xome's focus is selling your home at auction. Given the unconventional fees buyers need to pay this can limit your potential pool of buyers.
Here are more details on how it works:
1. You fill out an order form with your contact information and address.
2. You receive a call from your assigned Xome Agent within one business day. During your consultation, you must sign off on three Agreements to proceed with the sale:
3. Your Xome Agent helps you set a Reserve Price (the minimum you're willing to accept for your home) and a Listing Price (the amount you want Xome to bid up to on your behalf).
4. Your Xome Agent begins marketing your home, which includes listing it on the MLS and real estate search sites like Zillow, Trulia, and Realtor.com. They'll also help you coordinate showings for interested buyers.
5. You pick a time to list your home for auction. As the event unfolds, you watch the bids roll in.
6. Once the auction is over, you decide whether to accept the winning bid, counter it, or to list your home in a new auction.
7. Once you accept a bid, your Xome Agent helps negotiate the offer and close on the deal. You're responsible for paying any closing costs at this stage.
Though sellers pay no commission to their Xome Agents, it's important to consider how these agents are compensated.
Unlike a traditional real estate sale, in which sellers cover all realtor fees, Xome puts this burden squarely on the buyer. Xome requires buyers to tack on 5% to their winning bid to cover all realtor commissions as well as a 1% service fee.
This significant premium will negatively affect the bids buyers submit for your property. What you save in commission fees with Xome, you may lose by attracting lower offers.
Xome Fees and Pricing Structure
As of September 2019, Xome's platform for sellers is entirely free, and includes a commission-free realtor, MLS listing, and access to online support.
Xome's pricing for buyers, on the other hand, is slightly unconventional.
Though it's free to register for an auction, buyers must agree to a $1,000 hold for every event they sign up for. If a buyer ends up winning a property, Xome adds a 5% "Buyer's Premium" on top of their winning bid. This becomes the new purchase price for the property, not including closing costs.
The 5% premium is split as commission between the seller's Xome Agent, the buyer's realtor, and Xome itself. This is exactly opposite the commission structure of a standard property sale, wherein sellers are responsible for paying all realtor fees.
Key Benefits and Drawbacks of Xome
Pros
Full digital platform: Xome has online tools connecting buyers, sellers, and agents throughout the selling and buying processes, including multiple apps for iOS and Android.
Free for sellers: Sellers get access to marketing tools, a full-service real estate agent, and an MLS listing for their property — all for free.
0% commission for sellers: Sellers pay no commission fees to their Xome agent; instead, buyers pay a premium on top of their bids to cover all realtor and service fees.
Large and exclusive property marketplace: Xome's auction marketplace features REO, short sale, and foreclosure properties.
Cons
Non-binding auctions: Sellers have the right to accept or reject any bid, despite if it wins the auction.
Xome's bids: As explained in their Auction Marketing Agreement, Xome bids on properties on the seller's behalf to ensure offers meet the asking price.
High commissions for buyers: Buyers must add 5% onto their winning bids to cover realtor commissions and Xome's auction fee. This additional cost could drive down bids and limits offers.
Potentially unqualified buyers: Xome doesn't pre-qualify buyers, so sellers have to hope that those bidding on their property (or touring their homes) are serious and financially prepared.
Xome Reviews
On the Better Business Bureau, Xome has a customer rating of 3 stars based on 24 reviews. Review platform HighYa gives the company 2.6 stars based on 60 reviews; they found that just 40% of customers would recommend Xome to a friend.
> View Xome's reviews on the Better Business Bureau.
> View Xome's reviews on HighYa.
Dissatisfied customers complain of poor and outsourced service, confusing transactions, and excessive fees and wait times.
Positive feedback comes largely from Xome Agents, who appreciate the boost to their business the company's seller program provides.
Top Alternatives to Consider
Buying with Xome involves browsing an auction platform and paying a hefty 5% commission on top of your winning bid. There are many auction sites that provide similar functionality — Hubzu.com and Auction.com are popular alternatives — but there's no need to limit yourself to auctions when scouting your next property.
You can cast a wider net by connecting with a top-rated buyer's agent who can show you listings from a variety of sources. Better yet, a traditional buyer's agent won't cost you a dime in commission fees.
Xome's proposition for home sellers is slightly more unique; it offers an MLS listing, online selling tools, and the marketing services of a real estate agent — all for free, with no commission. However, Xome's restrictive auction platform and unconventional fees make the site a double-edged sword for sellers, who can expect a shallower pool of buyers making lower-than-expected bids.
If you're a seller in need of help listing your property, there are a number of flat-fee MLS listing services you can look to instead. And if you want a full-service real estate agent who can take the reins on your home sale, there's an affordable option there, too: Clever Real Estate.
Clever is a nationwide real estate referral network that partners with top-rated realtors from major brokerages like RE/MAX, Century 21, and Keller Williams. Because Clever connects these realtors with a steady stream of high-quality sellers and buyers, Clever Partner Agents provide their full swath of services for a fraction of their standard listing fee: 1.5% ($3,000 minimum).
And unlike Xome, Clever doesn't assign realtors or force you to sell a certain way. Clever lets you schedule pressure-free interviews with as many local agents as you like to find the best fit for your property and goals. Once you find the right realtor, you proceed at your own pace and work however you want — and pay a lot less doing it.
> Get free, no-obligation consultations from top agents near you.
FAQs About Xome
How do you pronounce Xome?
Like home with a z: zome.
What is a Xome auction?
A Xome auction is a multi-day period during which registered buyers can place bids on properties. Once the auction period ends, each property will (potentially) be sold to the highest bidder.
Xome auctions are non-binding, meaning that sellers can accept, reject, or counter any bid they like — even winning bids.
How long do Xome auctions last?
Xome auctions generally last between three to six days. The exact duration depends on the properties being sold; for example, short sale auctions occur over a four-day period and foreclosure auctions can last as long as a month.
How do I become a Xome agent?
To join the Xome Agent Network as a realtor, you must:
Provide a valid license and certificate of insurance
Pass a background check
Use Xome's agent tools exclusively for all Xome deals
Pay Xome a referral fee for each deal you close