Does luxury vinyl plank increase home value or should you go with real hardwoods? Upgrading your floors when you're preparing to sell your home can be tricky business. It's hard to say what styles and materials will appeal to your buyers. Use this guide to explore flooring options and their ROI.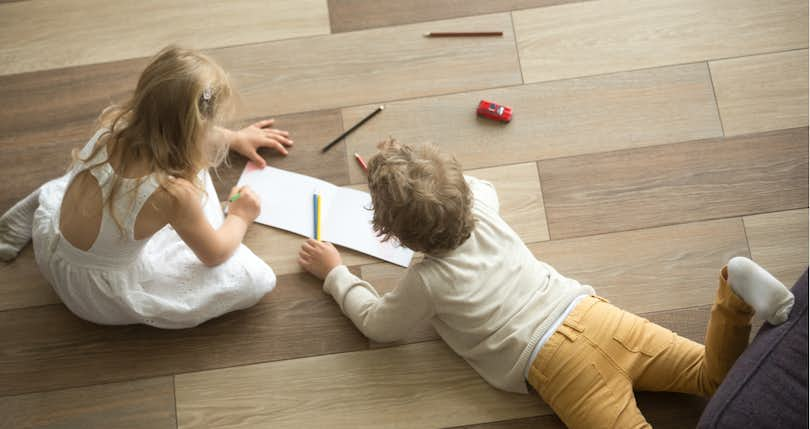 When you're planning updates to your home to get it ready to sell, the floor is often one of the most overlooked options. But it shouldn't be, given that some types of flooring appeal to buyers more than others and, in many cases, can actually boost your home's resale value.
Also, keep in mind that it's not just the type of flooring you need to consider. The room of your home also matters when choosing a floor type. Some floor types just don't work for certain rooms (remember when having carpet in the bathroom was popular?), so the one-size-fits-all approach doesn't apply here.
If you're planning on selling your home and want to get the most bang for your buck, read on to learn about the three types of flooring that buyers prefer. And if you don't know your home's current value, we recommend starting with an online valuation. Our home value estimator tool provides a free, quick, and convenient home valuation, as well as useful local real estate market trends. Find out what your home is worth now!
Hardwoods
Not surprisingly, hardwoods are king of the flooring department. Most buyers love hardwood floors, so choosing this for your flooring will appeal to the biggest piece of the market. Also, a recent study found that 54% of buyers would be willing to pay more for a home with hardwood floors, giving you even more incentive to make the switch.
Hardwood floors are most desired in kitchens, living rooms, entryways, and other common spaces. They're never a good option for bathrooms, as they're easily warped and damaged by moisture. Buyers tend to be split down the middle on whether they prefer hardwoods or carpet in the bedroom. Most homes can get away with having carpet here, so If you don't already have hardwoods in bedrooms, it might not be worth it to go to the extra expense.
The biggest downside of choosing hardwood floors is the price. The cost can vary depending on the type of wood, but most hardwoods range from $5 to $20 per square foot, plus another $4 to $8 per square foot for installation.
However, it's important to remember that while hardwood floors cost more, they also give you the biggest ROI.
The average ROI for installing hardwoods is roughly 70% to 80%, and boosts the average home value by about 2.5%. For a home valued at $200,000, installing hardwood floors would raise its value to $205,000.
Luxury Vinyl Plank
You may be wondering, does luxury vinyl plank increase home value? The quick and easy answer is yes.
Vinyl is an up-and-coming floor trend for many reasons, especially for budget-conscious home sellers who want to make a good impression without spending much money.
The cost of vinyl alone is enough reason to consider it: just $0.75 to $4 per square foot, plus installation. You'll spend less on your flooring investment, so you can see an ROI faster.
Luxury vinyl plank that mimics the look of hardwood can help you impress buyers that want hard flooring. Because vinyl is man-made, you can find luxury vinyl plank in a variety of colors, textures, and patterns to fit your decor.
There are benefits to the homeowner, too. Vinyl flooring can last anywhere from 10-20 years with moderate traffic. It's waterproof, so they won't have to worry about spills or stains messing up their floor. Many vinyl flooring options are scratch-resistant, which can be another selling point to families with children or pets. Plus, they can get the look of hardwood floors without the upkeep.
However, vinyl that looks like hardwood won't boost your home's value as much as real hardwood. But the low purchase and installation costs could offset the extra money you'd stand to gain by going with the real thing.
Tile
Tile is usually the preferred choice of flooring in bathrooms, which can help sellers to attract buyers. Kitchens and bathrooms help to sell homes, so investing in the right flooring in these two rooms is especially critical.
The downside of choosing tile is that you almost never see an ROI from it. Tile is expensive to install and maintain, costing anywhere from $12 to $44 per square foot, depending on the type of tile. Ceramic tiles are usually on the lower end of the spectrum, with most of the cost being spent on labor. It's estimated that you may get up to 70% ROI (even higher if you install it yourself), which is significantly higher than other types of tile.
Marble is the most expensive type of tile and doesn't make sense for low-to-mid-range homes. Although it looks nice, it needs special care that many home buyers aren't willing to give it. Plus, many buyers aren't willing to pay extra for marble tile in a $100,000 home.
What Flooring Does Your Market Prefer?
Remember, too, that your floor is an aesthetic element. Style preferences can vary greatly between buyers and even real estate markets in general, so it's critical to see what's popular in your area before you invest money on a poor floor choice.
Your real estate agent can be an invaluable resource when examining floor types for your home. They work with buyers every day and know the types of flooring that appeal to them. Don't hesitate to ask your agent what's hot in floor trends so you can give the buyer what they want.
If you're getting your home ready to sell, Clever can help! Clever Partner Agents are full-service, top-rated agents in their markets, but work for a flat-fee commission to help sellers save money.
Connect with Clever today for a no-obligation consultation and let us introduce you to one of our Partner Agents that's experienced in your local market and can provide guidance and support throughout the process of selling your home, including helping you decide if installing new flooring is right for you.
Related Articles
You May Also Like