Victorian homes are part of an architectural style that emerged between the 1830s and 1910s, during the reign of Queen Victoria. They were inspired by past house designs ranging from Gothic to Neoclassical.
The ostentatious home designs of Victorian houses were inspired by the idea that everything should be beautiful rather than practical. The Victorian era was a time of excess that's reflected in the vast array of home styles we see today.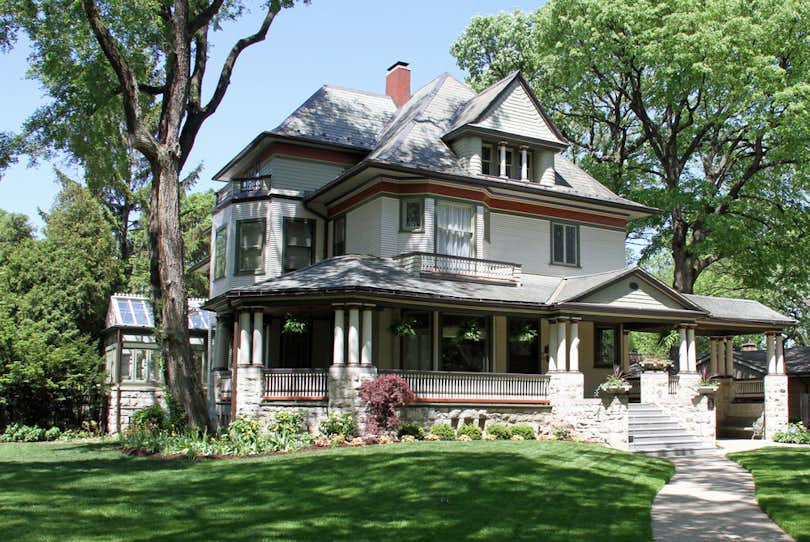 Architects of Victorian houses used new technology and design materials from the Industrial Revolution in their home designs. They traveled extensively from country to country to adapt their new styles. This is why Victorian architecture can be found worldwide.
In the United States, Victorian homes can be found everywhere but have exceptionally high concentrations in San Francisco, New Orleans, New York, and Cincinnati.
>>MORE: Find a Top Real Estate Agent
JUMP TO SECTION
What are the different types of Victorian houses?
Different types of Victorian architecture 🏡
Gothic Revival
Style influenced by Medieval architecture that includes steeply pitched roofs, pointed arches and windows, front-facing gables, and decorative eaves
Italianate
Style influenced by 16th-century Italian villas featuring a simple, rectangular-shaped floor plan with low sloping or flat roofs
Second Empire
Style that originated in France and features a mansard roof
Queen Anne
Style inspired by the reign of Queen Anne (1702-1714) that features an asymmetrical floor plan with octagonal towers and several embellishments
Stick Style
Style known for small, horizontal, vertical, or diamond planks set into the top of the exterior walls
Folk Victorian
Style created for working-class Americans featuring fewer embellishments than other Victorian architecture types
Romanesque Revival
Style created after the Civil War featuring stone masonry and arches
Victorian architecture features several different styles inspired by various time periods. Architects took inspiration from the Egyptians, Greeks, Romans, Italians, and French. They took stylistic elements and added them to the different home types.
The most famous Victorian homes in the United States are the Italianate and Queen Anne.
Gothic Revival style
The Gothic Revival style was influenced by medieval architecture and the Romantic art movement. It was the first of many home styles to sweep America in 1840.
Architects applied awe-inspiring features of castles and churches of the Middle Ages to these homes.
They are known for their:
Steeply pitched roofs
Pointed arches and windows
Front-facing gables
Decorative eaves
Gothic Revivals are mainly found in New England.
Italianate style
The Italianate style was fashionable from the 1840s to the end of the Civil War. They drew their inspiration from 16th-century Italian villas.
Italianates were simple, rectangular-shaped houses with low sloping or flat roofs. Windows on these homes were typically tall and skinny and often rounded at the top with trim.
This home-style can be found in cities that saw exponential growth during this period, including Cincinnati, New Orleans, San Francisco, and Brooklyn. [1]
Second Empire design
The Second Empire design originated in France and was fashionable at the same time as the Italianate during the 1840s. These homes are found in the Northeast and Midwest.
Their most distinguishing characteristic is their mansard roof. These roofs have two slopes on each side, with the lower slope steeper than the upper. They are sometimes mistaken for gambrel roofs but differ since they display the same profile on all sides. Mansard roofs almost always feature detailed dormer windows. [2]
Queen Anne style
The Queen Anne style was popular in the United States from the 1880s until around the 1920s. They are a revival of the style du jour during the reign of Queen Anne from 1702 to 1714.
Queen Annes are considered by many to be the quintessential Victorian home. They are also the most popular of all the Victorian architectural styles.
They feature:
An asymmetrical floor plan
Two to three stories
Steeply pitched roofs
Embellished bay windows
Large wrap-around porches
Octagonal towers
Queen Annes are particularly dominant in San Francisco. The city's most famous example is the "Painted Ladies," a block of Queen Anne-style houses painted in several different pastel colors.
Stick style
Stick style is a transitional style between Gothic Revivals and Queen Annes.
Their most distinguishing feature is their small, vertical, horizontal, or diamond planks which are placed on top of the exterior walls. Stick style is also associated with enormous, overhanging second-story porches.
Folk Victorian style
Victorian architecture was widely sought after by the wealthy, but they aren't the only ones that fell in love. Average working-class Americans wanted to partake and own Victorian homes as well.
Architects created the Folk Victorian style, which are basic two to three-story homes with pre-fabricated embellishments. These houses lack the more complex architectural elements that are indicative of the era.
Romanesque Revival style
Architect Henry Hobson Richardson created the Romanesque Revival style after the Civil War. This style was built exclusively in stone and featured heavy arches on its porches, doors, and windows.
The Romanesque Revival style was used more for public buildings than private buildings due to the expense of materials.
>>READ: Contingent vs. Pending: What's the Difference in Real Estate?
🏡 Sell or Buy a Home with Clever and Save Thousands!
Enter your zip code to see if Clever has a partner agent in your area!
Defining features of Victorian architecture
Defining features of Victorian homes:
Vibrant colors
Two to three stories
Embellishments
Wide array of windows
Towers and turrets
Porches
Steep, gabled roofs
Despite the variance of Victorian homes, there are a few defining features that tie this architectural style together.
Vibrant colors
Victorian homes stand out from the crowd due to their bright pastel colors. They are typically painted in light pink, yellow, or orange.
The embellishments on these houses are painted a different color that often complements the home.
>>MORE: Best Paint Colors to Sell a House
Two to three stories
Victorian homes built in the United States are known for having two to three stories. They were typically constructed on narrow plots of land, so architects created multiple levels to have enough room for large families.
Embellishments
Victorian homes are known for their intricately carved woodwork and are often compared to dollhouses and gingerbread houses.
The ornate details can be found across the home's exterior on windows, doorways, and eaves. Victorians believed you could never have too many embellishments on a home.
Wide array of windows
Victorian homes are highly decorative, meaning there's no shortage of windows. Stained glass, multi-paned, cameo, and eyebrow windows are all common window types found in Victorian houses.
Stained glass windows use colored glass to emit light into the home and often feature a unique design.
Multi-paned windows are windows with multiple panes of glass.
Cameo windows are elliptical and are installed horizontally. They were often located along the walls of entry halls.
Eyebrow windows are small arched windows on a roof that allow light into an upper story.
All of these windows typically have decorative paneling and arches.
Bay windows are also a staple of Victorian architecture. They typically protrude out of the home's facade.
Towers and turrets
Architects and builders began experimenting with designs during the Victorian period. As a result, many Victorian homes feature round or octagonal towers or turrets.
These towers and turrets are reminiscent of the medieval era where they were used as a defense against invading forces.
Porches
Many Victorian homes feature wrap-around porches. They often include some kind of ornamentation to enhance the home's visual appeal.
>>READ: What Is Considered a "Fixture" When Selling a House?
Steep, gabled roofs
Gabled roofs consist of two roof sections sloping in opposite directions. They are typically steep with a triangular shape that faces the front of the home.
>>READ: What Is an iBuyer? (A Comprehensive Guide)
Who should buy a Victorian-style home?
| ✅ Pros for buyers | ❌ Cons for buyers |
| --- | --- |
| Offer plenty of character and charm | Smaller rooms and less storage space |
| Packed with history | Maintenance and repairs |
| Wide range of architectural styles | Health hazards |
Some Victorian houses can be found for $500,000 or less, but fully restored Victorians can cost a pretty penny. And while the initial home price may seem reasonable, the cost of maintaining these homes can be high due to their embellishments, facades, and historical significance.
Victorian homes are best for those up to maintaining a historic house and have a large family or someone who can help with upkeep.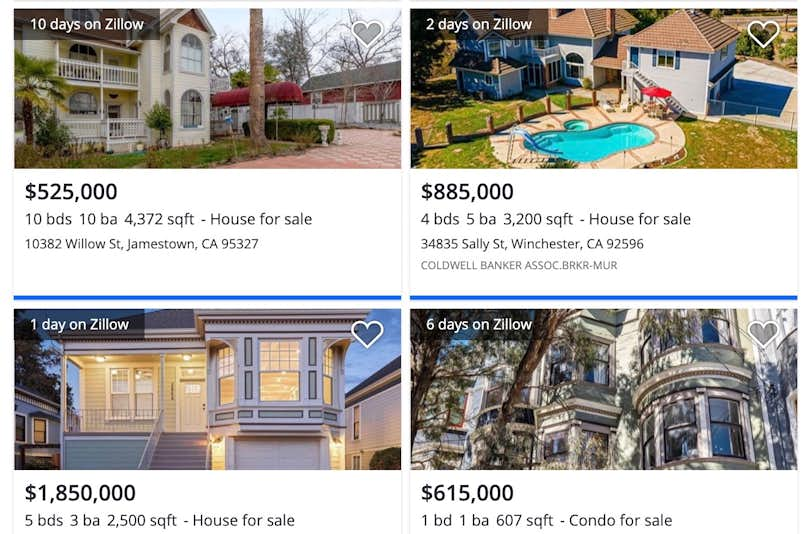 Source: Zillow
Pros of buying a Victorian house
Offer plenty of character and charm
Victorian homes are unique and have plenty of charm to go around. Their embellishments give them a distinct look and help them stand out from other homes.
Packed with history
In addition to their unique embellishments, most Victorian homes are packed with history. Within the home's walls have lived dozens of owners, each with their own story.
If you're a history buff or love a good ghost story, these homes may be perfect for you.
Wide range of architectural styles
Do you love Victorian homes? The good news is that there's a wide variety of styles to choose from. If you're looking for the quintessential Victorian look, you can buy a Queen Anne, or if you want to live in a home similar to an Italian villa, you can choose an Italianate.
Cons of buying a Victorian house
Smaller rooms
Victorian homes typically feature smaller rooms than modern homes. This means less closet space and storage for you to work with.
Maintenance and repairs
Victorian homes require a lot of maintenance and repairs due to their age — most are over 100 years old. Some of the upkeep can include updating electrical wiring.
Electrical wiring typically costs $1,300 on average. Wiring or rewiring typically falls between $500-2,100. Costs mainly depend on how much and what type of work needs to be done.
Embellishments on Victorian homes may also cause problems down the road. They are not widely available, and you may have to get custom work done to repair or replace them.
>>MORE: How Much Does a Roof Inspection Cost?
Health hazards
Asbestos and lead paint were widely used in construction and decoration during the Victorian era. Since these homes were built, we've learned that asbestos fibers are carcinogenic if released into the air.
Removal or sealing of asbestos can be expensive, so it's crucial to get a home inspection before you purchase a Victorian home.
Tips for selling a historic home
Historic homes are one of a kind, and finding the right buyer is extremely important. Here are a few tips to keep in mind if you're looking to sell your Victorian home.
Find an agent who understands historic homes
Real estate agents play a crucial role in the process of selling a home. They can help you understand your historic home and find the right buyer.
Agents can also help you find the right price point to sell your Victorian home and advise whether you should undertake any renovations or maintenance.
Compare agents and save money
Try our free agent-matching service! Clever connects you with top local buyer's agents — and offers cash back for qualifying purchases.
Don't let renovations destroy your home's character
Time takes its toll on all of us, including houses. Victorian homes are typically a century to a century and a half old. Many of these homes may need some major work ranging from electrical wiring to updating the roof.
It's important to ensure that whatever changes you make don't take away from the overall aesthetic of your Victorian home.
Let your home's history shine
Most historic homes have a past and have seen multiple owners. It's important to highlight what makes your home stand out!
Does your home have any ghost stories or secret passageways? What about a tower or turret? Real estate agents can help you make sure you showcase your home's uniqueness through marketing materials and conversations with potential buyers.
Next steps
If you're ready to start your home buying journey, working with a professional realtor should be your priority. Don't hesitate to reach out to an expert in the Clever Partner Network for a no-obligation consultation. You only need to fill out this simple online form, and we'll be in touch to connect you with a Clever Partner Agent who is ready to guide you in buying your dream home.
FAQs
Where are Victorian homes found?
They are found worldwide in the United Kingdom, United States, Canada, New Zealand, and Australia.
What are the most popular types of Victorian architecture?
There are a wide variety of Victorian architectural styles. The ones that are considered the most popular are the Queen Anne style and Italianates. Both of these are found in major cities across the United States like San Francisco, New Orleans, New York, and Cincinnati.