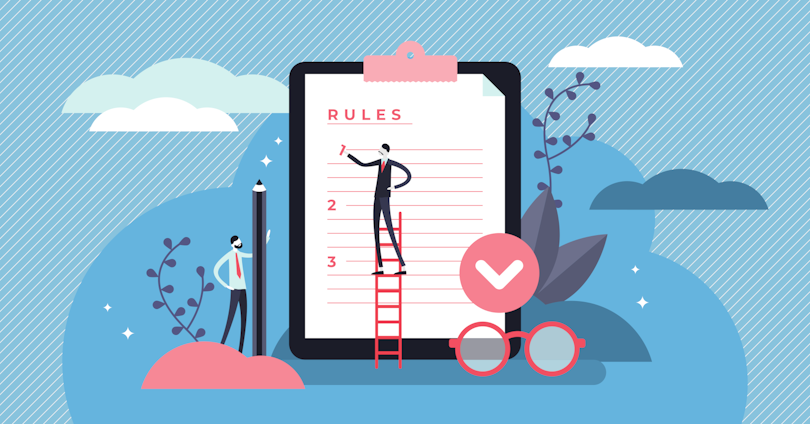 Every homeowners association (HOA) has a set of rules and regulations, ranging from when you can put your trash bins on the curb to how loud your music can be. With 60% of newly built single-family homes and 80% of subdivisions belonging to an HOA, there's a good chance that your next home will be part of one.
If you've never belonged to an HOA and are buying a house, you may be wondering what typical HOA rules are. Knowing what is normal in an HOA can help you decide whether living in one is right for you.
Looking to buy a home for less?
Clever can help you find a home in your area while saving you thousands.
And if you already live in an HOA, you may be curious if your current HOA's rules are normal. While HOA rules are often credited with helping communities maintain consistency and higher property values, many people find the rules overly restrictive.
Let's take a closer look at what the most common HOA rules and regulations are, so you can see how your current — or potentially future — HOA stacks up.
» LEARN: What is an HOA?
JUMP TO SECTION
Typical HOA Rules and Regulations
Rules exist in every HOA, although some HOAs can be more restrictive or lenient than others. Most rules are created by developers when a community is first built, although it is possible for members to create their own rules long after the HOA is established.
While every HOA differs, most have rules that address most or all of the following issues:
Fee payments
Paying your regular HOA fees is one of the most important rules that comes with belonging to an HOA. Fees help pay for items like landscaping, maintenance, insurance, and keeping a reserve fund for emergency repairs. Without collecting fees, an HOA would not be able to get much work done.
» MORE: How to Get Out of Paying HOA Fees
Special assessments — which are one-off fees to cover unexpected expenses — are also mandatory. Failure to pay either regular fees or special assessments could result in a fine or, in extreme cases, a lien against your property or even foreclosure.
Home Insurance
Your HOA may also require that you carry home insurance, especially if you live in a single-family home or townhouse. If you live in a condo, carrying your own insurance is a less common requirement, but it is not unheard of.
While many HOAs carry HOA insurance, these policies usually only cover common areas and shared structures. It probably won't cover your house. The exception, again, is if you live in a condo where your condo association's insurance may extend to your unit.
» MORE: HOA Insurance
The reason HOAs require members to carry home insurance is because it helps protect the community as a whole. By having insurance, you assure the HOA that if anything happens to your home, you'll be able to cover the repair costs. Without insurance, your home may fall into disrepair, hurting not only your own property value but your neighbors' as well.
Architectural rules
A lot of HOAs have rules about how each house must look in order to maintain an aesthetic consistency throughout the neighborhood. If you want to make an exterior modification to your home — such as by adding a shed or even changing the handle on your front door — you'll probably have to get it approved by your HOA.
Many HOAs — especially larger ones — have dedicated architectural review committees to determine whether a proposed modification fits in with the neighborhood's aesthetic.
Some HOAs offer only a broad description of their architectural rules — such as simply requiring all homes maintain a "traditional look" — while others are far more specific, detailing the types of mailboxes, shingles, or paint colors that are allowed.
Landscaping
Another way that HOAs maintain aesthetic consistency is through landscaping and lawncare rules. These types of rules are very common in HOAs, and they often address issues such as:
What types of plants are permitted
How tall trees can grow
How often grass needs to be mowed
What percentage of a yard needs to be grass
Where trees and other plants can be located
Your HOA may, in fact, hire a third-party vendor to take care of all of the landscaping in the community. In that case, the HOA's rules may prohibit you from doing any landscaping on your property.
While HOAs have a great deal of power when it comes to landscaping rules and regulations, there are some limits to what they can do. In California, Colorado, Florida, and Texas, for example, HOAs cannot ban drought-resistant landscaping — also called xeriscaping — outright. However, they can still place some restrictions on how xeriscaping is used in the community.
Clutter
HOAs don't just regulate what you can grow in your yard, they also regulate what you keep there. Most HOAs have rules to discourage clutter, which are again designed to keep neighborhoods looking tidy and property values high.
Your HOA's governing documents, for example, may stipulate that your yards be kept clear of structures or items that haven't been approved by the HOA. These rules aren't necessarily limited to front yards, either. They can apply to backyards, too, especially if your backyard is shared with neighbors or is even just visible to neighbors.
Generally, HOAs cannot require you to keep the inside of your home clutter-free. The only time when they can do so is if hoarding is suspected, in which case the HOA may be able to intervene because of the fire and health risk.
There are a few cases where rules against outside clutter may be unenforceable. This is most commonly the case with political yard signs. While many HOAs try to ban signs because of concerns about clutter, many states protect the right of homeowners to display political signs, at least around elections.
Holiday decorations
Limitations on holiday decorations tend to be among the most controversial HOA rules. In general, these rules are enforceable, but it depends largely on how the rules are written. Essentially, an HOA can ban holiday decorations — or impose limits on when they can be put up — so long as they don't single out any one religion.
Even if an HOA rule does specify a type of holiday decoration that only affects one religion, that rule may still be enforceable if it's in the community's best interests and is enforced uniformly. For example, an HOA may restrict Christmas lights in order to reduce visitors and traffic to the community.
To further complicate matters, a few states have rules governing religious displays. Illinois and Texas, for example, guarantee the right of homeowners to display religious symbols on their front doors so long as they are neither offensive nor a threat to public safety.
Bad behavior
Some behavior that may be considered anti-social or a nuisance to neighbors can be banned by HOAs. These bans usually apply to common areas and often include:
Drunkenness
Yelling
Harassing members
Smoking
Noise
While behavior inside your home is something that HOAs largely can't regulate, there are exceptions. If what you do in your home creates a nuisance for other HOA members, that behavior can likely be banned by the HOA.
Home maintenance
Home maintenance is another area the HOAs routinely regulate. As with the architectural and landscaping rules, home maintenance regulations are about ensuring every house in the HOA maintains a consistent look and feel.
For example, your HOA may require that broken mailboxes, garage doors, or windows be fixed within a certain amount of time. It may also require you to fix roof damage or put on a fresh coat of paint. This maintenance will cost you money, but the rules are generally enforceable since they help protect the community's property values.
Noise
Almost every HOA has rules and regulations around noise. In order for your neighbors to be able to enjoy their property, your HOA will likely require you to keep noise levels to a minimum. Many HOAs also have quiet hours — typically late at night — to ensure everyone in the community can get a good night's sleep.
Common areas
Common areas and shared facilities that are owned by the HOA will also have their own set of rules that must be followed. Many of these rules are for safety reasons. For example, the swimming pool will likely have rules against running.
Likewise, if the HOA runs facilities that can be rented for special events — like a clubhouse — then it may have rules against drinking, or it may have an occupancy limit.
Not all rules have to do with safety, however. Facilities will often be restricted to HOA members, for example, with non-members either excluded or required to pay a day-use fee.
Occupancy limits
Occupancy limits also apply to members' private homes. HOAs frequently stipulate how many people can reside at a property at one time in order to prevent overcrowding.
Similarly, HOAs may ban certain parts of the property from being used as a residence, such as a garage or garden shed. One Sacramento HOA even went so far as to require all of its members to keep their garage doors open during the day in order to prove that the garages weren't being used as bedrooms.
Vehicles
The type of vehicle you can keep in your driveway may run afoul of your HOA's guidelines. While your sedan or SUV is likely to be okay, if you plan on parking an RV or a boat, you will want to check your HOA's rules first.
Many HOAs ban large vehicles like RVs and boats entirely. Some even ban pickup trucks or require that they be stored within garages. A few go so far as to require homeowners keep their vehicles in their garages no matter what kind of vehicle they own.
Parking
Parking restrictions are among the most common rules you will find in an HOA. These rules often ban or severely limit curbside parking, and they place restrictions on visitor parking.
In HOAs where parking is limited, each household may only have a set number of days per month for visitor parking. Often there is a limit to how many visitor spaces a single household can use. Break these rules and you or your guest will likely get hit by a fine.
Pets
Pets are also frequently either banned or restricted in HOAs. Outright bans on all pets are fairly common, although in California residents have a right to own at least one pet. Also, if you already own a pet when you move in and the HOA doesn't ban them at the time, you usually have a right to keep your pet if the HOA prohibits them later.
Restrictions on the size and type of pets are also common. For example, many HOAs have weight restrictions on pets that, in effect, mean that large dogs are banned. Others may specify that only cats are allowed or that certain breeds of dogs, such as pitbulls or rottweilers, are banned.
However, even if an HOA bans pets, they cannot ban service animals, which are protected under the Fair Housing Act.
Short-term rentals
If you're planning on turning your home into an Airbnb, check that your HOA guidelines allow it first. Many either ban or restrict the use of residential units for short-term rentals.
There are a number of reasons for these bans. Many HOAs argue that short-term rentals have a negative impact on property values or that they pose a security risk to other residents. Also, many municipal governments have their own restrictions on short-term rentals which the HOA's rules may need to abide by.
Similarly, insurance companies and mortgage lenders may be less willing to deal with HOAs where a large percentage of the units are rented. In order to keep insurance premiums down and to ensure members have access to more mortgage options, HOAs may try to restrict short-term rentals.
Trash and recycling
Finally, rules around trash and recycling are present in most HOAs. These rules typically state when trash and recycling bins can be put on the curb and when they must be brought back inside. Watch out for when bins must be brought inside as an HOA may impose a time when you are at work. If that's the case, you may be able to request a variance from the HOA to bring your bins in later.
Many HOAs also require that you store trash and recycle bins inside your garage in order to keep the neighborhood looking tidy. A few even stipulate that on collection days, trash must be placed in a bin, rather than simply allowing you to put garbage bags on the curb.
How are HOA rules made?
The majority of HOAs are established by developers, and it is at this point when most of the rules are created. Eventually, control of the HOA is handed over to the homeowners themselves, although the homeowners usually keep the developer's original rules.
Rules can be changed, created, or abolished at any time. For rules that are no more restrictive than the rules that already exist — i.e., they are new rules that simply clarify old rules — they can usually just be passed by the HOA's board of directors.
For more restrictive rules and regulations, the HOA's members typically need to vote on the proposal. The majority needed for a proposed new rule to go into effect varies by HOA and state. In some HOAs, a simple majority is enough, whereas in others a new rule requires unanimous support from members.
As an HOA member, you also have the right to propose either creating a new rule or amending or abolishing an existing one. Your proposal can then be voted on by the board or by other members, depending on what it is you are proposing.
Where can I find the HOA rules?
HOA rules are found in your HOA's governing documents. The governing documents are included in the paperwork that came with your house, and they usually consist of:
Covenants, Conditions, and Restrictions (CC&Rs)

The most important governing document
Outlines the rights and responsibilities of homeowners and board members, including fees
May include the architectural standards and other specific rules that members must follow
Tend to be difficult to change

Bylaws

More focused on how the HOA is run and on further member responsibilities
Address election guidelines, finances, meetings, term limits, and other day-to-day issues

Rules and regulations

Tend to be highly specific restrictions that clarify the CC&Rs and bylaws
If they are no more restrictive than current rules, they can be changed by the board
More restrictive rules need to be approved by members
If you're considering buying a house in an HOA, remember that you have a right to look at the governing documents before making an offer. It's important to read these documents closely as they could help you decide if the community's rules fit with your expectations and lifestyle.
💰 Find your dream home, get cash back
Why leave extra money on the table? Clever can connect you with one of the top real estate agents in your area, plus put cash back in your pocket.
With Clever:
 ✅ You'll work with a full-service realtor from a top broker
 ✅ You'll earn cash back on qualifying purchases
 ✅ It's free, with zero obligation — you can walk away at any time
Fill out the form below to get started!
Can an HOA tell you what to do inside your house?
Usually, what you do in your own home is none of your HOA's business, but there are exceptions. For example, anything that could damage the unit, annoy neighbors, or bring down property values is generally something that falls under the HOA's powers to regulate, even if it's within a private residence.
For example, occupancy limits and noise restrictions are usually legal since these have an impact on your neighbors and the broader community.
Your HOA may also be able to prohibit smoking inside your home, but this depends on state law. Prohibitions on indoor smoking are most common in multi-unit buildings like condos and townhomes.
While it may not seem fair that your HOA is telling you what you can do in your home, remember that by joining an HOA you are entering into a contract with it. Just like any contract, you must abide by its rules.
What can an HOA do if you break the rules?
The punishment for breaking the rules will be spelled out in the HOA's Covenants, Conditions, and Restrictions (CC&Rs). Chances are the CC&Rs will give the HOA the right to issue fines for breaking rules. Most will also give the HOA the right to issue a lien against your property if you fail to pay the fines. In some states, HOAs can even foreclose on your property.
What an HOA can do and what it will do depends on how the HOA is run. Some HOAs are more lenient and will simply send you a warning letter before resorting to fines. Others, however, are more aggressive and will fine you with little notice.
Can police enforce HOA rules?
Police aren't usually involved in enforcing HOA rules, but there are exceptions. For example, some HOA laws overlap with actual laws, such as speed limits, noise restrictions, and parking violations. In these cases, police may seem to be enforcing HOA rules, but they're really just enforcing the law.
Many HOAs also hire security guards to patrol the neighborhood. These security guards do enforce HOA rules and may fine you, but don't confuse them with police. They're not, although they may look very similar to the police.
The one time when police actually might get involved with enforcing HOA rules is if you have a dispute with your HOA that reaches the court. If that happens, the court may rule against you and order you to abide by the HOA's rules. At this point, the police can be used to enforce the court order.
For example, one Florida man learned that lesson the hard way. He claimed he could not afford to sod his lawn, which was required by his HOA. When the dispute reached the court, an unsympathetic judge ruled against him. The man still refused to sod his lawn, and he ended up in jail for violating the court order.
Luckily, HOA disputes don't usually get that bad and in most cases, a broken rule will probably just end with either a warning letter or a fine. Police don't usually get involved except in extreme cases.
Can HOA rules override state or federal law?
Whether or not your HOA's rules can override state and federal laws largely depends on which state and federal laws you are talking about. As mentioned, by being a member of an HOA, you enter into a contract with it, at which point contract law usually applies.
As with any contract, the terms set in it — including HOA rules and regulations — are presumed to be enforceable unless there is a good reason why they aren't.
A few federal laws specifically apply to HOAs. The most important is the Fair Housing Act, which prohibits discrimination by HOAs. Other federal laws also cover satellite dishes, U.S. flag displays, debt collections, and the rights of active duty service members who live in HOAs.
State laws can get even more restrictive. Some states, for example, don't let HOAs ban clotheslines or solar panels while others protect your right to install a charging station for your electric vehicle.
» MORE: Unenforceable HOA Rules
Otherwise, HOAs have a lot of power when it comes to rules. And if you're wondering whether or not your HOA has to abide by the U.S. Constitution, the answer is usually no. The Constitution governs the relationships between the government and citizens. Since your HOA is a private entity and not the government, constitutional protections don't usually play a role.